Location
Pudong New Area, Shanghai, China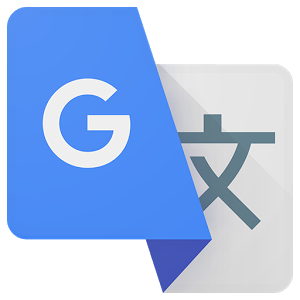 Some parts of this article have been translated using Google's translation engine. We understand the quality of this translation is not excellent and we are working to replace these with high quality human translations.
Introduction
Shanghai World Financial Center is a skyscraper built in Shanghai, China, which was intended to be one of the highest in the world. Its final height is 492 meters and has 101 floors.
The design of this huge skyscrapers for architectural studies Kohn Pedersen Fox Associates and East China Architectural Design & Research Institute. Located in the Pudong area, adjacent to the Jin Mao Tower.
The construction of this building began in 1997, but due to the crisis in Southeast Asia, the company carries out construction, Japan's Mori Building Corporation, temporarily halted construction resumed in 2003.
Situation
Is located in the Pudong New Aera neighborhood in the city of Shanghai, state of Shanghai, China.
Project
When the project was presented was to be the tallest building built in any country. The delay in the works and the proliferation of projects to superascacielos made simply to stay within the Top 10 highest skyscraper in the world.
During the time they were stopping the work was to rethink the design, which was the hole at the top, designed to reduce the effect of wind on the building which was transformed from circular to rectangular.
Originally planned to install a Ferris wheel at the top of the skyscraper, but the fact that he decided not to put that discarding the idea of the circular hole and opted for a rectangle and thus facilitate the construction and much more reduce costs.
Spaces
The tower house, of course, offices, dedicated to the financial and insurance sectors, although it is a mixed-use skyscraper, which will also have hotel rooms, conference rooms, shops and observation decks.
Hotel
The Park Hyatt Shanghai may be found at these facilities, has 175 rooms and suites, and should be inaugurated in mid-2008.
Mirador
Once the SWFC also a bridge to look viewpoint, which will incorporate the latest technologies and will be the outdoor veranda highest in the world. In the viewpoint will be an exhibition hall
Bridge
An air bridge with glass roof above a narrow corridor
Structure
The building has a mixed structure of reinforced concrete and steel, which have had a dramatic appearance during implementation.
Moves from a square to a rectangular, rotating height. The result is a very elegant and gives esvelta sense of lightness and dynamism.
Is enveloped in a laminated glass curtain wall that gives it a silvery appearance from the outside but inside it is highly transparent.
Materials
Reinforced concrete and steel structure
Laminated glass, using intermediate layers of DuPont. According to the architects chose the laminated glass for outstanding optical properties and safety of this material and his outstanding performance and acoustic energy
Drawings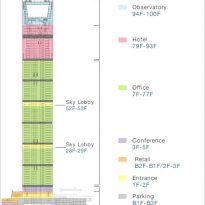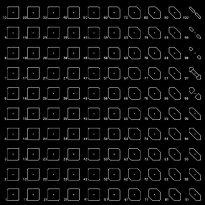 Photos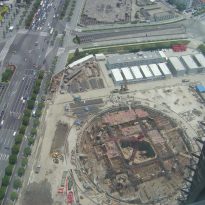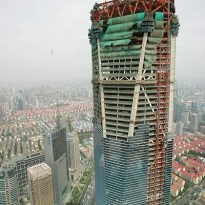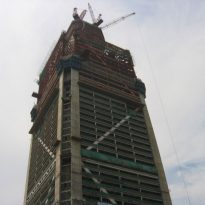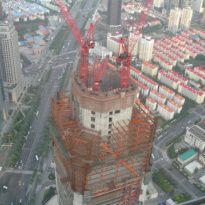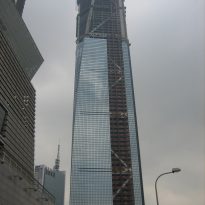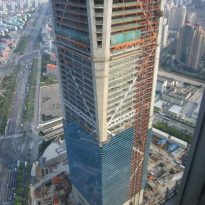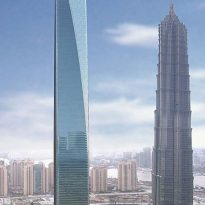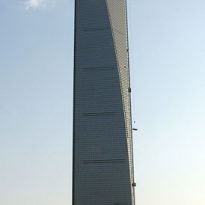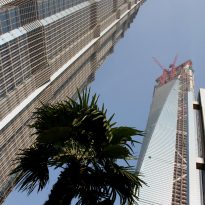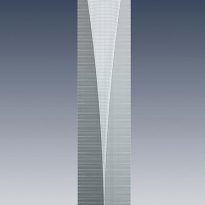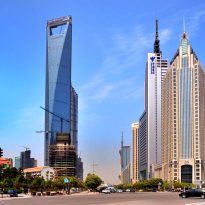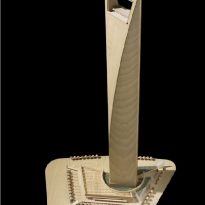 VER MAPA