Location
Manhattan, Nueva York, Estados Unidos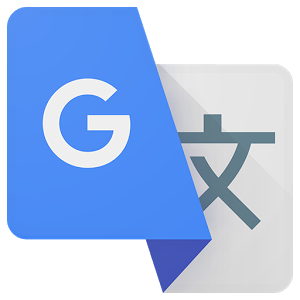 Some parts of this article have been translated using Google's translation engine. We understand the quality of this translation is not excellent and we are working to replace these with high quality human translations.
Introduction
In the New York area, modernist architect Philip Johnson is known for designing the old Four Seasons restaurant in the Seagram Building, the New York State Pavilion for the 1964 World Exposition at Flushing Meadows-Corona Park and the Glass House in New Canaan, Connecticut. But there is another little-known Johnson creation in Manhattan, a two-story guesthouse designed for Blanchette Ferry Hooker Rockefeller, the wife of John D. Rockefeller III.
Completed in 1950, the Rockefeller Guest House is one of the architect's first assignments, in fact, it did not get its architectural license until later, in the middle of the decade. The Guest House, Johnson's only private residential building in New York City, was used primarily as a gallery, described by Sadie Stein in the Times as "a mini test field for several cornerstones of MoMA possessions," Taking advantage that Blanchette was president of the museum twice.
Blanchette Rockefeller donated the guesthouse to MoMA in 1958 and shortly afterwards sold it. In 1971, Johnson rented the house and lived there for the next eight years with his partner, art dealer David Whitney, who ate daily at the nearby Four Seasons restaurant, whose design was a collaborative work of Johnson and Mies van der Rohe. The house was last sold in 2000 for $ 11.16 million to an anonymous buyer, setting a real estate value record per square meter in New York City.
Location
This home is tucked away at 242 on 52nd Street in Turtle Bay, between a music school and a prewar building in Midtown, New York, United States. The small house designed by the then young architect was built on a plot of 7.62 x30.48m and cost $ 64,000.
Concept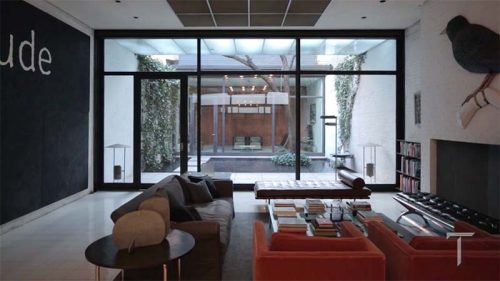 Started in 1949, the house was commissioned by Blanchette Ferry Hooker Rockefeller, wife of the tycoon John D. Rockefeller III and passionate collector of modern art, as a kind of auxiliary art gallery for his impressive itinerant collection that included works by Willem de Kooning, Clyfford Still, Alberto Giacometti and Robert Motherwell among many others. Blanchette Rockefeller was also an active member of MoMA and used the house as an extension of the museum, a space to attract potential donors, entertain artists and showcase Modernism in its purest and most impressive form within the Turtle Bay neighborhood, where Were luminaries of the art world like Peggy Guggenheim and Max Ernst. Also Andy Warhol's workshop in the 1960s.
The house conveys a sense of peace and tranquility amidst bustling Midtown Manhattan, combining Johnson's interest in allowing nature to filter into the design of its spaces with early experimentation in creating a visual flow between demarcated spaces. This concept would later reach its final manifestation in the Crystal House, which has no walls, but manages to have a sense of separate spatial areas, which Johnson called "rooms."
Spaces
The Rockefeller Guest House built in 1950 is one of the few that Johnson designed for the clients of New York City. The house is a historic and architectural landmark but so subtle that you easily get lost in the quiet street. By that time, although Johnson had only been practicing in New York for a few years, he had already established his reputation as an international style advocate. Although he did not obtain his license until the mid-1950s, his associates signed his projects until he succeeded the exam. By 1949 he had built his iconic Glass House in New Canaan and had become an architectural advisor to MoMA, whose department helped to subsidize.
Most surprising, perhaps, is that the small building has hardly changed since it was built in 1950. It is the best preserved of Johnson's contributions in the city. Inside, the minimalist house has exhibited some of the world's most important 20th-century artworks.
To achieve a two-story facade Johnson added a second floor with rooms. The façade following, the modernist idea, lacks all ornamentation and reveals its structural elements. With a clear division between brick and glass, this front with translucent glass windows on the second floor and ground floor serves to allow the entrance of light.
Low level
When the visitor crosses the high entrance door, you will find the main living room, an open space of 30.48m2 with a glass wall that looks out onto the courtyard with a pond and another small structure in the background, the walls are white brick. This floor included a compact kitchen that can be hidden by folding doors.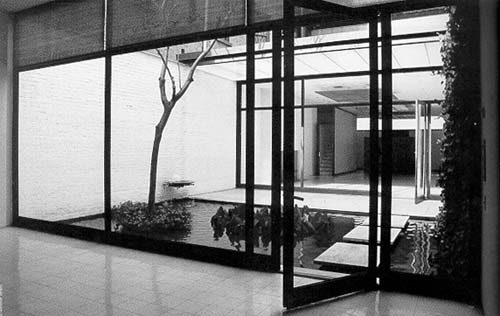 On one of the walls stands a sculptural fireplace although the room is kept warm by radiant heat in the tiled floors. It is a space prepared to exhibit works of art although it is by itself a work of art.
The patio, dominated by a mirror of water, separates the public area from the private, a bedroom and a bathroom that is accessed through a path of large stones. The private area at the back can be hidden with translucent white curtains that allow the passage of light.
Upper floor
The Rockefeller Guest House has an existence as an architectural work, but there is no evidence of having been designed, documented or built as a building. No top or basement plans or even sections are known. The volume of the building lacks conventional justification. Philip Johnson said that the second floor was only added to give the house more presence on the street and greater height to the facade, which indicates to everyone their sensitivity to aesthetic problems and their ability to solve them regardless of cost.
Above the living room on the second floor, two rooms were built without heating and a bathroom. These rooms overlook the inner courtyard through a flat and inaccessible roof.
Materials
Using only glass, brick and steel in his construction Johnson followed a minimalist idea also reflected in the modernist interior. Inside you can see the admiration of Johnson by Mies van der Rohe again when choosing his "Barcelona Collection" as furniture.
In its interior they emphasize the details like the glass walls framed in steel, the tiled floors with radiant heat and a sculptural fireplace
Drawings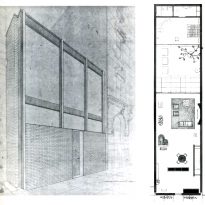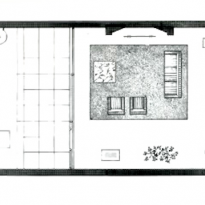 Photos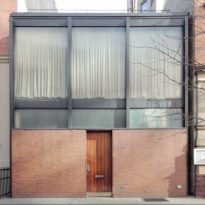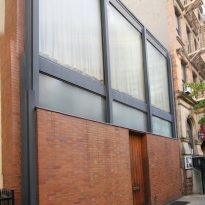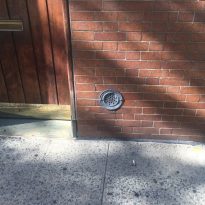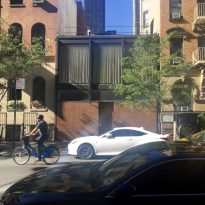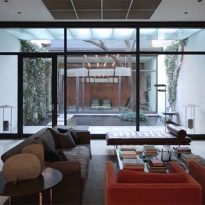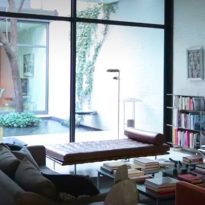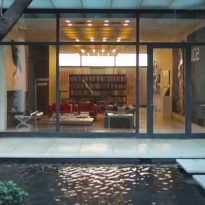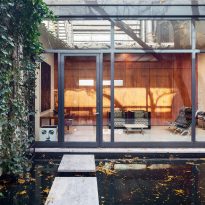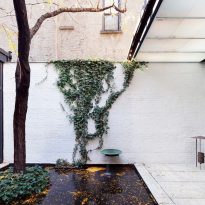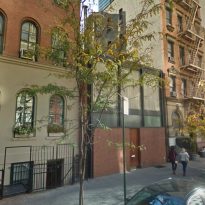 Archive photos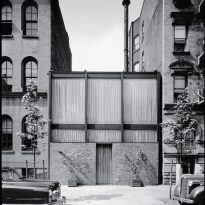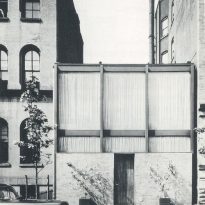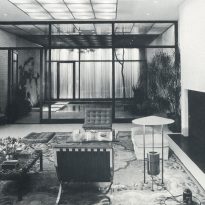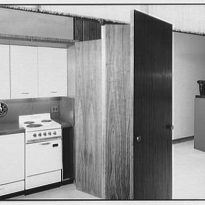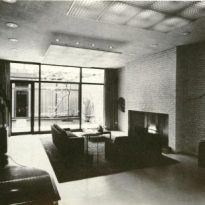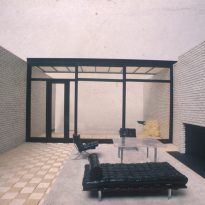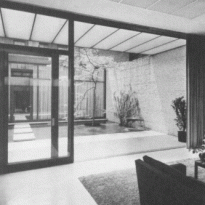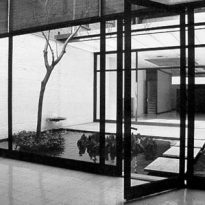 VER MAPA