Associate Architect
Craig Webb
Landscape Architect
Guen Terry
Structural Engineer
Skidmore, Owings & Merrill LLP
Electrical Engineer
McDonough Associates
Construction Company
Walsh Construction
Developer
Familia Pritzker
Location
Chicago, Illinois, United States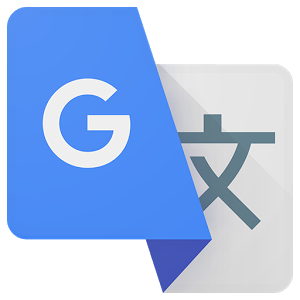 Some parts of this article have been translated using Google's translation engine. We understand the quality of this translation is not excellent and we are working to replace these with high quality human translations.
Introduction
Peatronal BP Bridge in Millennium Park is the first bridge designed by Gehry is complete. It opened in 2004, along with the rest of the park. The bridge complements the Jay Pritzker Pavilion, both for his role as for its design, creating a sound barrier against noise from road traffic passing underneath.
With its undulating curved shape, the bridge that resembles a snake has been called by the multinational BP donated $ 5 million for its construction.
Designed to withstand a heavy load without structural problems caused by its own weight, has been awarded for its particular use of the sheet. The bridge is known for its aesthetics and Gehry's style is seen in its biomorphic allusions and extensive sculptural use of stainless steel plates to express abstraction.
Situation
The BP Millennium Park Bridge is located on Columbus Drive, at 201 E. Randolph St. between Michigan Avenue and Columbus Avenue. It connects Millennium Park with Daley Bicentennial Plaza, both are part of a larger space Grant Park, in the heart of downtown Chicago, Illinois, United States. The bridge castles, on the east side of Millennium Park, the Jay Pritzker Pavilion on Av. Columbus. The park has other interesting elements accompanying Gehry ripples like Cloud Gate sculpture by Anish Kapoor and Jaume Plensa's Crown source.
The Millennium Park is bordered to the west by Michigan Avenue, east on Columbus Drive, north of Randolph Street and south on Monroe St.
Concept
The bridge is known for his sculptural features and some critics describe as a delicious treat that was designed to emphasize its artistic elements, and downplay his concrete and steel support system. The New York Times notes that attempts artist Anish Kapoor to hide the seams on Cloud Gate is an interesting contrast to the efforts of Gehry's architecture, which takes pride in making, in the BP Pedestrian Bridge, flaunt their seams.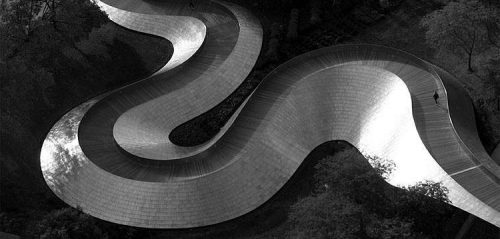 Since the 1960s, Gehry has made ​​an artistic use of animals to scale, as the Golden Fish of Barcelona or the iconic Guggenheim Museum in Bilbao, first appearing in his architectural designs in 1980 Many references on the bridge, as its winding path or stainless steel plates by way of scales, which relate to forms of reptile, "giant silver snake with its scaly skin" while Gehry said the bridge looked like a river, but added that he is the only one who sees it that way.
The way the bridge flows in a continuous unexpected directions is a break from other work and other more traditional Gehry nearby urban and architectural forms. Kamin architecture critic, Pulitzer Prize, awarded to the bridge four stars (out of a maximum of four) in their review and admires how "computers have the incomparable Gehry formal freedom" to design "the complexity of the geometry" and multidimensional curves. The bridge overlooks both the Historic Michigan Boulevard District and Lake Michigan in a way that makes it a viewpoint, according to the critic.
Structure
Over 282 meters from girder bridge, round pillars, one at the midpoint, which act as abutments or piers anchor, where he supports a reinforced concrete beam, which is inside a frame set out concrete, closed at its top by a pedestrian wooden deck.
The gateway has an approximate width of 6 meters in almost all the way. Its sloping sidewalls favor that there is no fear of vertigo by users while offering greater security. The bridge ramp has a slope of 5% to facilitate access for people with disabilities. Gehry did not have railings along the walkway, however, the architect situated on both sides walls and replace them Stayed spots following the side walls to illuminate the walkway at night.
Construction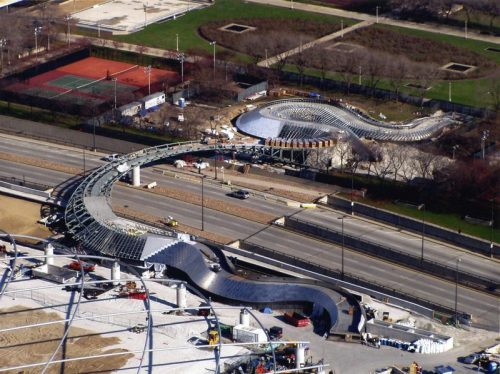 CATIA software that Gehry first used in the design of the complex structure of the Museum of Bilbao, in this case for better management of complex geometric design of the bridge was used. To ensure precise adjustment and alignment of the inclined and curved sides of the bridge were built, with local contractors, 4,400 panels as convex, concave and rounded. It took 5,300 m2 of stainless steel sheet to cover the sides, which have a combined length of 526.7 meters perimeter. It was necessary to build special enclosures heated so that work can continue on the site during the winter.
The day when the two halves of the bridge were joined, each side of Columbus Drive was closed for 12 hours for a crane 360tn install the bond beam. Previously it was necessary to shore up the roof of the underground garage located under one side of the park to bear the weight of the crane.
The landscape surrounding the bridge was redesigned by landscape architect Terry Guen. Honey locusts, ash and maple trees were removed and replaced with three varieties of magnolia and more than two dozen of tree canopy.
In 2005 BP Bridge received the Award of Merit from the National Steel Bridge Alliance, and an award of Excellence in Structural Engineering Structural Engineers Association of Illinois.
Materials
The main materials used in its construction are stainless steel, concrete and wood.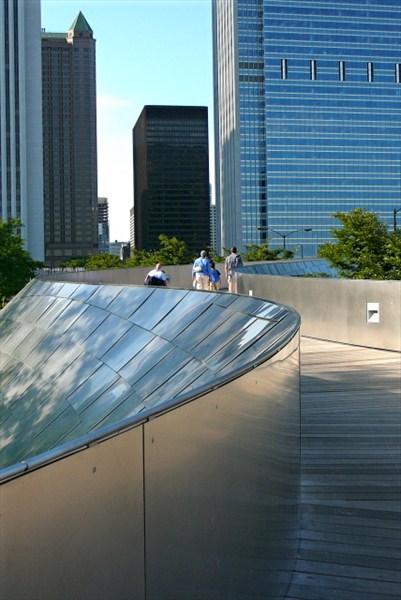 Description
The outside of the bridge is 9,400 plates coated with brushed stainless steel, while for the cover were used untreated natural wood slats.
The bridge was built using trapezoidal plates 316 calibrated steel with a thickness of 0.79 mm and 17 different configurations, with a finish of angel hair and a process of interlocking flat panel. Type 316 stainless steel is known for its excellent welding characteristics, as well as its resistance to pitting corrosion.
The bridge includes two types of structural steel: steel 5.1 inches thick and 51 cm in diameter for approaches and box beams for openings.
The cover was made with 2,000 hardwood boards brought from Brazil, resistant to putrefaction and 115,000 size screws of stainless steel.
Video
VER MAPA