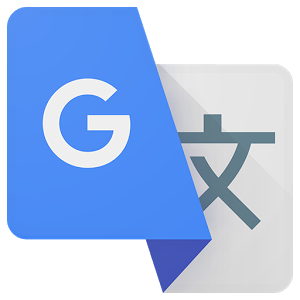 Some parts of this article have been translated using Google's translation engine. We understand the quality of this translation is not excellent and we are working to replace these with high quality human translations.
Introduction
Luiggi Cagnola Napoleon commissioned the construction of a celebratory bow in 1806 but this being defeated at the Battle of Waterloo, construction was halted until 1826 when Francesco I of Austria wanted to end them and introduce certain changes since they wanted to dedicate this arch to the European Peace was achieved in 1815. The commission was entrusted to Luiggi Cagnola again until the date of his death in 1833 and was completed by Francesco and Francesco Paverelli Londono. It opened in September 1838 by Emperor Ferdinand I of Austria.
Location
Peace Arch is located in Piazza Sempione, one of the sides of the Sforza Castle in Milan, Italy
Concept
Luigi Cagnola was inspired by the typology of the three "fornication", the arched openings that are in classical buildings such as the Coliseum in Rome, although in this case was based on inspiration Severio Settimio triumphal arch, Roman Forum.
Description
The neoclassical arch is 25 meters high and is framed by four fluted Corinthian columns at regular intervals, becoming a measure of the sides of the facade.
In the center is the tallest arch laterally flanked by two smaller ones.
Both the sides and in front of the capital overlapping blocks are richly decorated with bas-reliefs depicting episodes from the entire period of the Restoration.
On the main cornice are personified the four rivers of the then kingdom of Lombardy-Veneto: the Po, the Ticino, the Adile and Tagliamento. At the top, is a bronze figure, very similar to that of the Goddess Irene located at the Brandenburg Gate, led by 4 horses and a huge inscription in front of "Sestina della Pace" (poem by peace), in a memorandum of the four victories.
This work enhances the architectural values of the French Revolution and the new civic values that rescue the meaning of ancient forms, classical, its grandeur, its balance of space and symmetry. Reminiscent of the Arc de Triomphe in Paris, also ordered to build by Napoleon.
Materials
The body of the bow is Crevola Baveno granite and framed with four fluted Corinthian columns of marble Creola d'Ossola.
The figures that adorn the top are bronze.
Drawings
Photos
Drawings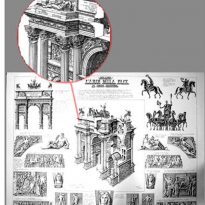 Photos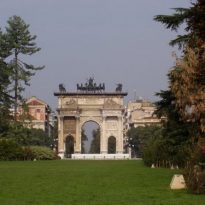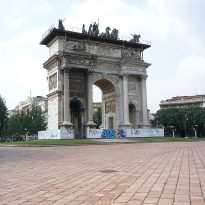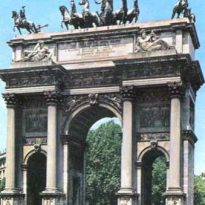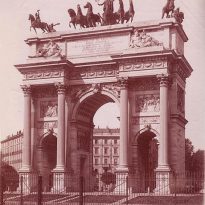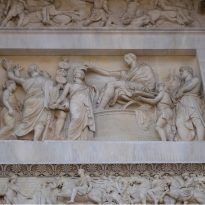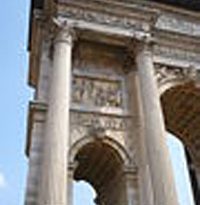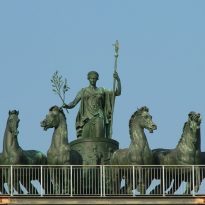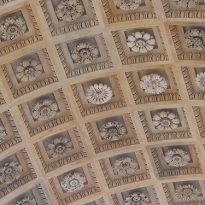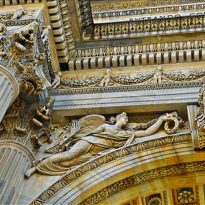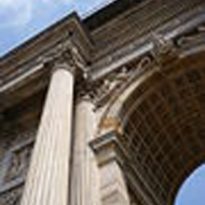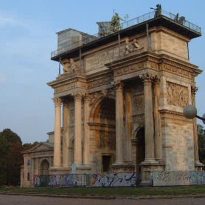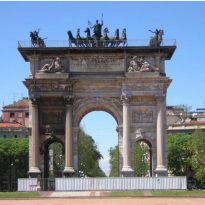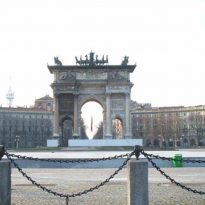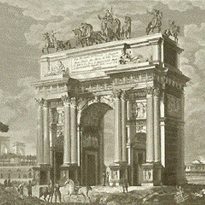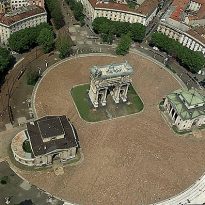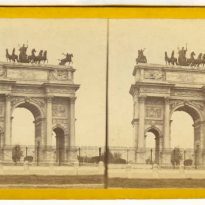 VER MAPA