Location
Oak Park, Illinois, United States
Introduction
The house built for William C. Fricke is a rare example of a three-story residential home designed by Frank Lloyd Wright (most of his houses were 2 stories high, pursuing the horizontal over the vertical).
Project
It was the shape and size of the plot that forced Wright to build more vertically than horizontally. The placement of the house on the land demonstrates a clever project resolution; the house is situated at an angle, leaving the rest of the land for grass and garden. This challenges the norms that usually placed the construction in the center, surrounded by gardens.
In the original project, a covered passageway connected the living room to a pavilion which had a roof, but was open on the sides, ideal for a summer dinner or gathering. This pavilion was shaded and overlooked the gardens. In subsequent years, this pavilion was demolished.
Location
The Fricke/Martin House is located at 540 Fair Oaks Avenue, Oak Park, Chicago, Illinois, USA.
Oak Park is home to the largest collection of buildings and houses designed by Frank Lloyd Wright, with 25 structures built between 1889 and 1913. It is in this place that the architect developed and perfected his Prairie Style architecture.
House's features
The idea of symmetry is lost in this design; a raised house, with three levels. Architecture is seen as volume, not as overlapping planes, emphasizing horizontality and shelter. In this house, Wright explores geometry, and the balance of horizontal and vertical elements.
The Fricke House began in 1901 and was probably completed in 1902, being one of the earliest mature designs of Wright's Prairie Houses. All lines are straight, and all moldings have sharply defined square corners.
Despite the passage of years, the main house remains in its original condition, except for the kitchen and bathrooms. All the stained glass windows on the first and second floors are intact, each featuring a unique design by Wright.
The garage was built approximately five years later, in 1907, also by Wright. However, it is clear that it was designed as a single composition. By the time it was built, the house was owned by Emma Martin, a name frequently used when publications, which often refer to the house as Emma Martin's House.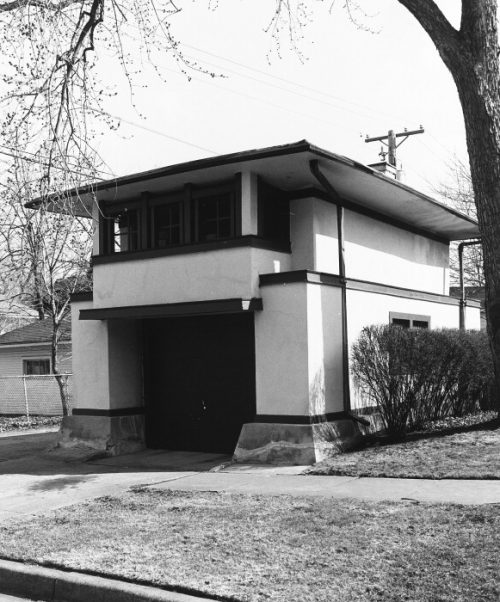 Description and Materials
The design of the Fricke House is primarily vertical, more so than any of Wright's other Prairie designs. It is clad in stucco, with wood detailing and numerous fixed windows. Although there are strong horizontal lines on the exterior, they cannot disguise its vertical orientation.
The hip roof, along with the eaves, are present and would become a standard feature in the evolution of Wright's Prairie Style.
The garden paths and gazebo were demolished, and half of the original double plot was sold. However, the house has maintained much of its original appearance and continues to be a private residence.
VER MAPA