Location
Utrecht, Netherlands
Introduction
Designed by the Dutch studio MVRDV for the Koek – Wesseling families, this house displays the essential process of evolution through its stages of negotiation to accomodate two different families. The origin of the house is not merely morphologic or morphogenic, but the fruit of conversations realized with both clients.
In this way, the architectural object is not a product of the creativity of the architect, let alone an auto-biographical piece, but something which is subject to change as production stages can be interactive.
Situation
The house is located along a row of isolated houses, outside the Wilhelminapark in the city of Utrecht.
Concept
If a floor of one house yields volume to the other, it is recovered on another level.
Only the sectioning expresses all the particularity of the project, composed like a puzzle trying to fit pieces of space together dto create a uniform, finished facade, as in the first project for the Villa in Carthage of Le Corbusier, is projected from inside the space continuum.
It was originally planned as a simple vertical subdivision, then step by step, the two houses began to intersect.
Spaces
House 1
The smallest apartment, which is located on the left side of the street, features a kitchen and dining room on the ground floor divided by a staircase. In a small mezzanine or loft above, the living room overlooks the lower spaces.
Going further upward in the house, one encounters unique closed spaces together with a bathroom, on the uppermost floor, and a small covered terrace.
House 2
The larger apartment next door presents a garage and room for guests on the ground floor entry. The first level, completely open, is dedicated to the living area and kitchen. The second floor, where the two bedrooms are located, is significanly reduced..
The space stolen from the second floor is recovered in the uppermost level, invading its neighboring house.
The terrace on the top floor is accessed via a staircase.
Structure
The spaces are interlaced but not confused, the boundaries on the flat plane moved and the alignments exchanged until the final settlement was reached.
The wall separates the two floors is suggested as a serpent, utilizing the full architectural advantages of the reinforced concrete.
Materials
This is a box of glass and wood.
The outer surface plays with areas of transparency and opacity and is composed of different types of glass and dark painted plywood panels, used to hide what the glass would have shown in more private settings.
Drawings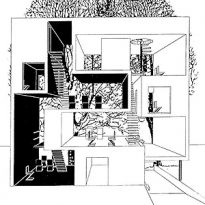 Photos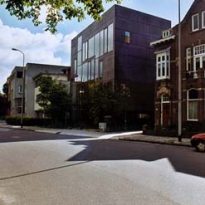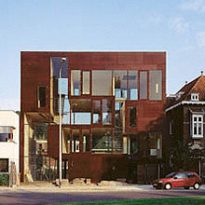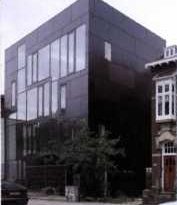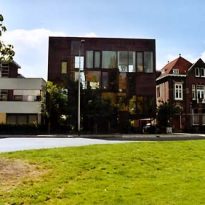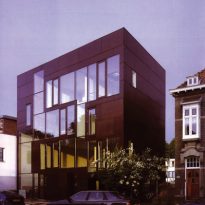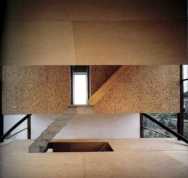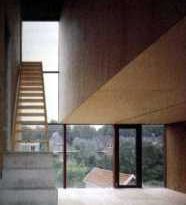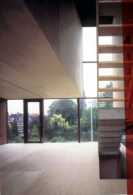 VER MAPA