Landscape Architect
Pascal Arquitectos
Location
Chimalistac, Mexico City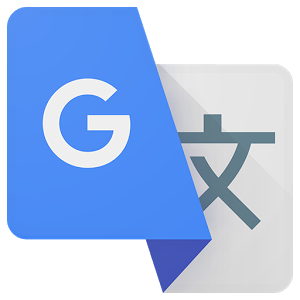 Some parts of this article have been translated using Google's translation engine. We understand the quality of this translation is not excellent and we are working to replace these with high quality human translations.
This article was writen with the collaboration of the architectural studio in charge.
Introduction
Secret was a detached, contemporary residential architectural intervention in the historic colonial cataloged area of Chimalistac.
It is a house made ​​to order for a customer, which is often more complex than developing a large building. The result depends on two factors: a good architect, but mostly a good customer.
Location
The environment where is the house has a historic colonial character almost untouched by the sprawl that has occurred elsewhere.
The fact intervene in a historic area ( cataloged by the INAH, raises the dilemma of adapting or blend into the background, but by ideology could not talk about the present and future with the language of the past.
Concept
Very few finishes were used as part of speech and for reasons of durability and maintenance. Among them, specifically highlighting the most significant elements of the house, being a material that does not age and decays if he acquires more dignity and history with time.
Spaces
House room on two levels; land area of ​​1249.90 m2 and rudeness of 362.44 m2, 887.46 m2 free area occupied by the garage, an outdoor courtyard with reflecting pool and the garden (724.71 m2)…
Ground
Ground floor (362.44 m2) :
Hall covered access, inner hall, double height library, two guest bathrooms, double height courtyard, living room with fireplace, dining room, kitchen with breakfast bar and pantry and a utility room. Includes covered terraces in room, breakfast kitchen and a grill.
Upstairs
Upstairs (261.98 m2) :
Lobby, TV room, master bedroom with bathroom and dressing room, gym, two secondary bedrooms with bathroom and dressing each and an outdoor garden terrace. Guest bedroom separate from the rest of the bedrooms bathroom also on this level.
Based construction reinforced concrete structure, exposed concrete walls, red brick and use of structural steel elements.
Materials
The external finishes for walls inside and some were with quarry Galarza and flattened using pasta. The interior walls are finished with plaster and paint like the panels. Use in bathrooms marble was Sto.Thomas and plaster with enamel paints and vinyl in wet areas.
In particular chiseled exterior floors and marble was used Sto.Thomas in various sizes according to design, stone ball loose river water mirror and side garden walker. In interior, marble Sto. Thomas, engineered flooring walnut wood and carpet dressing.
Cancelería natural anodized aluminum and clear glass railings and iron gates, garage doors and access iron and wood.
Furniture
Fixed in library furniture, double height ceiling, toilets, closets, dressers and cupboards, doors and baseboards were in walnut. Home visits and stairs; based steel elements and wood prints.
Drawings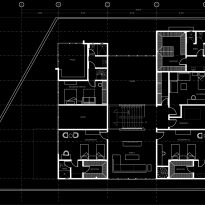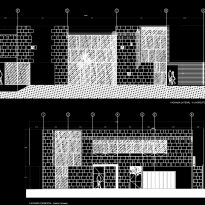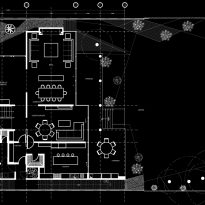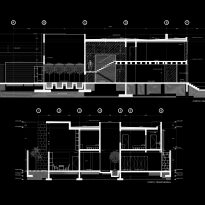 Photos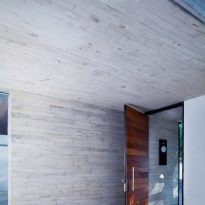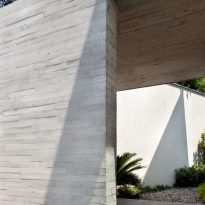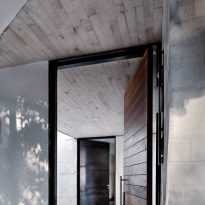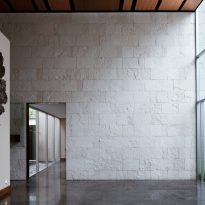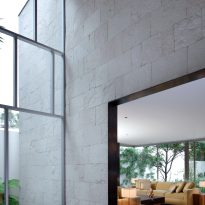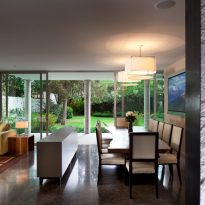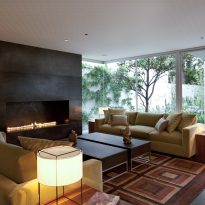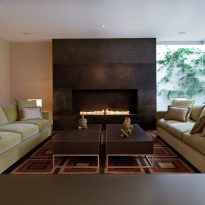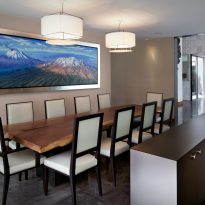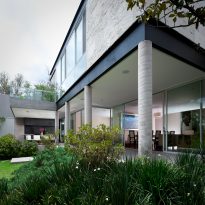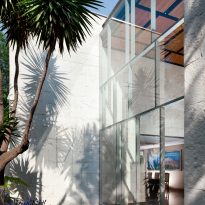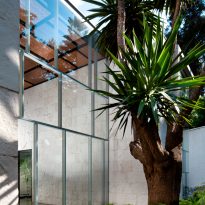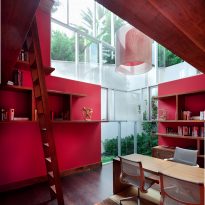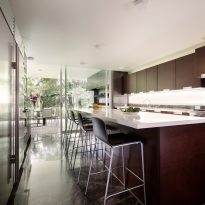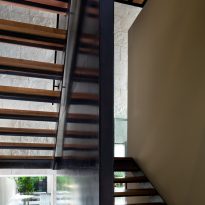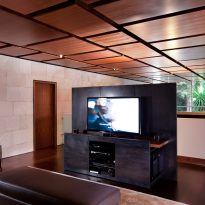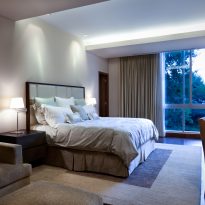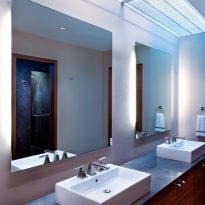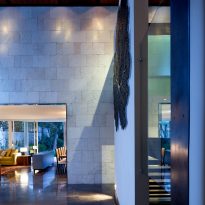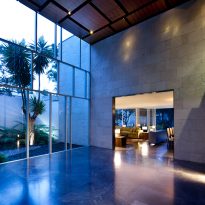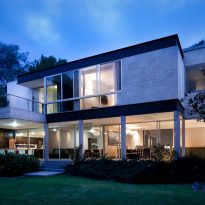 VER MAPA