Landscape Architect
Juan Ellis
Structural Engineer
Pablo Galotto
Location
San Fernando, Buenos Aires, Argentina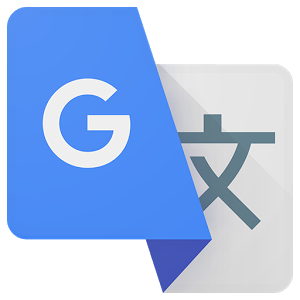 Some parts of this article have been translated using Google's translation engine. We understand the quality of this translation is not excellent and we are working to replace these with high quality human translations.
This article was writen with the collaboration of the architectural studio in charge.
Introduction
The project is part of a strategy of intervention and recovery of public spaces in the historic old city of San Fernando, Argentina.
The effect of the intervention is linked to the social role of public space meet in the urban area, being the civic space, binding, generating social interaction and participation.
Public space provides the opportunity to experience some sense of collective identity shared by the different members of society.
Location
The Plaza Sarmiento is located on the corner of Tres de Febrero and Nueve de Julio, immersed in the urban layout of the city of San Fernando in the metropolitan area of Greater Buenos Aires.
The site has two of its edges on the streets and the other two are party walls with neighboring buildings.
The project sought to engage with all requirements for use and urban situations that occur on the site.
Security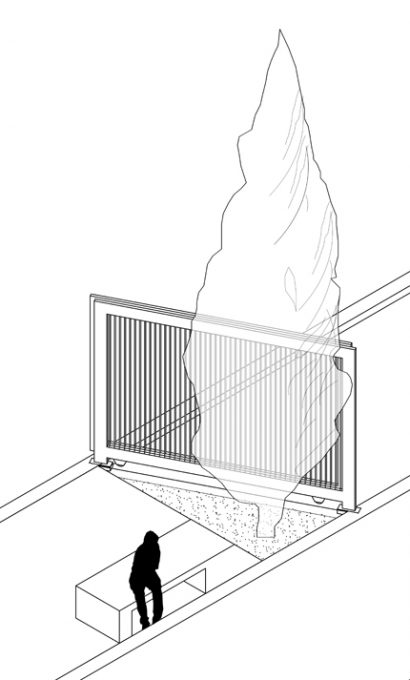 The care of public spaces in the city tends to generate demand-from neighbors and from the municipal authorities, to limit their use in night hours.
The project focused his interest in running these limits as sensitively as possible. Ie taking the considerations imposed by the urban situation, without neglecting the spatial quality of the city.
The project does not take the fence as a "necessary evil" but was incorporated into the proposed design of the plaza, separating it from any negative connotation:
The grid is placed with a diagonal path that defines the two main sections of the square: one sector will always be open to the city (urban) and other closes at night (gaming industry).
Thus, both day and night, the grate becomes an element of the equipment.
The closure is performed using modules made up of a fixed cloth, cloth sliding, a green stone, a tree and a bank, which together make up a seating area and define the urban landscape.
The medians are worked as part of the landscape.
Through two inclined planes on the ground (embankment playón and green) and the concrete walkway pedestrians users do not approach the inner edges of the site achieving a certain distance from the walls getting a wide perspective that dilutes the limit.
References
CAPB First Biennial Award (College of Architecture of Buenos Aires Province)
Urban Interventions Category
First Honorable Mention XVI International Architecture Biennale Quito
Landscape Architecture category.
Drawings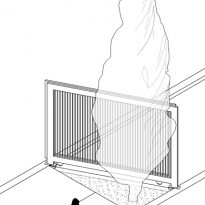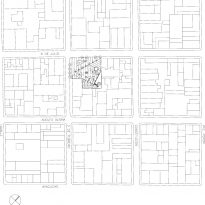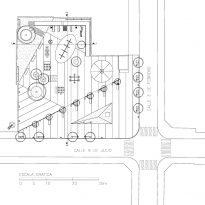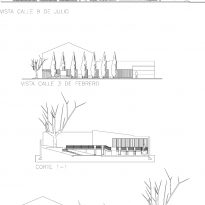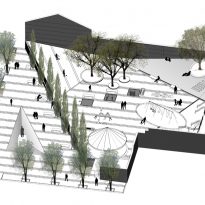 Photos
by Albano García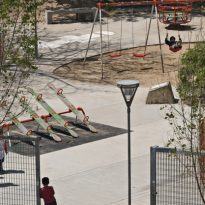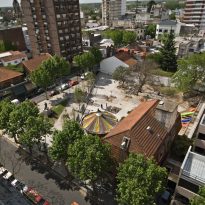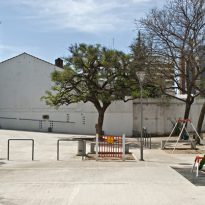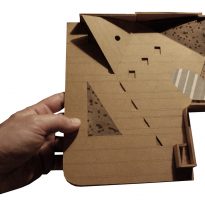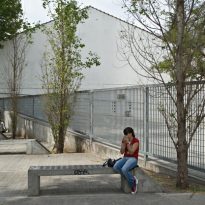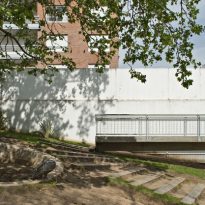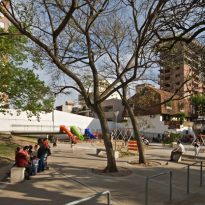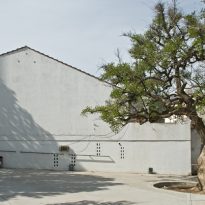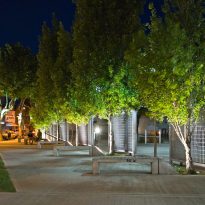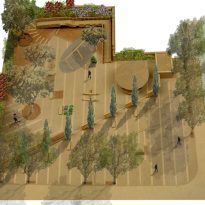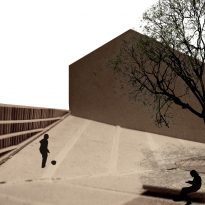 VER MAPA