Technical Architect
Beka Pkhakadze
Construction Company
ANAGI
Developer
Tbilisi International Airport
Introduction
The new building Mestia Airport, Queen Tamar, is part of the ambitious plans of Georgia to stimulate tourism in the area.
The building, designed by architect Jürgen Mayer was designed between October and November 2010 and inaugurated on December 24 of that year. Built by Georgian companies, involving 300 people, the airport and its nearly 1200 meters of track were completed in record time, three months.
Situation
Mestia is a beautiful medieval town with defensive towers of stone that have been included in the list of UNESCO World Heritage Site. Another reason why the city belonging to Georgia, one of the former republics of the Soviet Union, is known for its ski resort, between the Caucasus Mountains, at 1,400 meters above sea level.
Description
The small airport, just 250 m2, enjoyed during construction of the same vitality with which you want to infect the city. It consists of three different wings, the design has a dynamic look and is clad in glossy white and dark crystals that give an appearance of solidity. Two ends of the building curve upwards by setting a unique design, the highest arm contains the control tower. In the other two wings cafeteria and waiting room are located. Building structural ribs define these interiors, which are decorated with large contrasts in black and white.
The small airport has a modern technical equipment installed by European professionals and meets contemporary standards. It has a high level security systems and its long track of nearly 1200 meters is able to receive small aircraft in all weather conditions.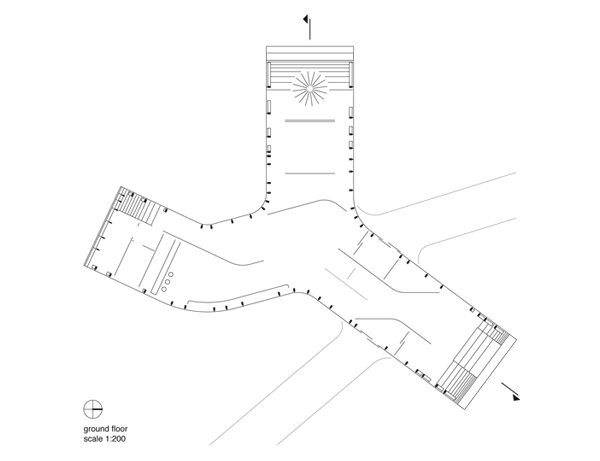 Concept
Its structure suggests a Russian space station placed in a snowy environment. According to Mayer and his team is an alternative and happy the movie 2001: A Space Odyssey, in which Kubrick tells a failed space mission end. The architect wanted the building to give the appearance that "just landed in place". The ends are raised, as if from the impact.
On the other hand, Mayer wanted the design and subsequent construction of the tower echoes the historical Horres stone became Mestia.
The preferred Mayer's Tegel airport in his native Berlin, with an ordered hexagonal around a central plaza. The new airport in Mestia is seen as a segment of the main building Tegel whose tower has been bent and twisted in a less brutalist form.
Materials
Its structure consists of three different wings with two wingers looking to the sky, was made of reinforced concrete and painted white satin, closing the sides with dark tinted windows and mounted color on structural steel racks. The dark color of the crystals gives three-dimensionality to despite its minimalist building structure according to the architects kept his poetry in the middle of the glacier landscape.
Inside there are numerous benches and bleachers that combine white with black finish, the color of the soil, absorbing together with dark glasses, excess light caused by the reflection of the snow.
Drawings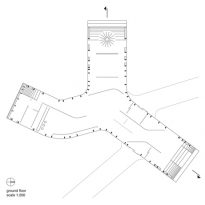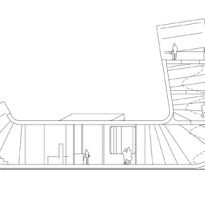 Photos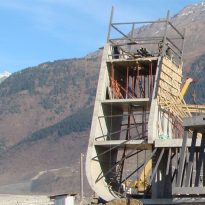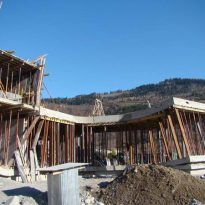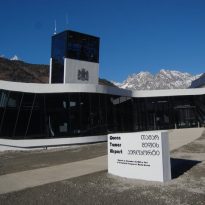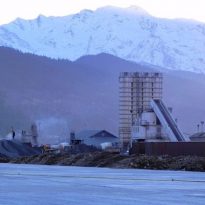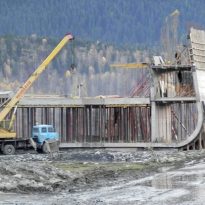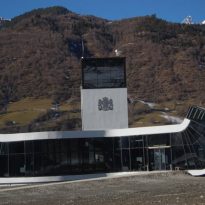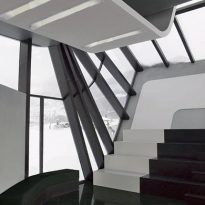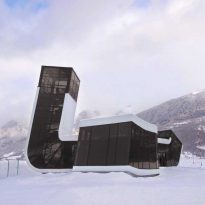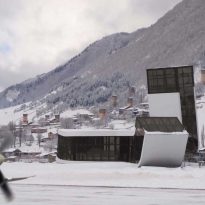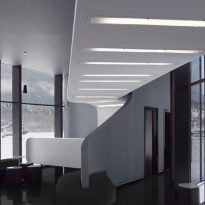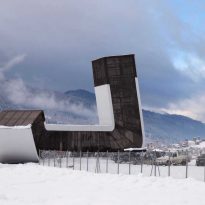 VER MAPA