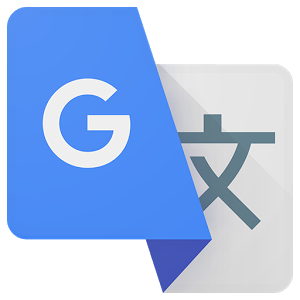 Some parts of this article have been translated using Google's translation engine. We understand the quality of this translation is not excellent and we are working to replace these with high quality human translations.
Introduction
The Puebla Convention Center was built in the last decade of the twentieth century by architect Javier Sordo Madaleno and is part of a comprehensive integrated development, cultural, tourist and commercial.
For your creating buildings have been restored with historic and artistic value, achieving a perfect amalgam of ancient and modern, between the beautiful and functional, becoming part of the main attractions of the city. The Center works since November 1998.
Location
It is located in the historic center of the city of Puebla, Heroes Blvd May 5 No. 402, Mexico, considered "Cultural Heritage of Humanity "and has lifted up the side of buildings of ancient textile mills: The Guide, La Esperanza, La Mascota and La Pastora and ruins of colonial structures. Buildings have been rescued so historic and artistic value achieving a balance between the cultural and the commercial, modern and ancient.
Status and built area
The Center is located in an area of ​​1 hectare and has a built area of ​​33 thousand square meters. Amalgam different architectural styles, both industrial and neoclassical and modernist.
Concept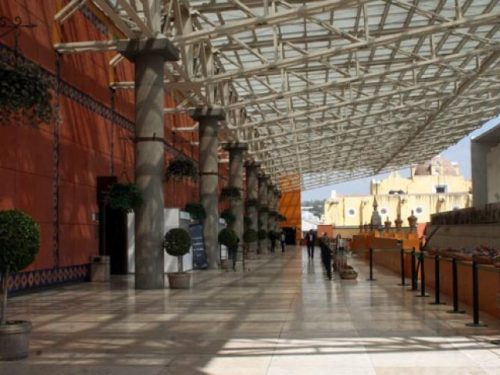 Puebla Convention Center, has been installed on buildings of the old textile mills: The Guide, La Esperanza, La Mascota and La Pastora, respecting the value of its essence, restoring value features and giving it a new life, from the needs and demands of modern life.
Spaces
The center has a main hall with seating for 3500 people subdividible into three smaller spaces. There are also 4 additional rooms, 2 meeting rooms, auditorium, exhibition hall with an area of ​​40,000 m2, media room, nursing, 2 levels of parking, lifts, escalators and air conditioning.
To become one of the most modern convention centers in the country all the spaces are equipped with audio systems, video and networking.
Salas
It has 12 rooms equipped for conferences, courses, conferences, conventions and exhibitions.
Total meeting space: 9188 m
With 2976 m2 and a capacity for 3,400 people is the largest Convention Center. It has a false floor that hides a network of facilities for voice, data, power and regulated current. Its surface can be divided into three with movable walls that achieve soundproofing.
It features the most modern computer center, car audio and video, simultaneous translation, bathroom, lobby, with capacity for 264 people.
Cross Boardroom and Xonaca
Each has a quota of about 50 persons theater style.
Meetings La Esperanza, Oriental, Violet and Consistency
They salons support for workgroups or small meetings from 75 to 200 people.
Old room this textile factory machines, which retains its Catalan vault and cast iron columns, ideal for exhibitions.
Its aim is to support reporters media, to develop their work news from the Convention Center itself.
With an area of ​​781.22 meters square and a roof blown tempered glass of 1800 square meters, offers a good view of the Paseo de San Francisco
This room contains a juicer Factory Pastor and part of impregnation pots, whose original boiler is currently in the Square Mother.
The Center also has two open spaces for holding events.
The colors of the Convention Center are green, yellow and orange, these colors because they are thought to be used to paint the talavera, and when excavated remains were found Talavera workshop last century.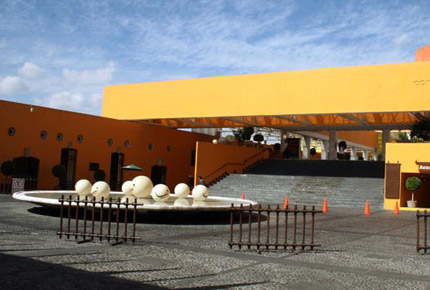 In this vast and ancient square stands a high chimney factory belonging to "La Mascota" and has been preserved as a tribute to the former industrial activity Puebla
In this square is access to the balcony of the pedestrian bridge linking the CPC with the Artist Quarter, El Parian and Toads.
This patio was decorated with a large mural called "Allegory Puebla", made with remains of pottery found in the ruins of one of the old saddlery workshops and conducted by maestro José Lascano. Represents the City of Puebla, with its churches, always accompanied by volcanoes and angels.
Materials
The venue for exhibition has a resistance of 5 tons per square meter, a fact that will house machinery tonnage and stand the test of more than 5,000 people at a time. The holder is made based on 30,000 m2 of reinforced concrete and cast three piece m2por 10,000 plates.
Video
Drawings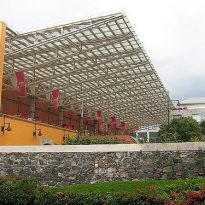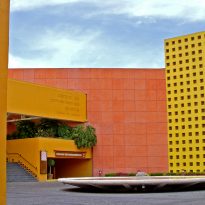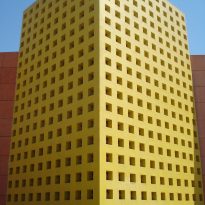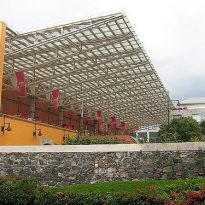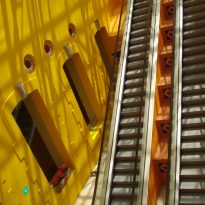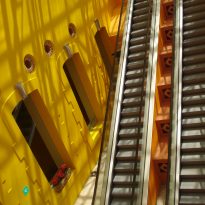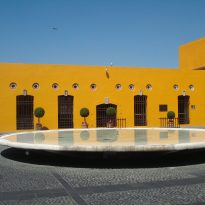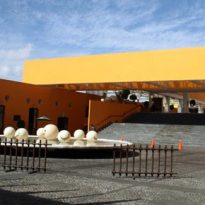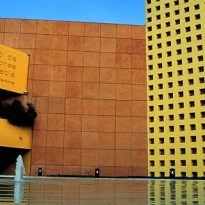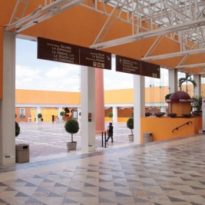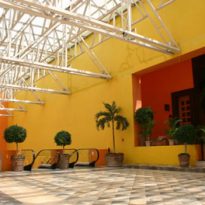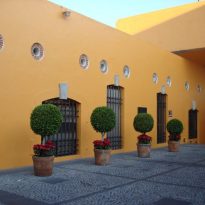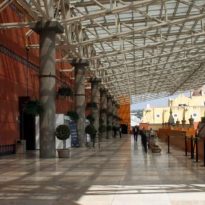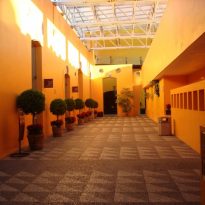 Photos
VER MAPA