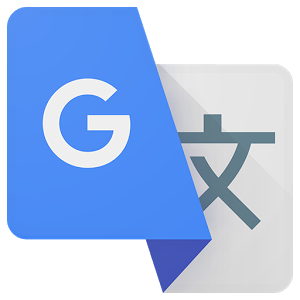 Some parts of this article have been translated using Google's translation engine. We understand the quality of this translation is not excellent and we are working to replace these with high quality human translations.
Introduction
Jean Prouvé, atypical French architect who developed projects from the workshop and not from an office, received a good practical training in carpentry and mechanical works forging, working to figures from the world of architecture as Robert M.Stevens or Tony Garnier
After World War II created his own company which fails after a few years, having to close. This is the time when the architect decides to build his own house, building materials from other projects that were never carried out. The use of techniques and materials available at all times, is a constant throughout his career, especially in the field of metal, using an elaborate constructive and structural intuition that led him to make exclusive pieces both in the field of architecture and furniture.
Situation
The house was built on a narrow platform aimed at noon and excavated on a plot on top of a hill that was considered inconstruible for its steep, family inheritance.
In those years its location corresponded to the outskirts of Nancy, France, 6 today, rue Auguntin-Hacquard.
Concept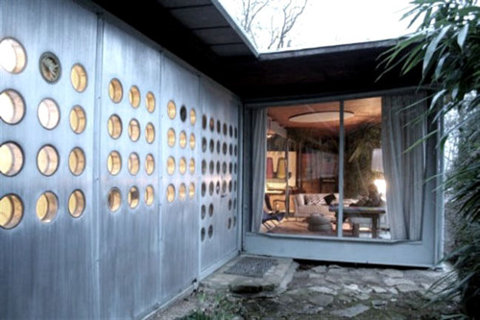 In those years the construction in France was dominated by concrete and stone. Prouvé projects were too modern or simple for their "machines for living". The folding metal, wood board and backplane aluminum proposed by the architect in his many models of individual houses at low prices, in kits to be built in series and so that citizens could have a home they build it themselves, had no reception and received important commissions.
Jean Prouvé start building your own home, when your company goes bankrupt, to prove to himself and to others that may have a manufactured at low cost, using materials that rescues his own factory.
The assembly is confusing and may have more boat or some other type of vehicle building, although the various elements used are ingenious and practical, stylish resulting themselves. With the construction of their home, Prouvé achieved transferring technology from industrial manufacturing to architecture without it losing its aesthetic qualities. Prouvé lifted a house that was sponsoring her 10 years of life, but his supporters have maintained and preserved over time.
Spaces
The plant is basically a row of rooms connected by a long corridor located on the north side. On the south side, which boasts views over the valley of Nancy stays are located. This facade is expanded in the lounge area to re-set back to get to the kitchen and study.
Along the corridor a living room, 3 bedrooms, bathroom, kitchen and study are located.
Structure
No structural skeleton itself, although there is a steel roof beam to reduce the light stays wider. The vertical end walls are the only masonry and concrete to help the lateral stability of the structure
Construction System
Due to complications of usable space, the house unfolds on a linear plant, built without foundation itself. Starts on a separate forged 2 meters which rely on block pilaretes beams. Thus depopulation is left between the slab and the ground is filled with concrete, leaving a duct system for radiant heating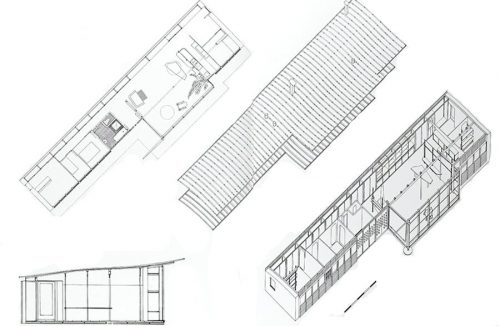 One of the details that catch the eye in the house is the diversity of building technologies used. The vertical walls of the longitudinal structure is formed on the rear facade, close to the ground, by sheet metal trays 14 3 meters high by 1 in width, with the folded edges and perforated to allow their assembly and fixed to the ground with screws and nuts. In turn, arranged at right angles to the metal wall panels, frames are placed steel timber filled subdivisions forming a continuous enclosure around the whole length of the house.
On the south side, separate 5 meters from the opposite facade is composed of three different types of support panels, glass from floor to ceiling in the living room, glass and wooden slats in the bedrooms and study and aluminum portholes small glass room service.
The west front of the living room, which is extended to reach this point opening to the landscape, complete with a large glass door with steel frame and pivoting hinge that opens outwards.
The panels forming the cover and simply rely on the vertical structure, have a slight curvature created by its own weight, forming a barrel vault that is lowered onto the main volume of the house by placing a girder bolted the boards. The cover is self-supporting, without beams and is coated with aluminum sheet.
Materials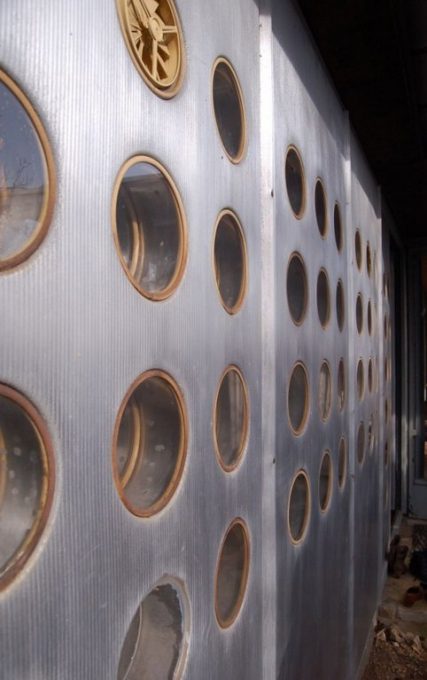 Due to the large slope of the plot the building materials are transported virtually by hand, or at most a small truck, forcing Prouvé to use a lightweight prefabricated system that can be handled by one person, such as panels facades or maximum two, like beams or deck boards.
It is considered the home of Jean Pauvé as the first house in which boards have been used contralaminados.Los panels are aluminum facades and follow the pattern of one meter except glazes that increase to 1.60. In the construction we have used two types of panels:
1- Racks aluminum with openable window on top, overlapping walls of wooden decking at the bottom left a hole to place a rigid metal blinds guillotine.
2-Racks wood core insulation blanket and aluminum sided enclosure with 18 holes of circular shape.
The metal beams on which the slab rests are IPN of 5 and 9 meters long.
Contralaminados boards used in the cover are formed by three layers of boards glued with three upper longitudinal ribs give them rigidity. Oy have a 1 meter, a length that varies between 5 and 9 meters and a thickness of 7 cm. Outwardly deck boards are covered with corrugated iron.
Interior walls are mostly of contralaminados boards except that the bath is concrete, masonry and the side end walls.
Video
Drawings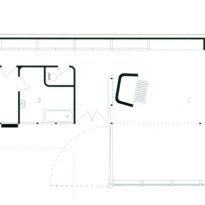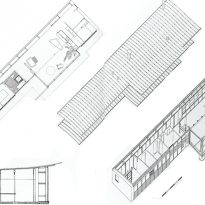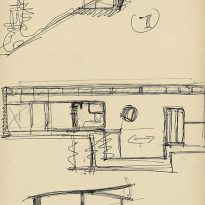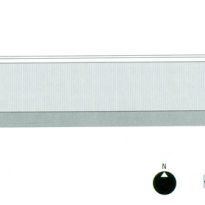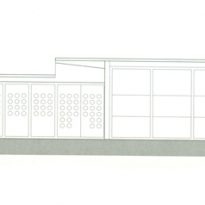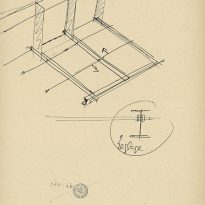 Photos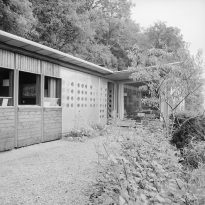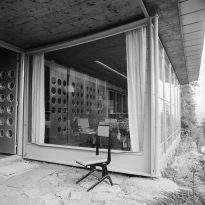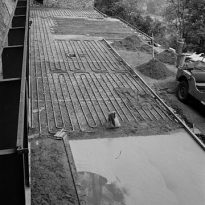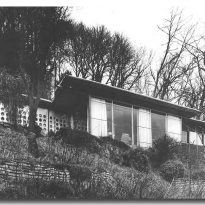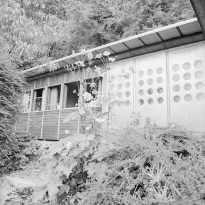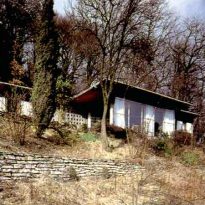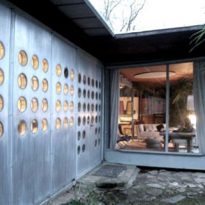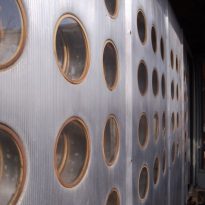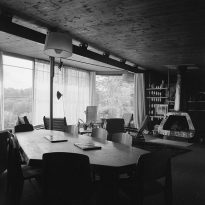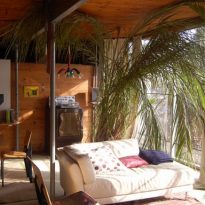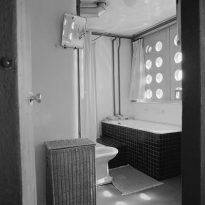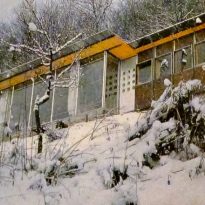 VER MAPA