This article was writen with the collaboration of the architectural studio in charge.
Concept
This proposal is part of the Open Source Contest House, which intends to open development of housing and building systems that allow for a solution to housing for lower and middle classes in developing countries. In a first stage of the competition takes place the proposition of the houses that may subsequently be revised and developed by the other contestants to find the best solution. This type of open source development seemed to us an interesting opportunity for a side to share what developed so far and another to receive fresh ideas and improvements from other professionals
Spaces
The base housing proposal was developed based on four 20 'containers grouped into two floors. The program is shaped on the ground floor through a living-dining area and kitchen in two different atmospheres to sum them a toilet and storage area in the entrance area. To the upper floor offers two bedrooms and a bathroom.
Materials
Constructive solutions have been used until now we were developing, holes using the full height of the corrugated trim solved using a decorative laminated glass reduces the amount of heat transferred and protects against ultraviolet radiation. It consists of a polyester film printed with a matrix of opaque (colored light to the outside and gray or black to the inside) which produce an image or color that is clearly visible from the outside but, optically, disappears when viewed from the inside. This film is placed between two sheets of PVB and two glasses in an autoclave process using pressure and temperature. This material is marketed to other companies with similar solutions under the name Cridecor CRICURSA Chromascreen.
The isolation is solved using the principle of "box in box", which will create a living space (box) inside the container. To isolate used in both walls, ceilings and floors ultra thin multilayer insulation. We will work with thicknesses of around 10 to 15 mm inner tubes run between 20 mm and later finished with plasterboard laminate. For the ground will make this insulation under the base of the container. This material is marketed by brands such as ACTIS within its range of ultra thin insulating multi-reflectors.
The cover is solved by solutions such as Filtron slab.
Drawings
Photos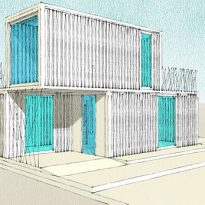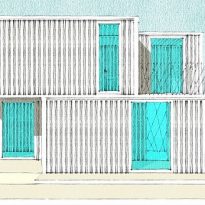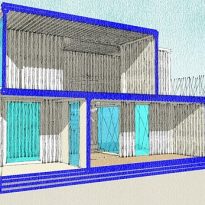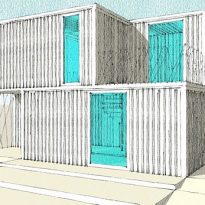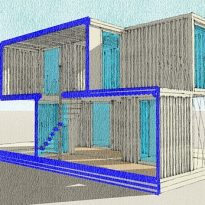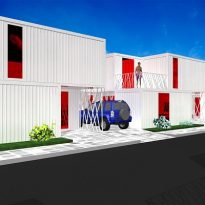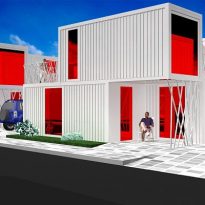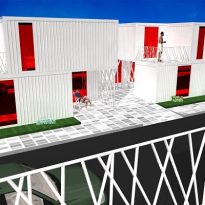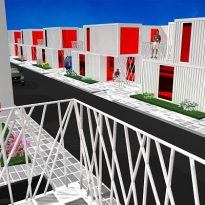 VER MAPA