Technical Architect
Jorge Rodríguez Salceda
Associate Architect
Javier Bajo Rodríguez
Construction Company
Edificaciones Maviel S.L.
Developer
Natalia Medina & Nacho Andrada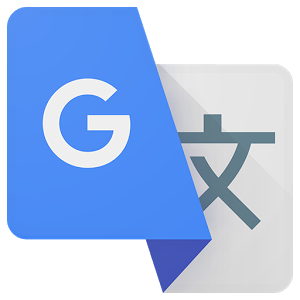 Some parts of this article have been translated using Google's translation engine. We understand the quality of this translation is not excellent and we are working to replace these with high quality human translations.
Introduction
The site is located in the C / Albillo, No. 2 (plot 12), the La Bastida, in Toledo, Spain. This is the cadastral parcel number 0031807VK1103A0001XD. It has an approximate area of ​​503 m2, being the date of the free project of building and presenting no bondage. The plot has trapezoidal deformed in its northern part bordering Service via Highway C-502 (Puebla de Montalbán).
Concept
"According to their biology, man tends to have its own territory. According to his privacy, if favorable, requires concealment of activity or rest. If man locks himself in his own house gets everything, but loses nature. Then looks for ways to apprehend, if not all, in part. ALREADY APPEARED THE PATIO. "Alejandro de la Sota. Alcudia. 1984.
Spaces
The project has two distinct parts, one parallelepiped of a plant and another cubic two.
Part parallelepiped
The first is that we glimpse the dynamism that causes daytime activity. This movement welcomes:
There is a pedestrian entrance near other reserved to the garage. Developing both an independent path. Linked to the area of ​​access and distribution, is a suite of applications several that lead to the basement.
The distributor arises at the intersection of two pieces, and the room access. Slouch that typecasting conventional step to becoming alternative place of sensations. The tour of this unique space, continues with a small toilet that conveniently linked with the visiting area, lounge and kitchen.
The living room and kitchen which is consolidated in the plurality of a single fragmented to enjoy its various uses space we generated multiple relationships and flowing visions of a place for the variety; taste, passion, sound, etc. Finally comes an extension of the living room linked to the outside which flows into a sheet of water in the yard to be developed at a later stage to the completion of the work.
Cubic Piece
The cubic piece, can be defined as a stable, static and Platonic figure that harbors the most intimate living spaces. On the entrance floor are the bedrooms, study and bathroom, communicated and divided by two transition elements, staircase and light. Stairs rising lightweight way up to the second floor of this volume. It is located the master bedroom, with access area, bathroom, dressing, and related to the terrace, new exterior space, which allows to observe the landscape and skyline.
Materials
Constructively defined as a ventilated façade brick raked checking the horizontality and allowing ventilation between its vertical cracks. Brick and concrete walls with external insulation and extruded polystyrene support assembly being drilled in different dimensions by the glass
Drawings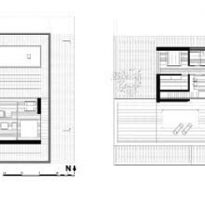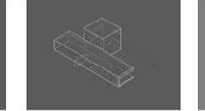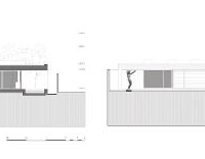 Photos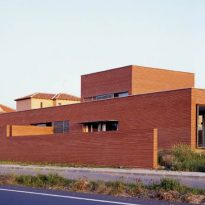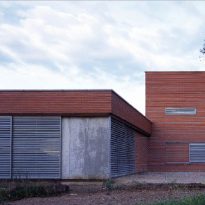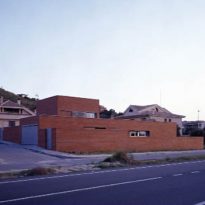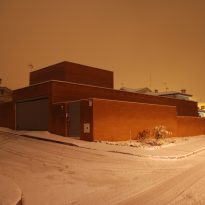 VER MAPA