Location
Uomatie 1, 01600 Vantaa, Finland
Introduction
The Lutheran congregation had purchased a suburban corner lot that was densely forested with birch trees that also backed onto a commuter rail line.  Leiviska submitted an atypical competition design.  Rather than cutting the trees at the front of the site to place the building as far away from the noise of the train, his concept was to build a wall to block the noise and then carefully place the church's spaces along the other side of the wall (like piglets suckling their mother) in such a manner to minimize the cutting of trees.  In essence, he shoehorned these spaces within the forest.  On the railroad side of the wall, he located the church's parking lot, thereby keeping its cars out-of-sight and maintaining the pristine view from the street of the clump of birches with the church in the background.
Location
Myyrmäki neighborhood of Vantaa, suburb of Helsinki; nw corner of Louhelantie and Ulonatie.
Concept
The building and its site are designed using as a datum the "great wall" that protects the site from the noise and sight of the train tracks.  Over his career, Leiviskä has evolved a language of free-standing planes inspired by the De Stijl movement to articulate spaces in plan as well as in section.  These secondary walls are not allowed to touch the main wall with the use of glass to articulate the primary from the secondary planes.  He treats the ceiling in a similar manner as he "pulls" panels in the ceiling away from the primary wall, in a manner inspired by Alvar Aalto, in order to allow daylight to enter the building's spaces and to accent the main wall.
Materials
The exterior reads as a series of cream-colored brick planes separated by white spandrels and window frames.  The interior walls and ceilings are white surfaces, either done in plaster board, wood panel, or trellis/gridded panels.  The interior is puntuated with his signature pendant light fixtures (see below).
Spaces
The sanctuary, two chapels, meeting hall, and support spaces are aligned along the forest side of the main wall.  The sanctuary seats 450 but both the chapel and the meeting hall can be opened to increase the capacity to 700.
Lighting
As with many Nordic designers, the long periods of winter darkness encouraged Leiviska to seriously study the design of his light fixtures as they are the dominant figures in the dark winter atmosphere.  He has said that he has been inspired by the ideas of the Danish light designer Paul Henningsen and forthrightly states:  "To me, a building as such, 'as a piece of architecture,' is nothing.  Its real significance is revealed in counterpoint with its surroundings, with life and with light."  Leiviska first designs the light as a source of illumination as well as a freestanding object in the dark winters, and then uses a series of  these fixtures to further define and occupy the space within which they are hung.
Drawings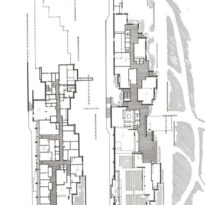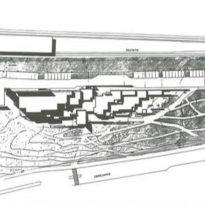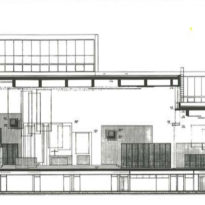 Photos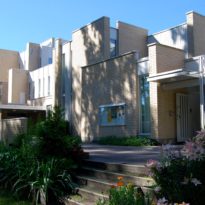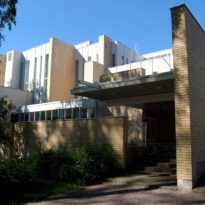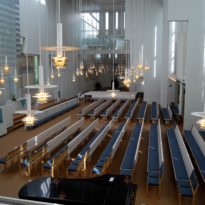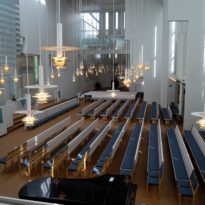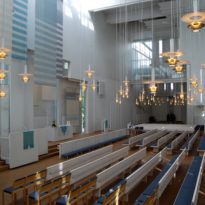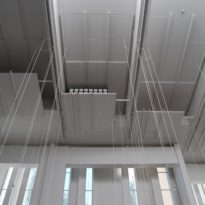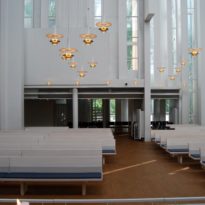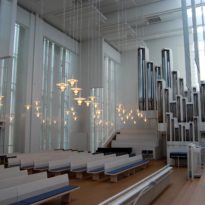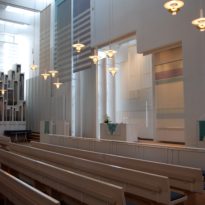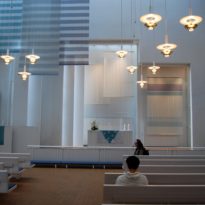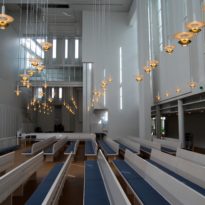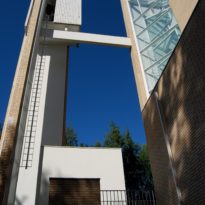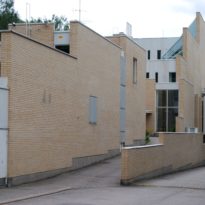 VER MAPA