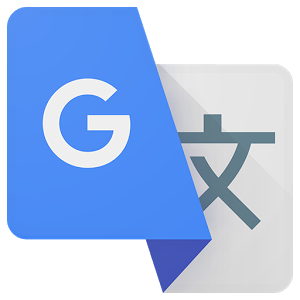 Some parts of this article have been translated using Google's translation engine. We understand the quality of this translation is not excellent and we are working to replace these with high quality human translations.
Introduction
With this museum dedicated to arts education for children, Ando's architecture achieves a monumentality that is expressed on a larger scale here than in his previous works, where the visitor is invited to discover architecture in relation to their natural environment. This is one of the first projects of Tadao Ando where he was offered the opportunity to build on land really large and, while taking advantage of a spectacular natural setting.
Situation
The museum was built on the outskirts of the city of Himeji, on a wooded hill overlooking a lake.
Meaning
It comprises three volumes: two rectangular blocks and staggered with a fan-shaped plan for the lake, next to a waterfall cascading in the form of visually connecting the building with the atmosphere of the lake bottom. Water and environment play a role in this work.
Spaces
The main volume of the museum contains a library, theater (a discovery), exhibition hall, restaurant and room. The outdoor theater is located on the roof with a spectacular view over the lake.
A path, marked by a long concrete wall leads visitors outside the main structure to a two-story workshop. Along this road Ando has a group of 16 concrete columns 9 meters high, like trees.
Materials
Reinforced concrete.
Drawings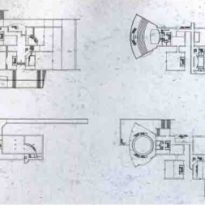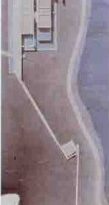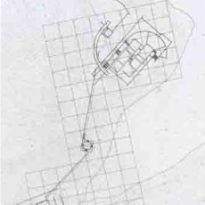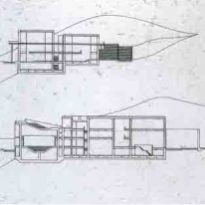 Photos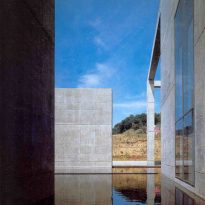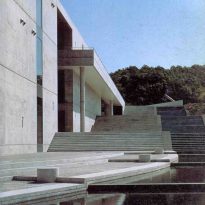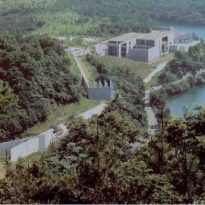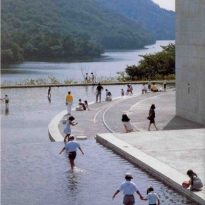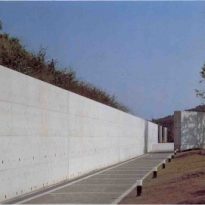 VER MAPA