Location
Ginza, Chuo-ku, Tokyo, Japan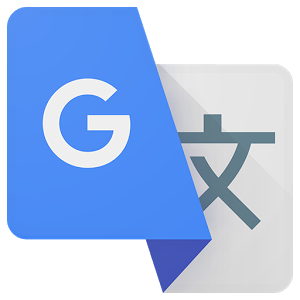 Some parts of this article have been translated using Google's translation engine. We understand the quality of this translation is not excellent and we are working to replace these with high quality human translations.
Introduction
Some of the most renowned architect jobs Toyo Ito are your commercial buildings in Tokyo, where he carried out some experimental concepts in design methods and construction, including Mikimoto designed for the company in the famous Ginza district.
The areas like Ginza, a large urban density usually restrict the forms or footprint of a building. Here Toyo Ito strives to create something interesting, within the constraints of the site, by creating an architecture of surface rather than structural.
Location
Since 1893, the company is headquartered Mikimoto Pearls at the corner of St Maronie and Namiki, in the famous shopping district of Ginza, Chuo- ku town of Tokyo, Japan.
The literal translation of Ginza is "place of silver", being a shopping district since the Edo period of the seventeenth century. Living up to the reputation that precedes him exclusive brands have made this place their showcase to the world, making the design of its buildings in part of it, with the participation of famous architects such as Renzo Piano in Maison Hermés, the Building Beers of Jun Mitsui, not far places the Tokyo International Forum of Rafael Vinoli and as of 2005 the new building of Toyo Ito for brand Mikimoto, in the same corner he held since 1893.
Concept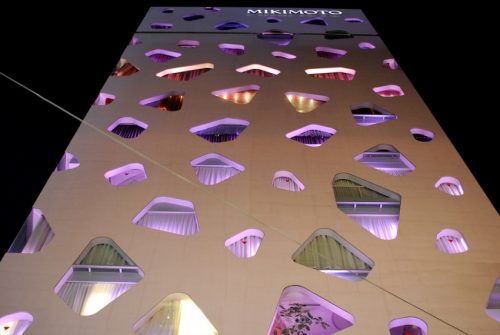 The tower is basically a rectangular box, and from a distance looks like a typical skyscraper. However, it is at night when probably becomes more attractive when the lights of different colors enhance the irregular windows and inside glamorous show.
The building has become a jewel in the Ginza district, with an exterior that shines in a pink tone, like a pearl, while their windows are shaped bubbles or petals dancing.
Spaces
It is a rectangular building, 17m wide by 14m deep and 48m distributed over nine floors above ground and a basement high. The lower levels are used as a shop and offices for Mikimoto and upper levels are rented as offices or multipurpose spaces.
On the 3rd floor started tasting their sweets made by a top notch chef, in others a hall for weddings and different restaurants is housed.
Structure
The building comprises a prism apparent simplicity perforated by a series of irregular windows, like Swiss cheese, seemingly randomly arranged. However, some of these windows are placed in corners where you would normally a column and if you look closely at the fine finish of the facade, it is clear that a system more sophisticated than the usual construction was used.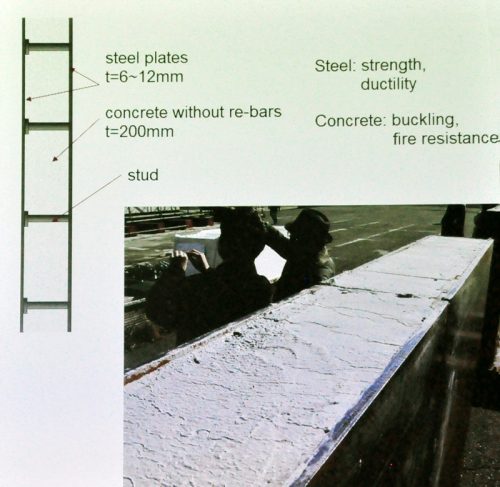 The concept used is based on the construction is maintained by its facade, leaving the column-free interiors. The building is a tubular structural system without columns, so that the load bearing walls. Formed by two layers of steel panels were interspersed with pins and then with concrete reinforced low viscosity. The slabs of the floors are formed by homogeneous layers 9.
This design is not based on a pure geometry, or follow an expressionist (structural) approach uses a new method. This design is made possible for the first time through the use of structural analysis technology known as the " method of finite element analysis ".
Construction System
By design, a strong structure for precise positioning required openings freely but not simultaneously dilate easily when heated. For this reason, Ito opted for a mixed system of metal plates and concrete. The steel plates of 1.2 cm were prepared and fixed with bolts network in order to maintain a uniform thickness of 20 cm, and then concrete is poured between them. Then the plates were transported and assembled on site. A total of 330 parts are used to build the facade.
Finally, we proceeded to weld the plates and paint. This process is done by hand and requires up to 6 different stages of polishing and painting to ensure smooth finish that the customer requires.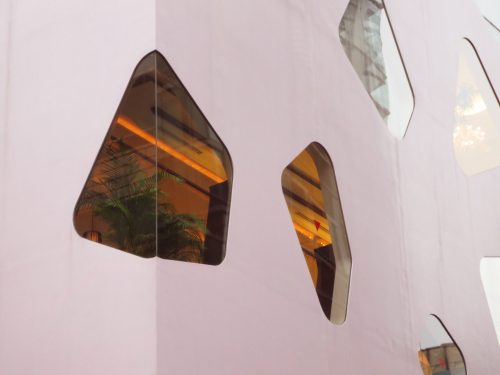 Windows
The shape of the window is part of a complicated geometry of triangles and squares, which resemble a fractal composition.
The arrangement of the apertures is derived from a quasi- crystalline geometry. Unlike a crystal, a quasi- glass requires more than one type of cells to achieve large-scale order. Based on observation, the amorphous windows are irregularly shaped polygons, rounded at the corners.
Since the structural system is flat and non-directional, the openings can be placed anywhere on the facade.
Facades
For flat facades, seamless, welded joints jurisdiction polished gently into place and steel received many layers of paint from the corrosive to the upper layers. By eliminating joints that usually found in curtain walls, the exterior image of the building presents a different kind of abstraction, and multiple coatings extend the materiality of the steel plates and directly express the maximum resistance structure
Materials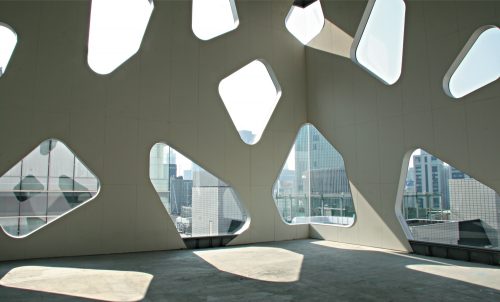 The skin -like appearance of this building is achieved with plates 12mm polished steel, glass and reinforced concrete.
The steel plates used for the facade of 12mm tend to bend and weld it is necessary to do it perfectly to keep the look together. To get a perfectly flat surface the whole team had to resort and experiencing different solutions. Toyo Ito commented:… "The meaning and significance of technology in my work is changing. In the past, technology was very visible. Presented in a visible way. Now it's different. Technology is something that I hide, you have to look for it, you do not see it, you can not see it. It is an element to be used and exploited in an indirect way. Before, I used to imagine an architecture that nobody could touch, impossible to grasp and hold. Now, what is new, is different, now I want to make an architecture that can touch and feel, I'm now working in physical reality, the object in the real. This interests me in this moment… "
Openness, color and light floating across the entire facade deconstruct conventional boxy, but the mass of the building may be limited by site conditions, creating a unique piece, with striking skin, is another how to use digital tools for creative constructions. For creating openings with different sizes, shape and arrangement was used Grasshopper system.
The panels composed of steel plates (t = 6 -12mm ) sandwicheadas with nails and structural reinforcements are made in a factory and transported to the construction site. After erection and setting in place, are welded together and within 200 mm of poured concrete. Through this system, which is the steel plates as fungible formwork, you can create an extremely fine structure and achieve high strength and redundancy.
Video
Drawings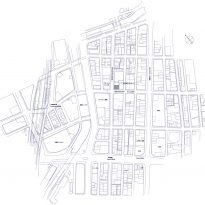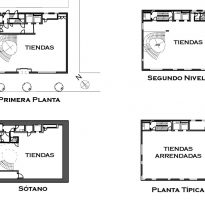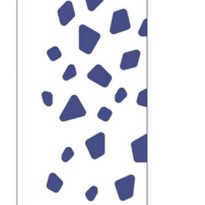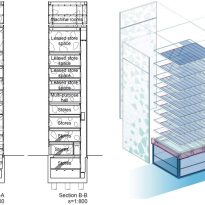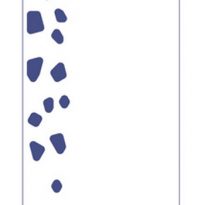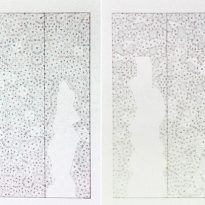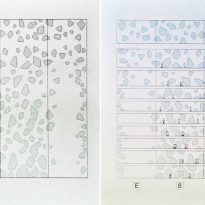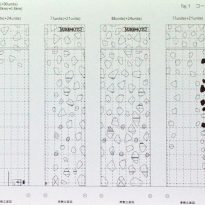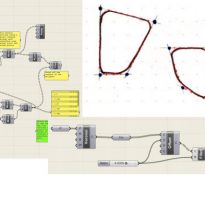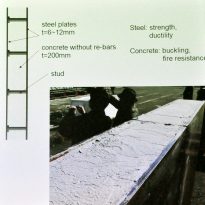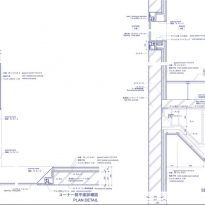 Photos
by WikiArquitectura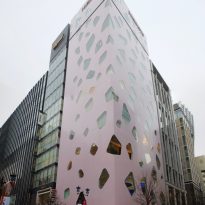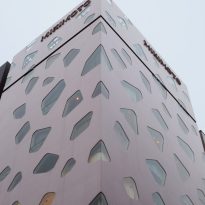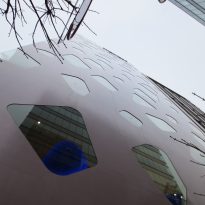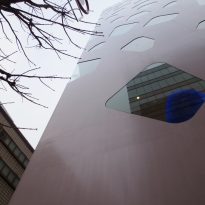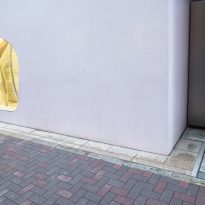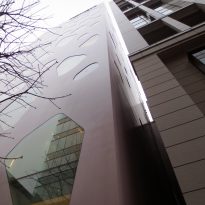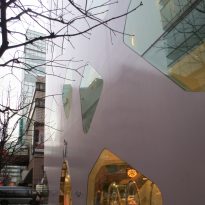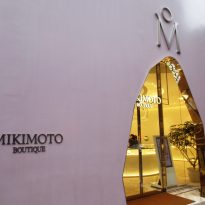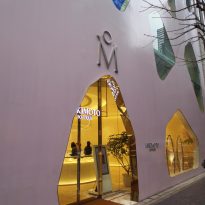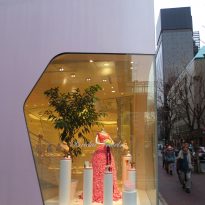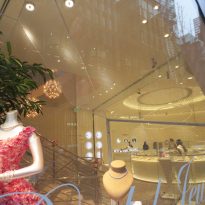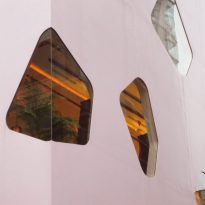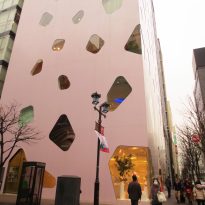 Other photos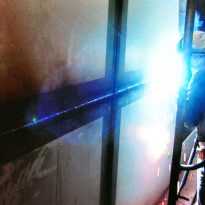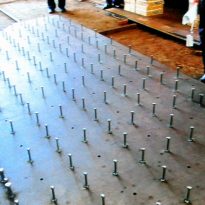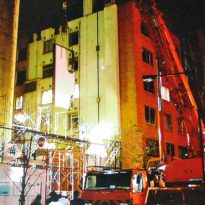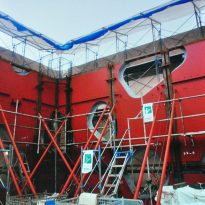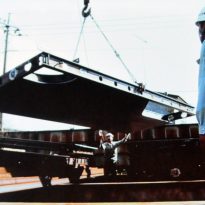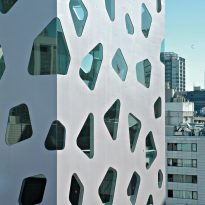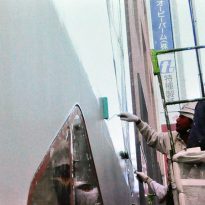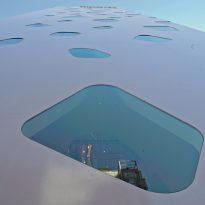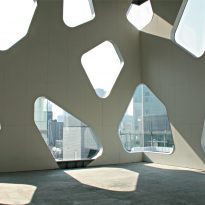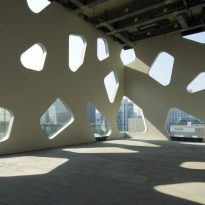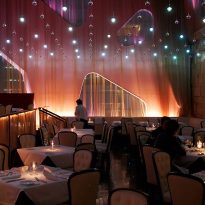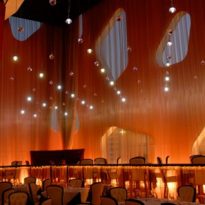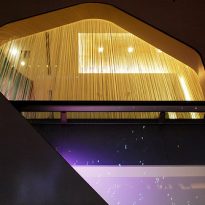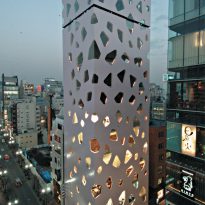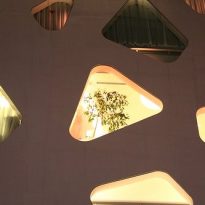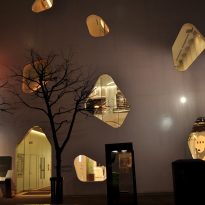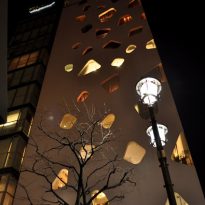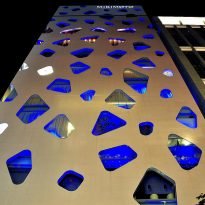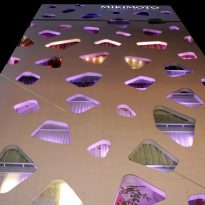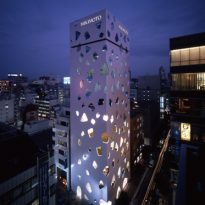 VER MAPA