Structural Engineer
Nordenson and Associates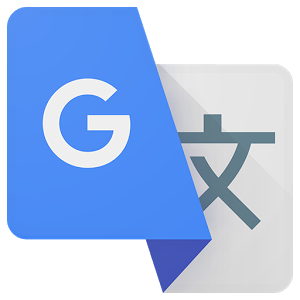 Some parts of this article have been translated using Google's translation engine. We understand the quality of this translation is not excellent and we are working to replace these with high quality human translations.
Introduction
The urgent need for housing in a country with high population densities like China, exacerbated by a booming economy and population displacement, especially from the dam area of the Yangtze River (Yang-Tse-Kiang), let little space and time to design creatively.
Peking (Beijing), with more than 17.4 million inhabitants and a growing middle class eager to change its Mao-era homes with new departments, has been in the last decade as a whole neighborhoods of lower house, houses with patios in old streets and alleys known as hutong, have given way to new housing blocks, alone or in closed groups which have moved most middle-income families, with the limited financial means Chinese or foreign makers to restore or modernize old boxes patio.
In this climate, with the design and development of complex Linked Hybrid, Steven Holl Architects has created a new and good concept of flats come.
With an area of 220,000 square meters housing complex consists of eight towers linked by eight bridges and also hosting a variety of public services.
Location
The resort is located along the perimeter of the ancient city of Beijing, at the foot of the Second Ring Road of Beijing, the city now has six, and 15 minutes walk from a subway station. Between the late 50's and 60 Mao Zedong area earmarked for industrial use, so to build this modern green building did not have to bring down any house, only one factory. "I would not work on a project that requires people to be moved," said Holl.
Concept
This "city within a city", with numerous streets around, above and across multiple spatial layers, is one of its main objectives the concept of "public space within an urban environment, and can support all activities and programs for the daily lives of over 2500 people.
Holl is the Linked Hybrid as a "city within a city" and says it represents "a change of value" in the design of tall buildings. "This is not to be high," he says, "is about being sustainable and making connections with the urban context."
Spaces
To counter the current trends of urban development in China, the resort creates a new model of urban space, opening and inviting the public from all angles. The entire complex is an urban space in three dimensions in which both buildings are in the basement, at ground level or on it, they merge and fuse into one body.
Has 644 apartments, commercial and recreational facilities open to the public green area, movie, nursery, school, parking and a hotel
Ground floor and intermediate levels
The ground floor offers a number of passages open to all persons, residents or visitors. These tickets guarantee a micro-urban scale with shops surrounding the central reflective big pond.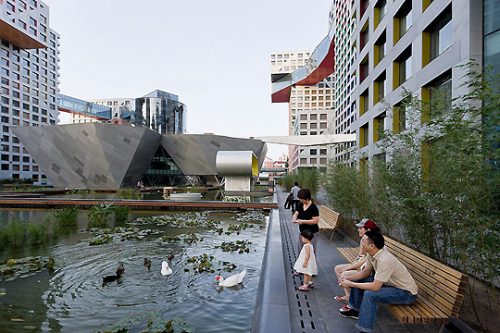 All public functions of the ground floor including a restaurant, entrance to the hotel, Montessori school, kindergarten, and cinema among others, have connections with surrounding green spaces which in turn goes into the building. The elevator moves like a cut "jump" to another set of tickets at a higher level.
At the middle level of the lower buildings, green roofs offer quiet spaces for recreation.
Apartments
Four apartments occupy each floor, so every unit is installed in its own quadrant and has views in two directions. Typical units range in size from 74 to 150 square meters and one to three bedroom. The absence of columns in their environment allows various uses
The windows open on two fronts allowing cross ventilation, but the buildings also provide mechanical ventilation and radiant cooling.
Upper Level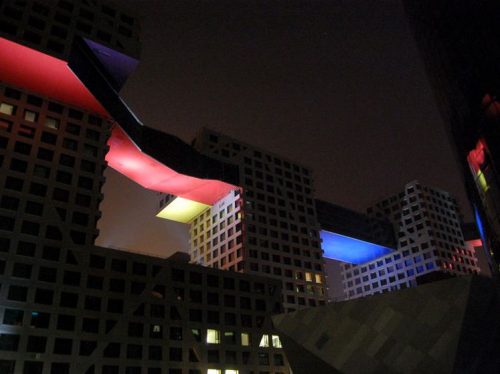 From level 12 to 18 a series of covered bridges and multi-function pool, a gym, a café, a gallery, an auditorium and a mini hall connecting the eight residential towers and for the hotel, offering spectacular views over the city.
At the top of the eight residential towers gardens that serve as a roof insulation are connected to the attic.
Structure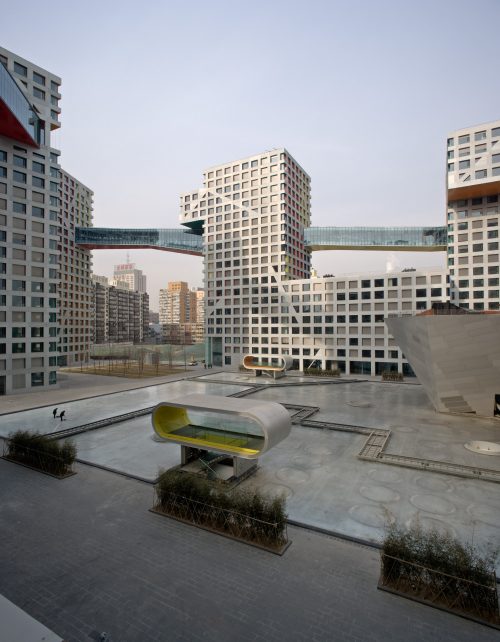 In collaboration with structural engineers and the Chinese Academy of Building Research, Holl's team has raised the eight towers hormibón exoskeletons that allow you to eliminate interior columns in the apartments. As a result the building envelope is the structure, a scheme that designers expressed in diagonal lines that reflect "the seismic forces" on the facades.
Materials
Heating and cooling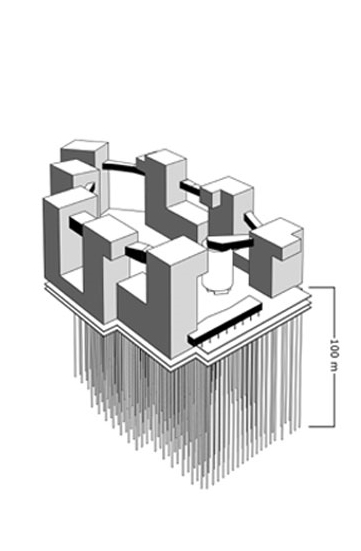 Six hundred and fifty five wells geothermal dug 100 meters deep, provide 5,600 kilowatt hours of energy annually in the summer and 3,700 kilowatt-hours in winter, enough to handle the most complex heating and cooling, distributed through the concrete slabs of the departments. A security system is activated when more power is needed. No heating boilers or electrical air conditioners, making the Linked Irbid one of the largest green residential projects in the world.
Water consumption
A plumbing system recycles waste water for irrigation of green areas, while the large central reflecting pool functions as a retention pond. With water becoming an increasingly precious good in Beijing, the Linked Hybrid objective is to reduce by 41% potable water use
Bridges
The emblematic icon of the project, glass and steel bridges, which vary in length between 20 and 60 meters were assembled on the ground and then hoisted into position. These bridges were mounted on large bearings that connect the towers, and allow them to move independently during an earthquake.
Color
The overhangs of the flats located on the top of the five towers are steel and as it has done in other projects, Holl introduced color in the soffits of windows and on the bases of the elements cantilever bridges, membranes used polychromatic colors with Buddhist temples which uses the I-Ching to determine the pattern. To emphasize the colors have been used MaxiWoody 150W metal halide with different types of optical, Super Spot, Spot and Flood.
Video
Drawings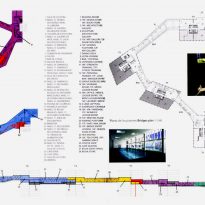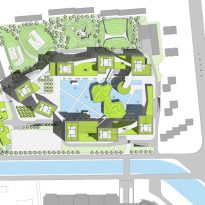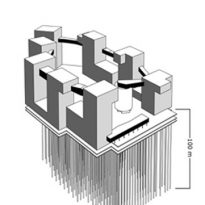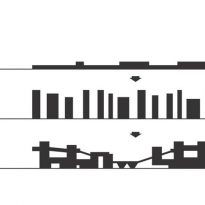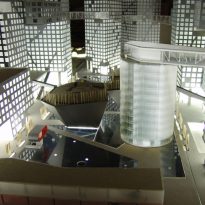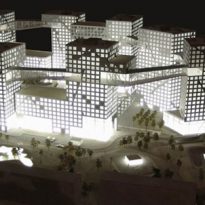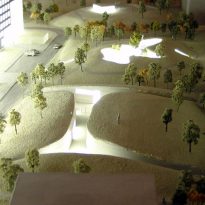 Photos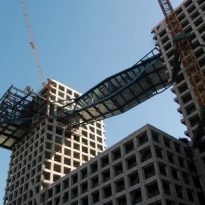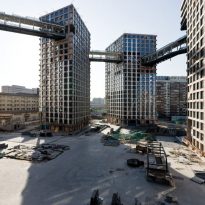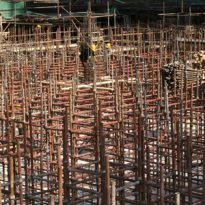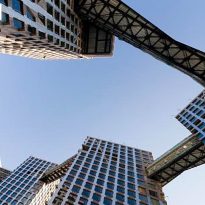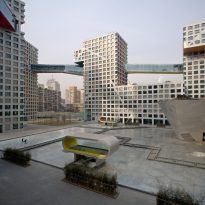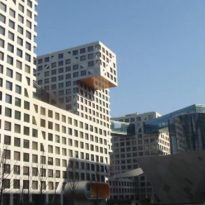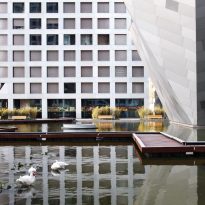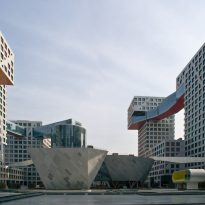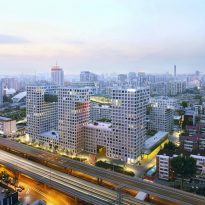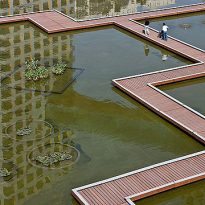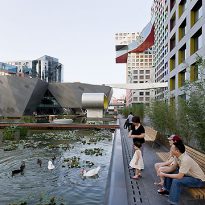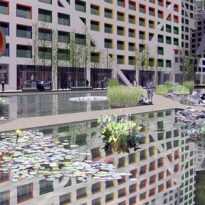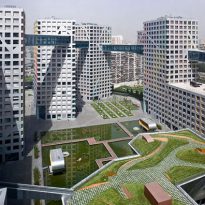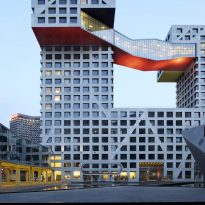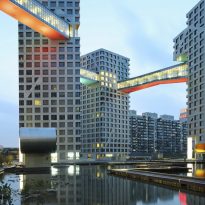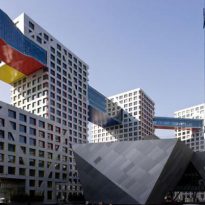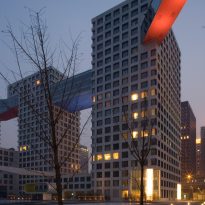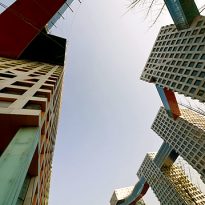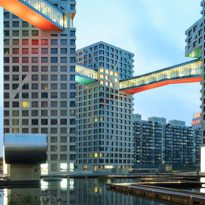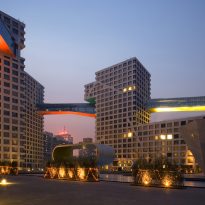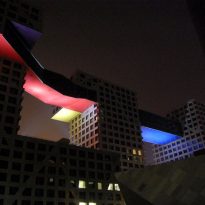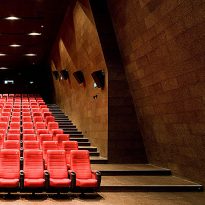 VER MAPA