Location
Ostend, Buenos Aires, Argentina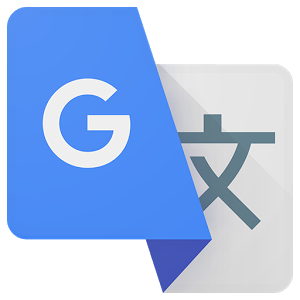 Some parts of this article have been translated using Google's translation engine. We understand the quality of this translation is not excellent and we are working to replace these with high quality human translations.
Introduction
This is a work-raising beyond their organizational and / or space-is clearly an example of some controversial author's firm belief, as well as his refusal to make concessions of any kind to the conventional attitudes.
Testa elusive from the beginning any attempt to create a house "integrated landscape" in a sense mimetic.
Situation
Built on an old batch that allowed to sell parts of the beach at Ostend, The Lounger is located on the Medan.
Concept
The house stands out starkly as a volume cubic feet tall on conical concrete, which is considered an accessory volume side terrace and a balcony with access from the beach.
The main volume is significantly topped by a sort of giant ladder whose rungs are made up of segments that arise from dividing the square of the plant into eight triangles, forming a spiral path to enjoy the sea and forests.
Spaces
The ground floor is a unique environment where he is staying, the dining room and kitchen, with a separate area for placards that serves as a possible guest room. On the first floor there is only one bedroom next to a swimming pool inside, which gives a window oriented to the north. From the bedroom you can go out and walk the terrace which is going up in the form of snail, reaching the highest point, which is located a second pool frequently in the summer.
Drawings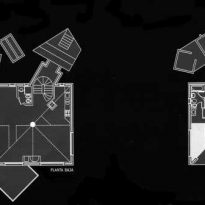 Photos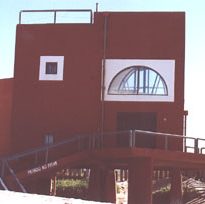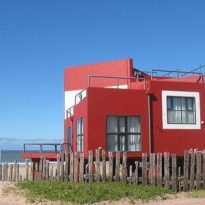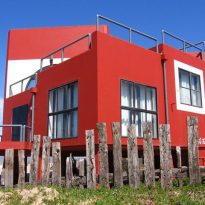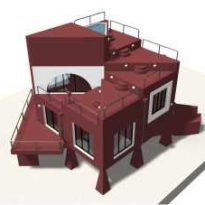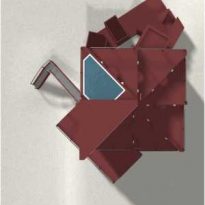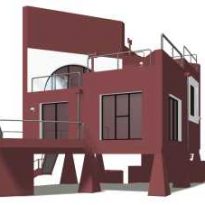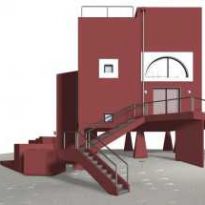 VER MAPA