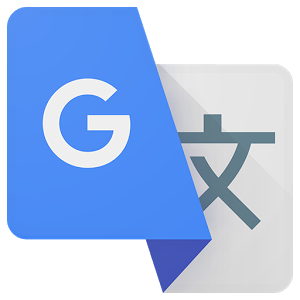 Some parts of this article have been translated using Google's translation engine. We understand the quality of this translation is not excellent and we are working to replace these with high quality human translations.
Introduction
The flag of Kuwait is a unique building, which by its nature was to ¬ objects of much attention during the Universal Exhibition of 1992 in Seville, making the role of attracting visitors to its interior, where ¬ through images projected genes in displays, videos, photographs and books were given to know that country to the international community.
Situation
The flag of Kuwait is one of the few that remain in St. Charles Darwin (5 Antigua Avenue) is among the plots occupied Mauritania and Tunisia, which currently are occupied by other buildings.
Meaning
Large moving and had planned to cover similar and also well ¬ mobile concrete pavilion Swissbau (Basel, 1989), but with the advantage of being a circular was automatically obviate the problem of ma ¬ ends. And he had built something similar in the flag floating concrete SZI (Vierwaldstättersee, 1989). Models come from wing bones and, therefore, needs overhang, but there is also the image from the fingernails of Arab swords, and in its section joint hands to open and close each other protective, according to preliminary drawings by Santiago Calatrava. However, its origin is more distant and material to emerge from the system's structural trusses using three-dimensional in its earliest buildings, such as the deck of the ship industrial Jakeman (Münchwilen, Aargau, 1983-1984), Chic in the course of the concert hall Bárenmatte (Suhr, 1984-1988).
Aerodynamic form and glossy white create a futuristic image to represent a country that wants to offer the general public as a modern state, with sights set on the progress and future. However, it is giving away the old Greek temples, colonnades on generous white stairs.
Spaces
The project consists of a mobile casing, which in the open position is 25 meters high, making a very visible among the other flags of the Expo'92. The building, unfortunately in abeyance, has three levels, the lower house for appliances and air conditioning technicians, and the reception area for special guests and the base level, with a large lobby and a room of about 400 m2, with a deck to 5 m above the ground, which were projected images of Kuwait, and the higher level of exposure, as outdoor terrace, but that was protected by the deck moving it was closed during the day to provide shade within, and open at night so they could carry out the projections and outdoor exhibits.
Andalusia upper patio is accessed by a wide staircase that is the largest set of monuments.
Also, to allow passage of natural light into the ground floor, the floor was made of marble curved translucent glass glued to safety.
Drawings
Photos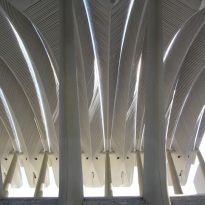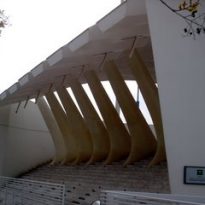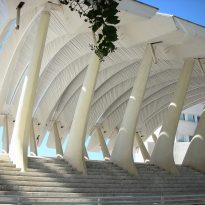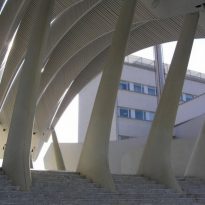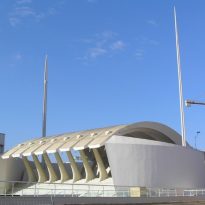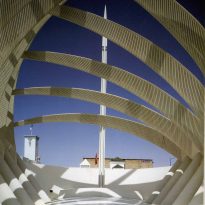 VER MAPA