Location
Cosham, Portsmouth, Hampshire, England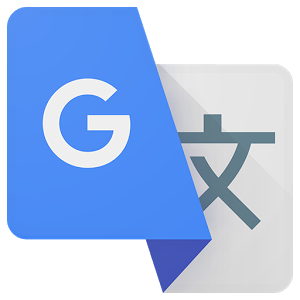 Some parts of this article have been translated using Google's translation engine. We understand the quality of this translation is not excellent and we are working to replace these with high quality human translations.
Introduction
Commissioned by IBM as a solution to their short-term needs, this office building has proven to be so flexible that despite being created to cover a momentary needs, is still in use.
Although the cost per square meter did not exceed the external temporal structures, we used a high-quality architectural and environmental change anticipated the role that computers would play in the workplace, a key factor for survival long term.
Evaluators of the buildings facing the RIBA Award 1972 stated that "the building shows that the architecture can be realized despite a difficult business situation exercising ingenuity and imagination"
Status
The IBM Pilot Head Office was built in Cosham, Portsmouth, City of the County of Hampshire in southeastern England. It is surrounded by trees reflected in their copper-colored glass walls that let you see inside during the day, a situation that is reversed when external light decays and interior lighting panels in walls becomes completely transparent, making the entire structure the building is completely visible.
Concept
Corporate culture manifests itself in many ways within IBM, a pioneer in information technology. Along with values, norms and behaviors, artifacts that help the technology are seen as part of that culture-oriented market. While values ​​and norms are not always clearly visible, behavior and computers can be seen and understood even by people not related to the company.
The above concept also indicates that corporate building architecture, as an artifact, is of great importance for the whole company, and must be planned precisely, integrating all the important concepts of corporate culture and given the specific role that the building play around the concept of the company. Multinationals must pay particular attention to this aspect because their subsidiaries in other countries or continents must be an excellent representation of the parent company.
Despite being conceived as an interim measure, the ability of the building to easily respond to changing market needs has allowed long-term survival.
The difficult business situation by passing the company was the trigger that led to the need to accommodate between 750 and 1000 employees during the period of 18 months, at a cost as cheap as possible in temporary structures. The building would serve as the headquarters of the company while the permanent center was built on land adjoining.
Like many growing businesses at the time, IBM was based on a mix of permanent and temporary accommodation for its staff and in some places up to half of your office space must be adapted to this purpose.
Spaces
The building has a lobby, a reception, a kitchen available to employees, sinks, different offices, a service center and a computer room. Initially also housed a restaurant was taken over the years to expand the computer room and offices have been remodeled.
The resulting building is a single rectangular 146m x 73m with a height of 3.25m Its structure covers and brings together under one roof a variety of functions that traditionally require various buildings. All rooms are located high technology in the north. A central corridor connects all facilities and leads to different workplaces through small corridors.
To comply with the regulations in force in 1970, was installed on a raised floor floor slab allowing you to create a computer room integrated office building. The composition of the building is completely external angular side thereof and each seems to be a large window.
With these services located in height and wiring done by hollow steel columns, the ship was able to respond quickly to growth and change.
Structure and materials
Its structure is created by a network of steel columns and beams in the roof truss. Steel columns were used 125mm square hollow section and fixed to the other of 7.3 meters in both directions. This provision is based on a lightweight concrete slab on site, eliminating the need to pile on the ground and helping to keep costs under control.
A second lattice girders extending in a 7.3×2.4metros surface, both the latter and the former being composed of an upper and lower cold rolled steel with a concertina of bars between them. Adaptations have been made, mainly in the introduction of new jobs in the joints and connections of the column.
Technical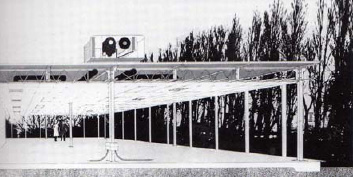 Project inexpensive, temporary basis for module
Capacity for 750 to 1000 people
Area 10 869 m2 = 146 x 73
Lightweight steel frame
Corrugated steel deck
Modular component assembly
Facilities on deck concentrated
Electrical wiring passes through the hollow steel columns
Windows
To muffle the outside noise is sealed windows placed with bronze colored reflective glass that allow reflecting the surrounding trees and landscape, making the building mimics and blend with his background. The window mullions are aluminum.
Air conditioning
The windows do not open, which means that air conditioning is needed. We developed a system that reaches different cooling zones an area of ​​7.3 meters so that it can be controlled individually cooled instead of the whole space simultaneously.
Conduit
The hollow steel columns exploited as conduits for wiring from the roof to the work areas, facilitated the task and the lattice beams supports several facilities such as air conditioning.
Drawings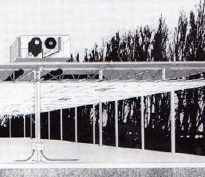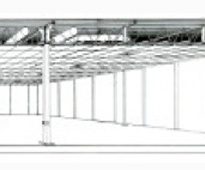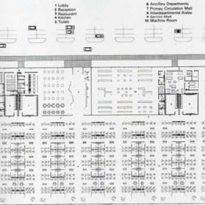 Photos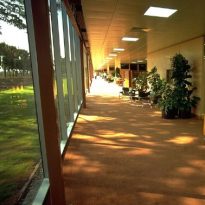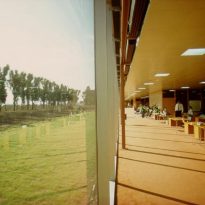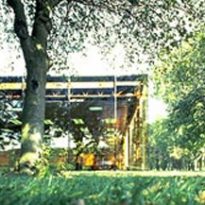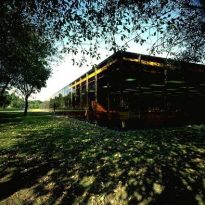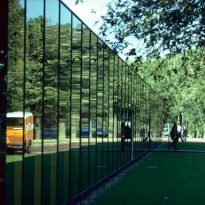 VER MAPA