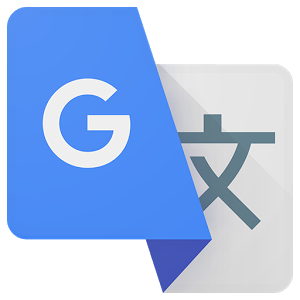 Some parts of this article have been translated using Google's translation engine. We understand the quality of this translation is not excellent and we are working to replace these with high quality human translations.
Introduction
Turning Torso (torso in turn) is a residential skyscraper at 190 meters high and 54 plants located in the Swedish city of Malmo. It is the highest residential building in Sweden and the second in Europe (on the date of its inauguration), the work of Spanish architect Santiago Calatrava.
It was inaugurated on August 27, 2005, after four years of construction. He has received the award at the MIPIM fair in the construction of Cannes (France) 2005 to the highest residential building in the world.
The building is located in an urban area that is being degraded transformed from an industrial space with obsolete facilities to a residential, entertainment and business, along the Baltic Sea.
Concept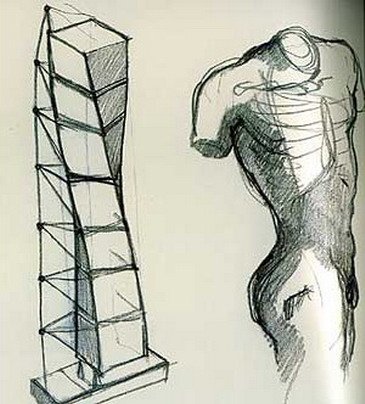 The origin of the building dates back to 1999. That's when the then managing director of the Swedish housing cooperative HSB (the largest in Sweden, founded in 1923, promoter and owner of the building present) Johnny Örbäck, was impressed to see in a catalog a sculpture of a human torso Calatrava in 1998.
He immediately got in touch with Calatrava and asked him to apply the concept to a residential building that his company wanted to build in Malmo.
One reason for building the Turning Torso was to reestablish a recognizable skyline for Malmo, who had been orphaned since the disappearance of Kockumskranen ( "The Crane KOCKUM") in 2002, located less than a kilometer from the current location of the building.
Local politicians felt that it was important for the city to have a symbol for Malmö (Kockumskranen, a huge crane used to build boats in the yard of the company KOCKUM, symbolized in some way the roots as industrial city of Malmo, Turning Torso could be regarded as a monument of a new and more internationalized Malmö).
Structure
The building, constructed of steel, glass and reinforced concrete, is divided into nine rotating cube whose main structural element is a core made of reinforced concrete, from 10.6 meters in diameter (by way of vertebral column). Its center was aligned with the axis of rotation of the plants. The exterior of the building is covered by glass panels and aluminum. Each of the cube has six floors.
Spaces
Coexist in the building of luxury homes and offices. The offices are located in the first two buckets, with a total area of 4,000 square meters. The buckets three new shelters housing 147 whose surface varies between 45 and 190 square meters. The latter two plants (from which you can see Copenhagen) are devoted to business meetings, political meetings and official visits.
Drawings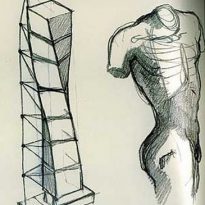 Photos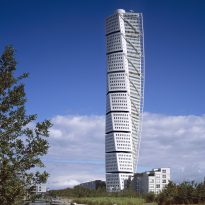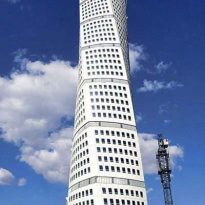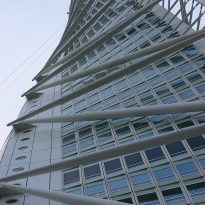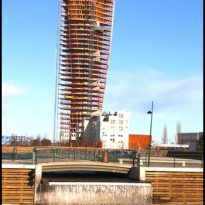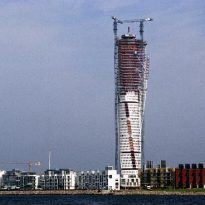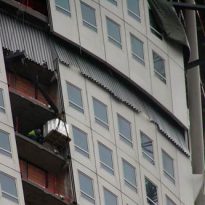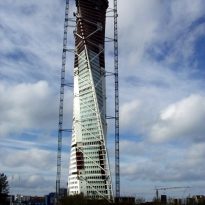 VER MAPA