Location
Le Havre, Normandy, France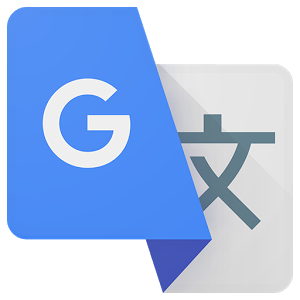 Some parts of this article have been translated using Google's translation engine. We understand the quality of this translation is not excellent and we are working to replace these with high quality human translations.
Introduction
Space-Oscar Niemeyer, also known as a cultural center, was commissioned by the City of Le Havre in 1972 the architect, who brought to fruition with the utmost respect to the previous post-war development project outlined by Auguste Perret for the redevelopment of Le Havre Centre destroyed. It is the only city whose modern architecture is classified as a UNESCO World Heritage through its center. Great Architect of the twentieth century, a true "poet of the concrete," visionary, Perret could provide a new face to a city badly damaged by the Second World War.
Niemeyer says: "When I studied this project my main concern was to successfully integrate into the architecture of the city"
Location
Located in the center of Le Havre, the French city of Normandy. The plot was constructed in the cultural center is privileged, it has one side facing the canal of the city.
Description
The two main volumes are connected by an esplanade partially buried six feet under ground. Thus Niemeyer created another place "protected from the cold and the prevailing winds, a large open room, creating curved surfaces in buildings, soft, dark, almost abstract."
The two levels are connected by two ramps. The first, wider, occupies one end of the block, the other, sculpture, enhances the other end.
"Of the projects carried out abroad the House of Culture in Le Havre is surely the one that represents the dominant social content" wrote Oscar Niemeyer
Spaces
Initial Project
The initial draft had a theater with an innovative design proposed by the then minister of culture, which was expected to build a mobile stage, rotary, which was never performed.
Volumes
Distributed between two bodies shaped like truncated cones by planes with different inclinations and heights, the cultural center arises from a large square. The inhabitants of Le Havre have nicknamed these forms with the name "Volcano."
This houses a theater with 1,200 seats and a cinema with 350, plus a large foyer. It is a volume with no visible opening and asymmetrical composition. Located in the southwest of the block.
Here we have developed a multipurpose hall, with about 500 seats. Cone-shaped cut, asymmetrical base and small openings.
In this volume it occupies the northwest quadrant, are the areas for theater companies, workshops, recording rooms, auditorium and meeting room.
The square is surrounded and shaped by a walkway of cropped area, which houses restaurants, cafes and shops. In the basement there is a small parking area.
Materials
Architectural volumes are built with concrete painted white with curved shapes and free reaching for a poetic from the modern movement.
Drawings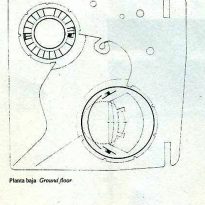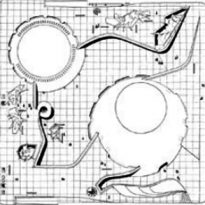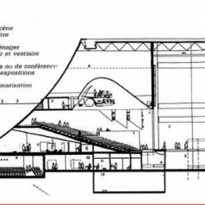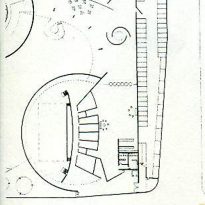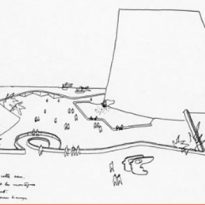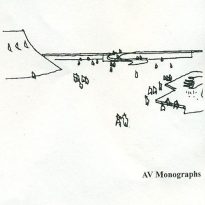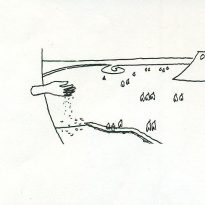 Photos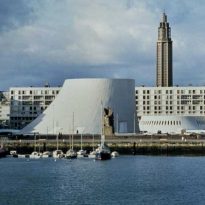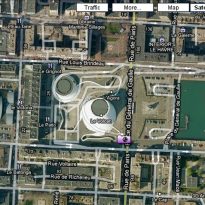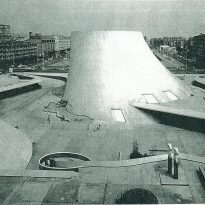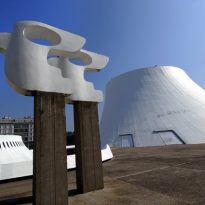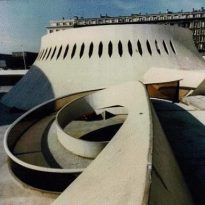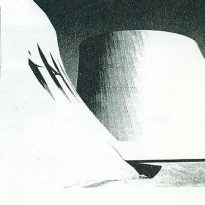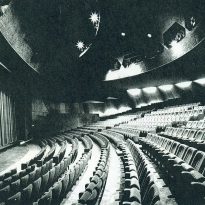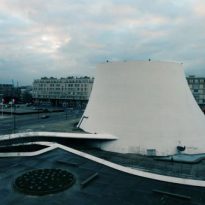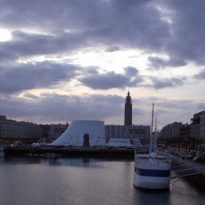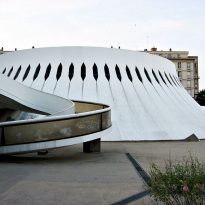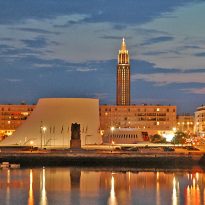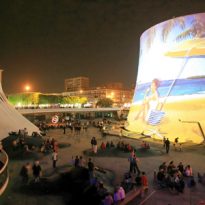 VER MAPA