Location
Bogotá Savannah, Colombia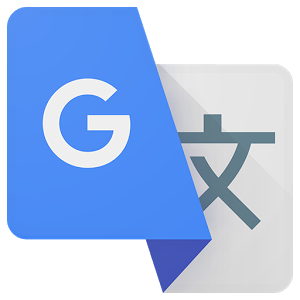 Some parts of this article have been translated using Google's translation engine. We understand the quality of this translation is not excellent and we are working to replace these with high quality human translations.
Introduction
With a mix of glass, aluminum and granite this novel evokes the proposed housing development in the United States after World War II.
Designed by Ivan Baquerizo and Echeverri Carolina, this house exhibits its construction so evident, as they did at the time called the Case Study Houses, developed in the United States after World War II, to bring the housing industrial and technological developments of the moment.
Situation
Built on the Savannah of Bogotá, in the midst of nature, an area located in the geographic center of Colombia, on the Eastern Cordillera in the southern highlands Cundiboyacence, the largest plateau of the Colombian Andes, with an average height 2,600 meters above sea level.
Concept
The intention of developing a versatile and compact home in a privileged environment led to the architects, as noted by Ivan Baquerizo, to consider a compact, modular construction system that is tailored precisely to the required program areas.
The Eames House / CSH 8 Charles and Ray Eames in California, and the Farnsworth House of Mies van der Rohe developed by the German architect in the United States were the inspiration for this project, surrounded by a forest eucalyptus in East Hills.
The choice of the constructive model based on pure forms and an economy of means, in contrast to the forms of the landscape and creates a dialogue between nature and geometry that characterizes the project.
Spaces
Conceived as a glass box of 114 square meters with a terrace of 20 square meters in overhang, the house was lifted from the ground to generate a thermal insulation and facilitate the maintenance of technical facilities provided under the structure, so that intervention in the field was minimal.
Its rooms are divided into two levels, first became available in the social area raised as a perfect cube of 6x6x6 meters. Around this space are located the dining room, kitchen, study, which can be used as a second bedroom and bathroom visits.
Already in the second level is the main bedroom with bathroom, and crossing a wooden bridge, a work area and laundry area.
Materials
In this case, the construction process is also in sight.
Developed from steel beams, steel mezzanine on deck, granite and glass facades along with some wooden surfaces, the economic and housing was easily assembled on site.
In order to be in full contact with the outside, the glass prevailed. Nothing limits the view from the inside to the landscape, as the condition of transparency of the sites is almost complete.
The dark finish of the metal structure that allows the house mimetice with nature
Which required only a bit of privacy in the rooms and the service area, there are some masonry walls.
Drawings
Photos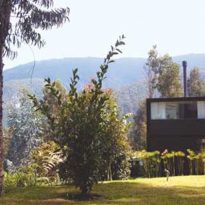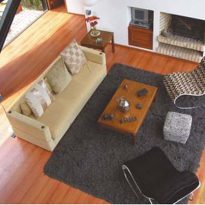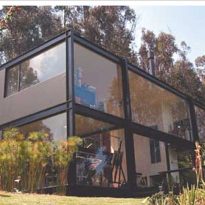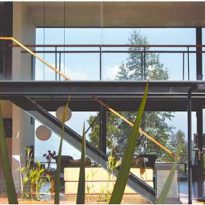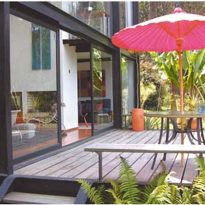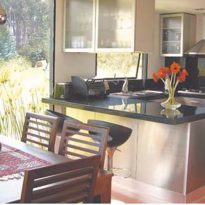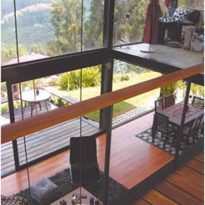 VER MAPA