Remodelation Architect
William Wesley Peters
Location
Bartlesville, Oklahoma, United States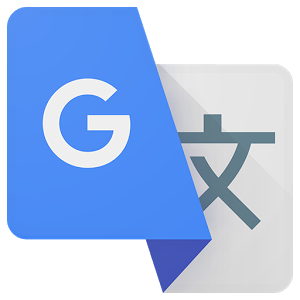 Some parts of this article have been translated using Google's translation engine. We understand the quality of this translation is not excellent and we are working to replace these with high quality human translations.
Introduction
In 1954 Harold Price Jr. and his wife Carolyn, commissioned Frank L. Wright design a house for his family, including six children. The residence for the son of H. C. Price, also known as "Hillside" was raised in the same city in which Wright built the HC Price and Company Tower, still under construction when he started residency.
Status
For Price Jr. The house was built on family property Star View Farm, 2800 S. Silver Lake Rd, just outside of Bartlesville, Oklahoma, United States.
Concept
Wright thought of a long horizontal structure, similar in many respects to the first "prairie houses" designed by the architect, where construction seems to be wrapped by the ground rather than built on. The deep eaves, the lower line the ceilings and floating terraces, enhanced sense of horizontality, unifying the structure with the environment.
Spaces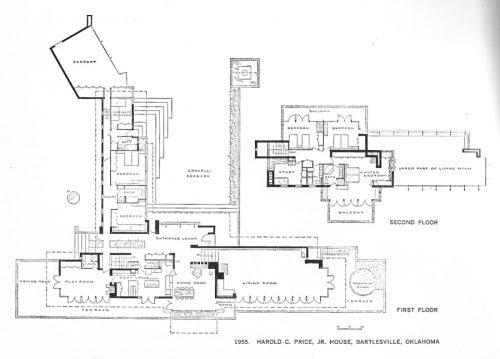 The two-story house was designed with L shaped hipped roof. The shorter arm ends in a garage and the other in a living room with double height with a large terrace. The cantilever slab of the main terrace is perforated by a large empty circle that communicates visually with the fountain built in the field below.
Outside Wright used his penchant for organic materials, combining brick with wood and covering the walls with floor to ceiling windows allowing light to enter and fresh air in the rooms. These long rows of windows also served to unite the exterior with an interior that shares the same palette of materials.
From the southeast, above the horizontality of the house in relation to the landscape you can see the steep overhang of the balcony, while on the west, beneath the tall windows of the living room is evident a second terrace cantilevered Wright continues the game between "solid and void".
Completed in August 1954, the large area of ​​the house has a large living room with two floors, a dining room and ample workspace. She subsequently underwent significant reform by his son, William Wesley Peters, who added a game room to the original structure.
Living room with double height room, work room, game room, two bedrooms, bathroom, staff bedroom with bath, garage, service area, terraces and gallery
Master bedroom suite with balcony, study, bathroom and two bedrooms with balcony.
Construction materials
Construction Techniques
Techniques in building overhangs, used by Wright for this house were already taken in previous projects, like the famous Fallingwater House 1935 Pennsylvania, or even in the design of the Taliesin, like organic relations with the landscape and the nature, important considerations in each design, the latter seeming always started from the same, be they rocks, trees or metals.
Drawings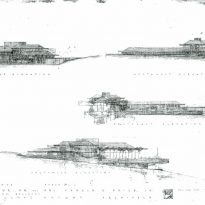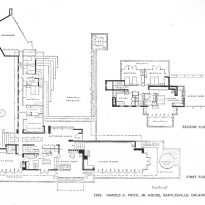 Photos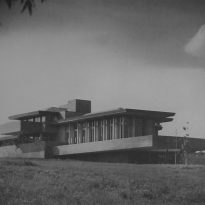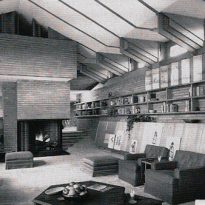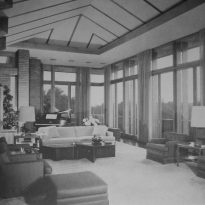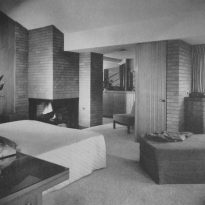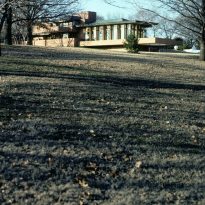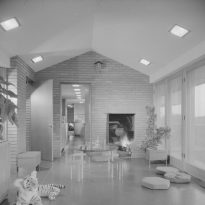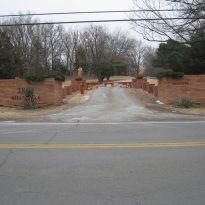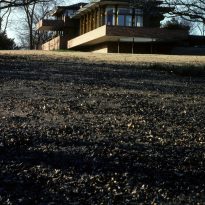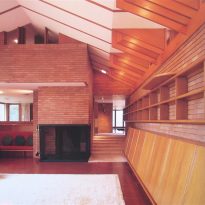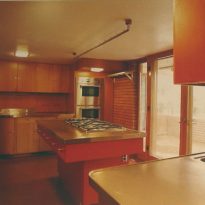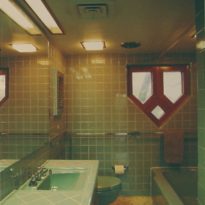 VER MAPA