Location
Berne, Switzerland
Introduction
"Siedlung" or the Halen Colony, consisting of 79 row houses grouped with services that complement the residential use, is surrounded by a lush forest that highlights its status as artifact immersed in nature.
It is located 5 km away from Berna and is the work of the architects of Atelier 5, leading disciples of Le Corbusier. The architects investigated the use of shallow and deep profiles in a single contour until this project's final days.
The Colony sits on a south-facing hillside, featuring gaps in the facade to ensure that both the houses and gardens receive perfect natural lighting and display great views.
The Colony has a large parking and internal roads that are free of traffic. The central road of the complex can only be used by service vehicles.
Situation
It is located in a lush forest about 5 km away from Berne, Switzerland.
Concept
The method adopted by the architects of Atelier 5 was to protect both the internal and external private spaces and acoustically isolate each unit, while promoting social interaction in the common areas.
One of the main bedefits of this colony, other than providing affordable housing, was the provision of common services. With the purchase of a home, the new owners also received 1/79th share of all the common facilities and services.
Spaces
The layout of the houses is always the same, regardless of size. The only difference is the direction of the staircase, which effects the spatial distribution, the relationship between kitchen and dining room, and the position of the bathrooms.
They consist of 3 floors:
Intermediate level: This level is accessed from the street and contains the living room, dining room and kitchen.
Upper and Lower levels: These contain bedrooms and bathrooms.
The south facade is looks as if it is a single unit because of its orientation. But, thanks to the terraces and other elements that give it depth and form transitions between indoor and outdoor living spaces, it is also a facade that allows the building to breate and open to the landscape – concentrating all the tension between architecture and nature in one place.
Structure
The width of the houses varies, some are 5 meters across, oithers 4 meters, but the floorplan is always the same. All the houses that form the Colony Halen are composed of a single corridor formed by two parallel reinforced concrete walls that create an overall dimension of either 5 meters (215 square meters) or 4 meters (168 square meters). These walls, in turn, limit the space of each house and its vertical structural bearing.
The only difference between the larger and smaller houses is that in the latter the stairs are arranged horizontally, while the in the other they run front to back.
Materials
Basically, all that can be seen is reinforced concrete.
Drawings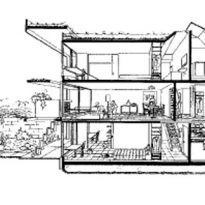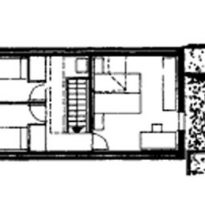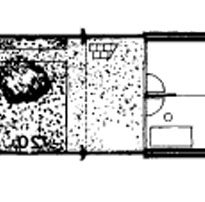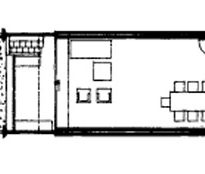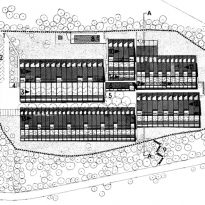 Photos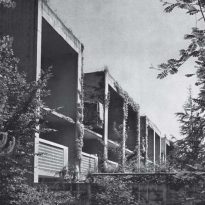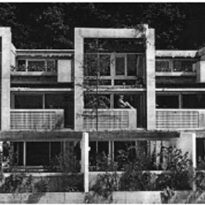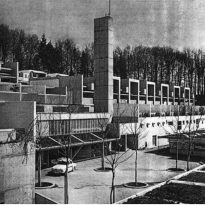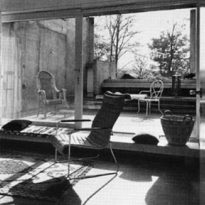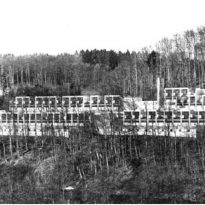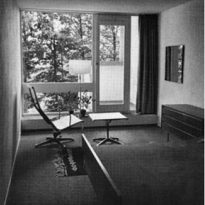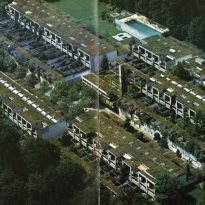 VER MAPA