Location
Avenida Presidente Masaryk 201, Colonia Polanco, Mexico City, Mexico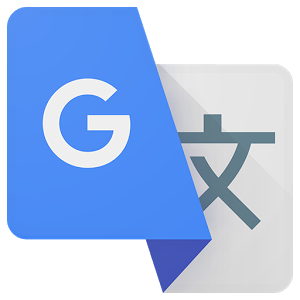 Some parts of this article have been translated using Google's translation engine. We understand the quality of this translation is not excellent and we are working to replace these with high quality human translations.
Introduction
The study conducted by Ten Arquitectos Mexican Enrique Norten was responsible for the refurbishment of a building in the'50s, turning it into a minimalist work with light itself.
The team used the structure of load-bearing walls of five levels, giving it a new role and completely changed the picture.
Situation
Located in a shopping street lined with retail shops and office buildings in Mexico City.
Concept
The hotel is a volume of straight lines covered with a skin of translucent glass, perforated with horizontal bands of glass.
In the interior, visual boundaries disappear. The volumes are broken down into flat net edges.
As if it were an urban velador, the synthesis of the work and its interior lighting serves to highlight the building in the middle of the excess stimulation that produces the city.
A set of lights and transparencies, the architects created an image ethereal and intangible, which imposes a healthy silence in the urban hubbub.
It has defined a minimalist style with classic modern furniture.
Facade
The old structure has acquired a new identity through an envelope made of frosted glass panels in front of the existing facade. The space between the building envelope and creates an air chamber that serves as thermal and acoustic insulation, in addition to providing privacy of your room.
The only intervention on the facade are small glazed transparent stripes that frame the views from the rooms.
The facades translucent produce different reflexes, color and brightness according to the time of day, clouds and sky tones. At night, the disparate occupancy of rooms in a hotel converted to luminous changing poster on an urban scale.
Spaces
On the ground floor restaurant is located on 'Aura' that opens to the outside, through a system of sliding glass panels, creating a spatial continuity between inside and outside.
In the last two floors are the Bar 'Area' and the swimming pool with solarium, complete with a spa, sauna and outdoor jacuzzi.
The rooms are glazed from floor to ceiling. The decor follows the austere exterior of the building, since they rely solely on a bed and a flat glass that serves as a desk and table. Everything else is hidden behind panels that form the shell.
Drawings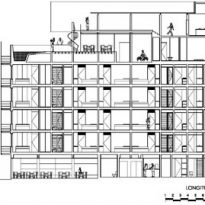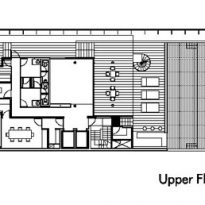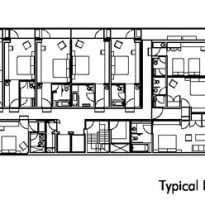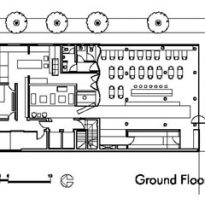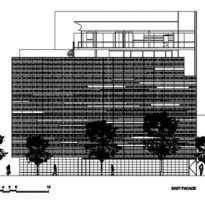 Photos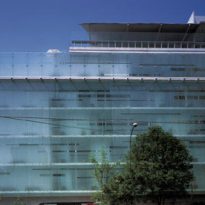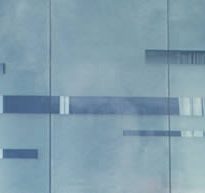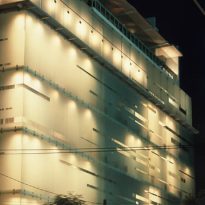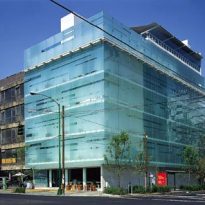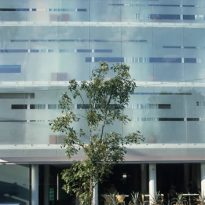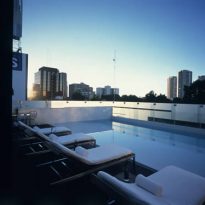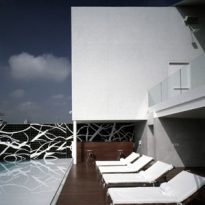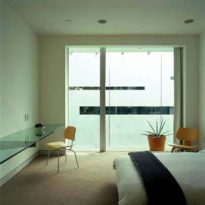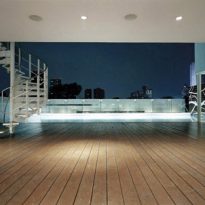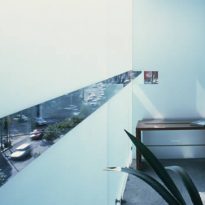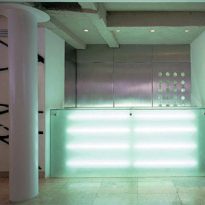 VER MAPA