Location
Chicago, Illinois, United States of America
Introduction
Valencian architect Santiago Calatrava has already conquered America, but wants to reach the top, and you can get through the Fordham Spire, the highest tower in the U.S., which was introduced in Chicago. Proposed to occupy a space on the shores of Lake Michigan, the building that will house a hotel and 250 luxury apartments, more than 541 meters which has the Freedom Tower that will reach zero in thezoneof New York, you're 610 meters.
Fordham Spire named for its developer, Christopher Carley, president of the real estate construction company called the Fordham Company.
Fordham Spire's proposal needed to be approved by the city government, and its promoters had to raise funds for the project, whose cost is estimated at five million dollars. In addition, it needed to overcome the reluctance of neighbors who feared increased traffic and what they see as visual pollution. Due to these things, the design has had to be changed twice from that presented in this article. Also, the project's name was changed, and it is now known called the Chicago Spire.
Situation
It will be built along the shoreline of a lake west of Chicago Piers Naval.
Concept
It will have 115 floors and 444 meters to its roof. A spiral antenna at the top will reach about 610 meters, making it the tallest building in the United States.
The design of the Fordham Spire Hill House is considered quite high given the way art and tenon building. The glass facade that will produce a ripple effect in the form of waves downstream is achieved through a major structural innovation. Each individual floor of the tower is built outside the core as a separate box with concave sides and gentle curves. These "boxes" are stacked independent rotating each little more than two degrees on the bottom. The result is that the floors rotate 270 degrees around the core as if it stood at the front giving the impression of movement.
Structure
The structure of Chicago Spire greatly benefit from their design, because the curved designs tend to add strength to the structure, and face the outside curve minimize the forces of wind (in the Windy City). The curved design does not completely deny forces of wind, so a sharp concrete walls and 12 emanating from the well will be installed to counteract these forces.
The entire structure will pose in seven columns in the form of w around a high glass atrium of 57 feet.
For residents like the structure of the least because this will block sunlight before the buildings planned for the site. The Spire is designed to be made mostly of concrete and, in response to the S-11 attacks in New York, will have two emergency staircases.
Drawings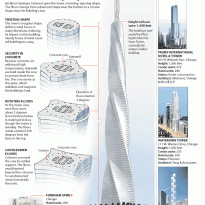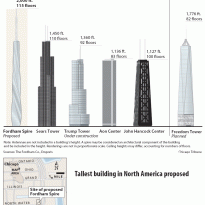 Photos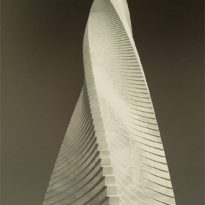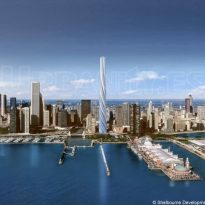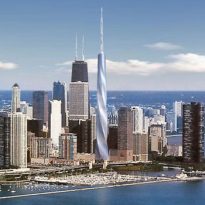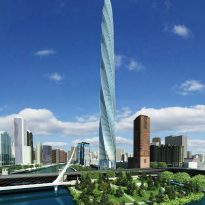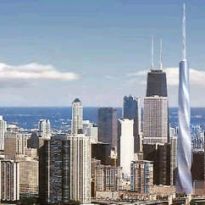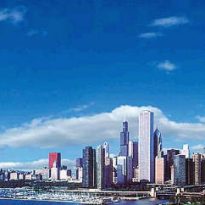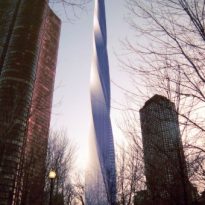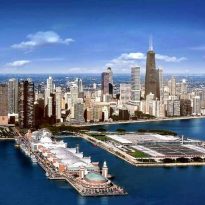 VER MAPA