Location
Miradero Road, Beverly Hills, California, United States
Introduction
Case Study No. 18, or house Fields, was the most successful attempt to integrate Ellwood precast in the design and construction of housing.
The result was a more elegant design, but also made more rigorous and that of their previous projects Case Study.
Like its predecessor, the No. 17 program, was later renovated by its owners to re unrecognizable.
Situation
Surrounded by a forest characteristic of the whole area was built on a site that offers a wide view across the hill in Miradero Road, Beverly Hills, California, USA.
Spaces
With a simple and rectangular, in a wing is the master bedroom and two smaller, center, lounge and music room, and in the opposite wing, kitchen, breakfast area, the covered porch, the and the dining hall.
From the lounge there is a wide view of the dining room and covered porch
As in previous Ellwood CSH of translucent glass panels lead to the outdoor parking at the same time create some privacy with respect to the street.
At the rear of the terrace house has a swimming pool and large sliding glass floor to ceiling offer an excellent view of it.
Structure
Structure of lattice steel Ellwood painted blue and a system of panels for the walls.
Materials
Incorporated into the structure of terrazzo floors, wood paneling and a mosaic mural, created by its client-oriented in the exterior wall to the pool.
The house had numerous electrical outlets and modern appliances, plus a central vacuum system.
Drawings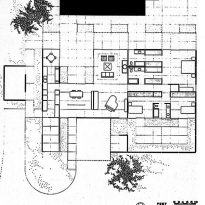 Photos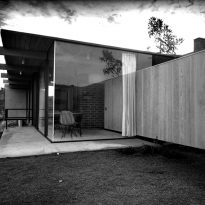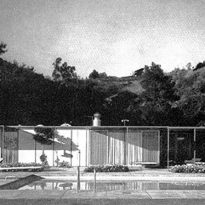 Did you find this article useful?
Really sorry to hear that...
Help us improve. How can we make this article better?
VER MAPA