Location
Hestra, Boras, Sweden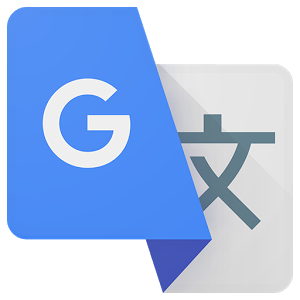 Some parts of this article have been translated using Google's translation engine. We understand the quality of this translation is not excellent and we are working to replace these with high quality human translations.
Introduction
Looking for new solutions and residential building typologies, architects and Tuomo Siitonen Pekka Helin designed a set of experimental housing.
Status
Located in the city of Boras, in the province of Västergötland in western Sweden, the seat of the municipality of Boras.
In turn, the homes are in the area Hestra, Norrby municipal subdistrict. The area is characterized by a large green park.
Concept
Connections to the existing human landscape and the surrounding nature have served as a starting point in the design of this building. It has followed the same principle throughout the area to minimize changes in the landscape.
To emphasize the relationship with nature created a sloping green roof, which gives the particular morphology of this work.
Spaces
The assembly consists of two triangular blocks including an atrium in which a large step is forming a central common area. Access to all departments from the area located on the ground floor and a staircase and through brokers or directly using the private stairs to access the second floor apartment.
In total 24 units were created from a plant of 63 square meters (three rooms plus kitchen), and 10 two-story units on the top floor, two of 83 square meters (eight rooms plus kitchen) and eight of 97 square meters (four rooms plus kitchen).
The two-story apartments feature sauna and covered terrace. The dining room and kitchen are located on the side of the court, while the bedrooms and the living room are on the quieter side of the prism and private. Being left in double height.
The departments are flexible and functional, adapting to a variety of living conditions. All have openings on either side of them, which makes them spacious and well lit. This impression is emphasized by the long diagonal views from access through the living room, to the nature that surrounds the building.
All vertical installations (air conditioning, plumbing and electrical) go through a full set in the facade that is around the atrium, being in an area accessible for maintenance.
Structure
The building structure is reinforced concrete, while the walls and floors are made of precast concrete.
Drawings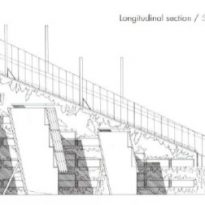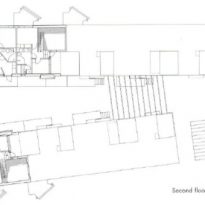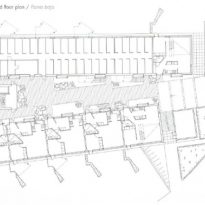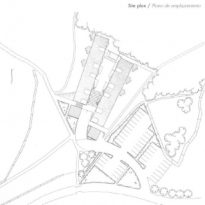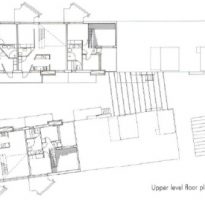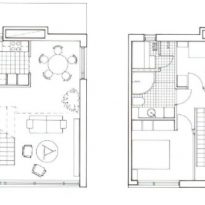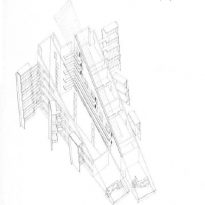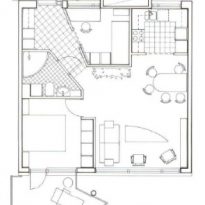 Photos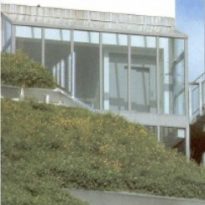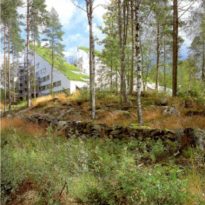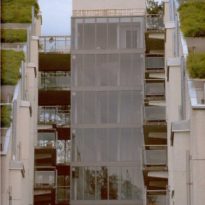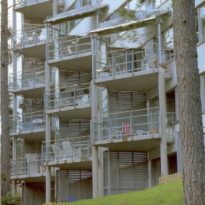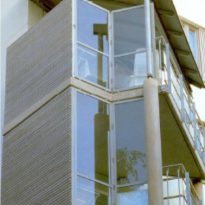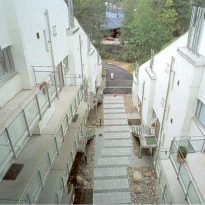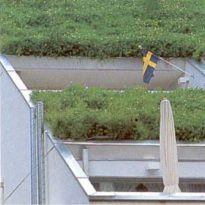 VER MAPA