Location
Manlleu, Barcelona, Spain
Introduction
The Catalan studio of RCR Arquitectes presents this work for the commissioning of a nursery.
The consideration of the environment in which their works are first introduced is always a key element in the work of these architects, who had already achieved international fame, and this project would not stop it.
The nursery is perfectly adapted to its environment: the infant world, the universe where one comes to know things first, the discovery… so that in this occasion the environment was not previously in place, it is brought everyday with the children and leaves every afternoon.
Situation
Manlleu is a municipality of the district of Osona, a few kilometers north of the city of Vic, in the province of Barcelona. The municipality is bisected by the River Ter, and the urban core lies on the left bank.
Concept
The construction is like a game, formed by the juxtaposition and superposition of simple pieces.
The facility of the composition come from the identical size of the pieces forming the whole, and the identificaiton of each piece by its color.
The spatial perception of the child is different; their point of view is considerably lower than that of the adult, and, holding their heads up, they collect different perspectives that expand the relative size of opjects. That's why in the Els Colors Kindergarten there are walls at odd heights, which may seem wrong to the eye of an adult observer, but nevertheless appear as normal to the children that give life to the building, those who make it possible, and ultimately with whom the building should communicate.
The spirit of the building is not to solve the problem of parents needing a place to leave their children for an hour. It is not the answer to a need, at least not a need from an adult, but the need for a child to interact with other children in an environment that is their own – not that of their parents – a universe of only knowledge and fun, and accessible for even the smallest ones.
Spaces
The class rooms, common areas and cafeteria have been distributed in the two rectangular sections, which are connected by a covered walkway that also provides access to the inner courtyard. On the first floor are the main entrance and a multifunctional space.
Facilitating the locaton and orientation of objects for children between 0 and 3 years of age is an important aspect of the learning space for their autonomy and security. The open and fluid nature of the materialization of the limits contributes to an experience of relationship and not solitude.
Structure and Materials
The structural vertical elements are made of steel, while the horizontal structural elements are of concrete. The red, orange, and yellow colored glass walls help create a happt atmosphere where children's imaginations may flourish.
Drawings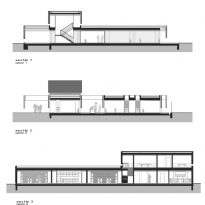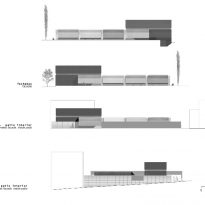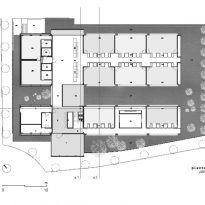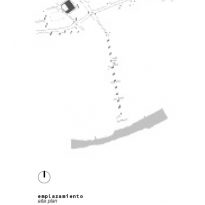 Photos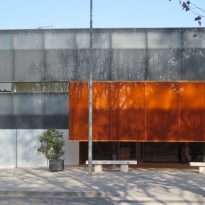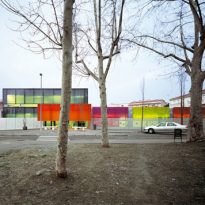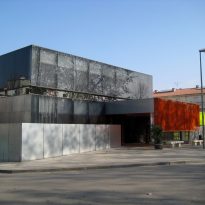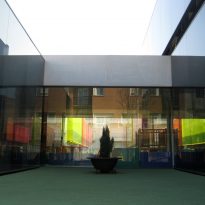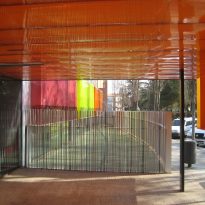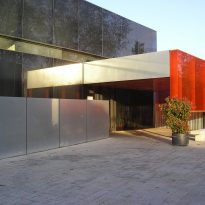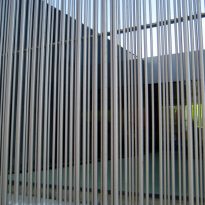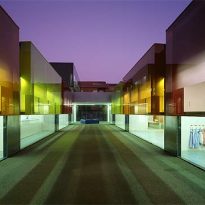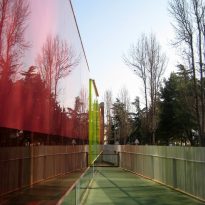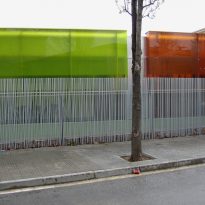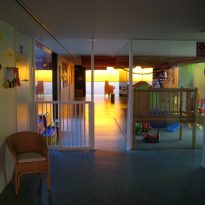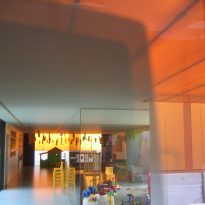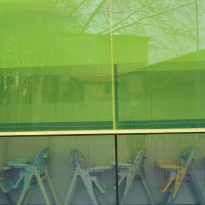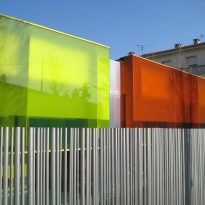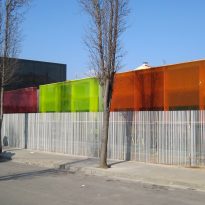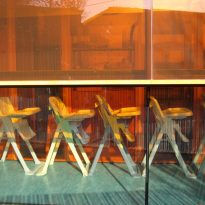 VER MAPA