Developer
Waterwegen & Zeekanaal
Location
8500 Kortrijk, Belgium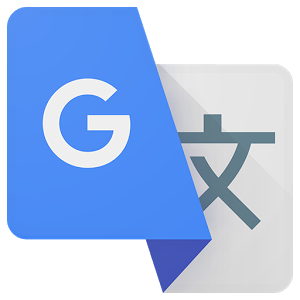 Some parts of this article have been translated using Google's translation engine. We understand the quality of this translation is not excellent and we are working to replace these with high quality human translations.
Introduction
The project presented by Jordi Farrando for the construction of public park Diksmuidekaai, with an area of 7200m2, was chosen by the jury proposed by the company in charge of navigation channels and its banks in Flanders, Waterwegen & Zeekanaal as an example of good practice in public spaces in the region.
Location

This public park was held in Kortrijk, in Castilian Kortrijk city located in the province of West Flanders, Belgium, close to the border with France and the Lys river, 42 km southwest of Ghent, occupies a space of 80.03 km².
Concept
The project for Diksmuidekaai poses with a desire to emphasize the connection between the northern sector of the city of Kortrijk and the river, through a linear design to give it a metropolitan scale.
Description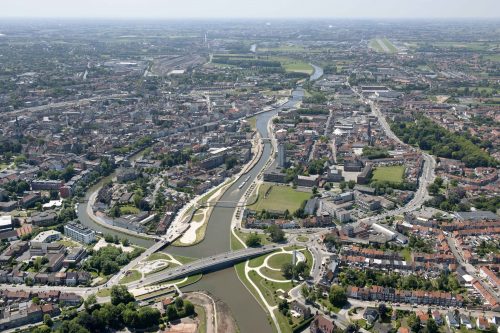 Concrete
The use of concrete as a unique material for pavement provides the space, increases the apparent size and allows for continuity between the buildings and the river. To dye it yellow to narrow bicycle paths, a linear element connecting the new space Diksmuidekaai with public spaces around, giving them a new scale is introduced. Since under the immediate sidewalk to the facades of the buildings there are several services that must be maintained (electricity, telephone…), concrete is used here in an easily replaceable format.
The continuity provided by the use of a single type of flooring does not have to be at odds with the need to create the necessary comfort for all users that often stems from a clearer separation between them. Street furniture is the means adopted to achieve this.
Placing banks, range lights and so added the paper and not hindering it is achieved that these defined areas within the single platform assembly, specifically dedicated to vehicles or pedestrians and avoid conflict between them.
Spaces
As a result of this doing architectural, the relative position between users, sidewalk next to buildings, vehicles lanes at his side, space for bicycles and then finally ample space for pedestrians to walk next the river creates a smooth and well-organized public space that opens a new playground to town and sets the conditions for a new axis along the river that connects Kortrijk with neighboring localities.
Drawings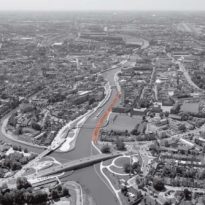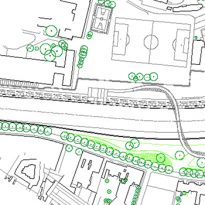 Photos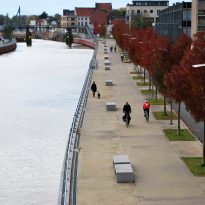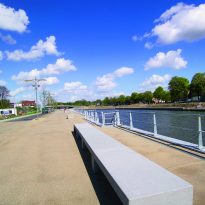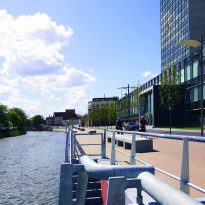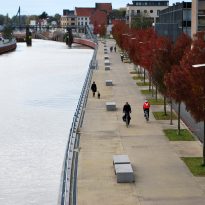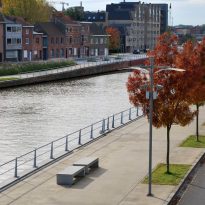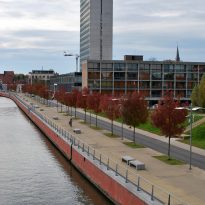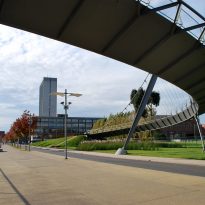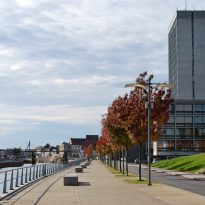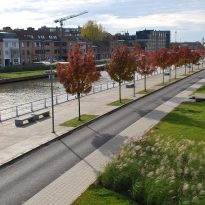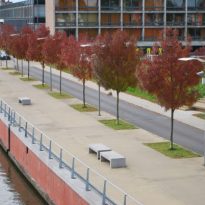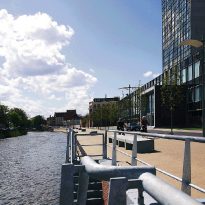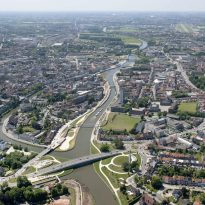 VER MAPA