Location
Trinity Buoy Wharf, London, England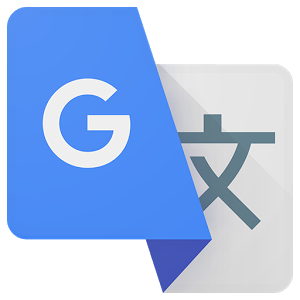 Some parts of this article have been translated using Google's translation engine. We understand the quality of this translation is not excellent and we are working to replace these with high quality human translations.
Introduction
Trinity Buoy Wharf area was degraded in terms of architectural and abandoned at the social level. The study by Nicholas Lacey & Partners has thought, well, to experience an alternative to more traditional systems of housing, especially from a standpoint of saving and reuse of resources. From here, precisely, the choice of components of industrial nature, transformed into modular components, easy to assemble, after a few tricks, additions and deletions.
The project has promoted the Urban Space Management, so the cost of construction has been less than half of a traditional building. A result which, of course, has also fallen on tenants, in terms of savings.
In the economic advantage, intervention associates of sustainable construction system that, while not extend to major realities, you can find in any case apply in cases of emergency, precisely because of its easy reproducibility.
Benefits of this construction
The constructions with containers offer an alternative to the traditional space provision.
Built in 5 months during 2001, the City Container 1 was originally from a height of no more than 3 floors, but due to the high demand has been added to the fourth floor buildings, whether for home or studio work.
Finally the benefits of Cities Containers can be seen in the short to medium term as the projects submitted for the use of the land on which to build, may come to have a short life if necessary dismantling and moving or simply storing containers. So far this alternative method of construction has established youth centers, classrooms, office space, artists' studios, work space, housing, daycare and retail space.
Situation
The original draft of Containers City I is located at Trinity Buoy Wharf in the heart of the Docklands of London (London E14 0JW).
Concept
Regain Industrial components of nature and explore innovative constructive solutions, is the idea that lies at the base of the Container City project, undertaken in the East Indian Dock, a suburban area of metropolitan London.
The recovery of abandoned containers in the ports industry has enabled not only extend the life of these buildings where the cost of disposal would have to pay, but also replace traditional raw materials.
The result is a modular system, organized in a flexible manner through the combination of elements of different shapes and sizes.
Spaces
Container City I, at Trinity Buoy Wharf, was opened in May 2001, comprising 12 houses / premises, who were then joined by three more. A total of 20 containers are used for these 15 residential units of Container City I. The Container City I complex was the first of 14 container complexes that currently operate in England.
A year later, he joined another group of buildings, Container City II, who joined more units habitable. The department has 30 m2 smaller-size container, and rent costs between 100 and 240 dollars a month. Such units are occupied mainly by studies of artists and designers. And there is a waiting list for rent.
Combining multiple containers to compose modern home, smart and affordable. Containers of 13 m² unite to create configurations that cover areas from 90 m² to 270 m². Each container will be cut out pieces of wall, floor or ceiling, creating openings and external connections between them. Some configurations allow even pitch.
Instead of using the approach of January 1 container = 1 unit, its system is based on combining the components in various permutations to create spaces and adaptable as needed.
Materials
In addition to being very profitable City Container connect with the environment to be a building created from 80% recycled material.
Containers allow a very flexible system construction since they allow is modular, very strong structurally and readily available.
The City of containers do not even have to have the appearance of being done with them. This is a relatively simple matter outwardly take a building with a wide variety of materials.
Naturally, before being processed in future homes, these containers have been left rigid, refurbished and equipped with necessary but few finished.
The various units were then transported to the site and assembled within a few days with the help of a crane, then joined each other with quick coupling systems and reversible, and finally painted with bright colors and able to defend them from rust.
The units have sliding-window doors with balconies (also made of containers), circular windows, floating wood floors, bathroom, kitchen, water, electricity and heating, among other amenities. From the outside, the containers seem big Lego blocks that create a facade of different colors.
Drawings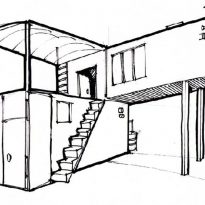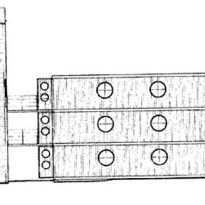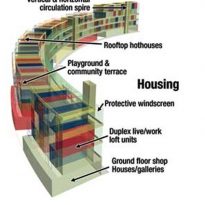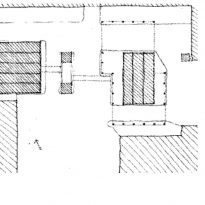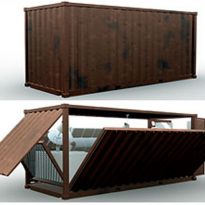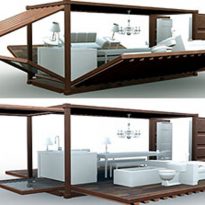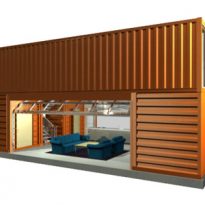 Photos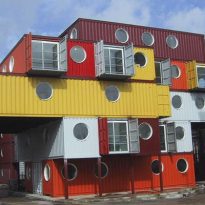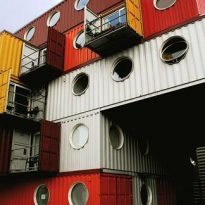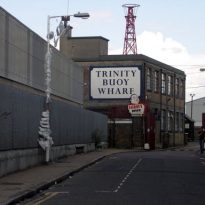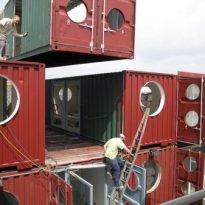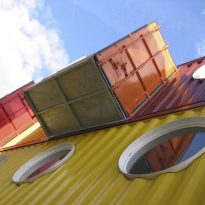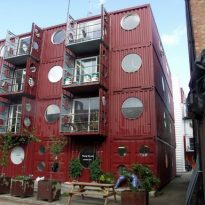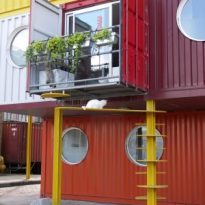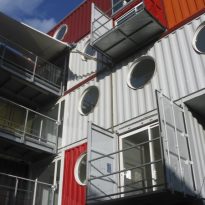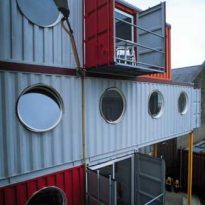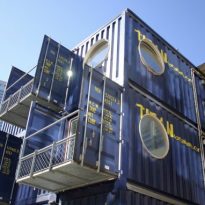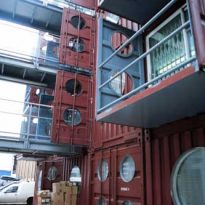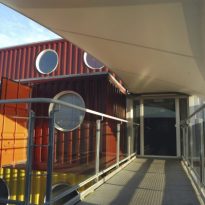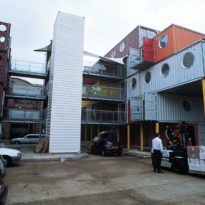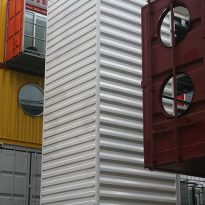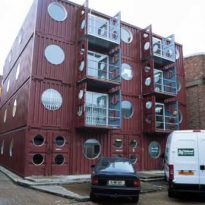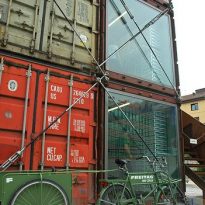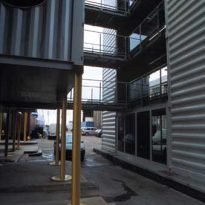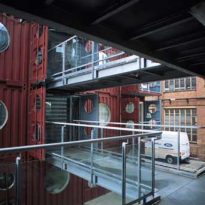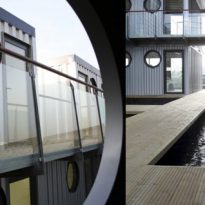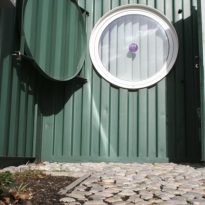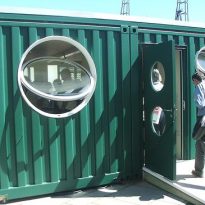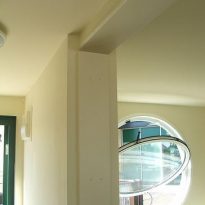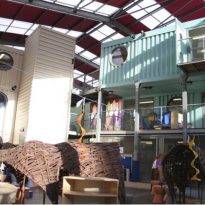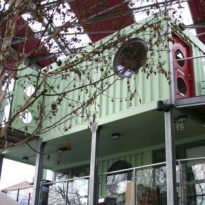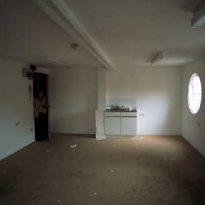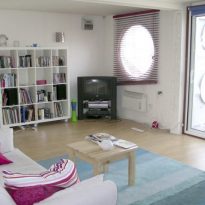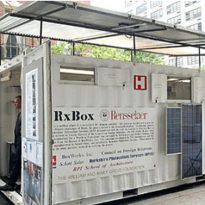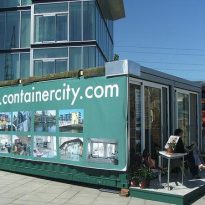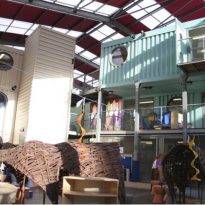 VER MAPA