Introduction
This project continues with Zaha Hadid and has built more than a polemic. British criticism has been very hard on the draft of the Cardiff opera "a good copy of a painting student descontructivista, unrealistic for a building. Its work is based on 2-dimensional and it is anticipated that the project for Cardiff stayed in the paper. "
Although originally estimated to be completed in 1996, the opera was never built and the land was ceded to build a rugby stadium. Notably, the project has been referred winner (first prize) for an international competition.
Situation
The design for the opera was in Cardiff Bay, a place which was upgraded in recent years and is the new tourist attractions of the Welsh capital.
Concept
The proposed project aims to achieve simultaneity of the typical private paradigms of urban design: memorial space. The project takes the continuous mass of the building gives way to the square oval in the same way that the plan was devised.
At the same time building a strong projected landmarks against the dock. The duality of the typical outline of an apple shape extensive public space outside the urban area while it holds an internal isolation is broken in a continuum between these two types of spaces.
This is accomplished through three maneuvers: the elevation of the perimeter, opening up the perimeter in the corner oriented pier, revealing expression in all its volume as the main auditorium of the solid contained within the contours of the site, and finally, continuation of urban public space through the extension of the term through the subtle slope (rising) to the complex setting a new level ground above the main foyer of the areas.
In this way, the building provides a place suitable for large functions abroad and allowing an excellent view to the bay and heliport. The concept of the building is based on the architectural expression of the hierarchy of the spaces served and those serving the auditorium and other areas of representation and semi-public and public practices erupt as a strip of gems, rationally aligned, allowing accommodations. Strip enrolada then this is as a perimeter around the collar that invested in the gems to rotate each other to consolidate the public space, accessible from the center, while serving in the rear perimeter. This space is felt from the central open courtyard as well as from parts of the foyer located under the raised floor (the square), which is permeated by the auditorium and the main test studies. Throughout this level, burst into space from the two main entrances: the main pedestrian entry plaza from the oval and the entry of the public by a detachment of Pierhead Street.
Drawings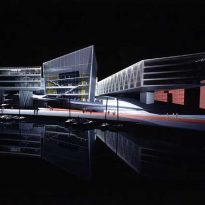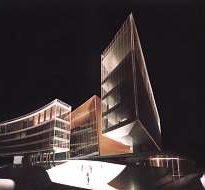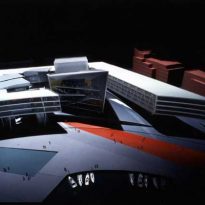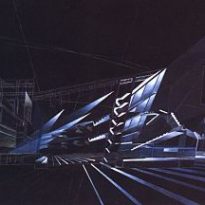 Photos
VER MAPA