Introduction
Ca'di Cozzi was the last architectural project of Aldo Rossi, a neighborhood of shops, offices and apartments in the outskirts of Verona, Via Cà di Cozzi, 6, Italy. As in most of his projects, Rossi used local materials for building, circular and triangular ceilings, recessed windows, cornices, columns and porticos of ways.
Project description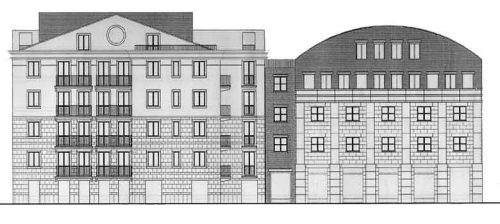 Aldo Rossi made ​​the following project description:
Architectural Report
The neighborhood is located just outside the gates of Verona, where the city merges with the hills and confusing structures than outside. Although the land was situated above, this project has recovered its independence and naturally conforms to the historical and topographical characteristics of Verona. These features, which emerge from the Roman city, have become architecture.
Concept
This project is based on three main elements: the open hills and green space, the hierarchy between the residences and offices, and finally reference, not copy, the Venice Architecture.
Buildings
The two office buildings are reminiscent of the Vicenza Basilica, public building par excellence. Palladio also referred to an earlier design, but it could be that it was a great and difficulty architecture, this is where the analogy with the Basilica of Palladio ends, though, using the consolidated urban model, the residences are located about two office buildings with a minor without rejecting the picturesque architecture. The idea is that the entire district is built with local materials. The most important among them is the red stone of Verona, then comes the "biancone" and other materials. The stone used in residential, partly plastered, is a high base from which the tile wall with mortar assumes both bright colors like pale. The alternation of red stone and biancone is the main feature that links the monuments and urban continuity of Verona in a single view.
Floor plans of homes that can meet many different family and personal needs, show how good architecture optimizes the constructive and organizational functions. The same is true of materials: of course it is not always possible to use materials like stone, but on the other myths cement and prefabrication have fallen fast. The architecture is facing a problem, especially in large cities, where new solutions are needed.
But these houses are as models for a historical, or rather town, the historic town where beauty is composed of many things, especially the mix of residences and monuments of the past and present and the rules and building relationships are carefully illustrated and respected; both are safeguards and restrictions, hoping that a broader point of view, which we all like, will create a more progressive dialogue, present (Aldo Rossi, Milano December 3, 1996).
Video
VER MAPA