Location
Treviso, Veneto, Italy
Introduction
The group Benetton Ando directed the restoration of Villa Pastega Way, a Palladian style building dating from the seventeenth century, to create a research center for students from various disciplines: architectural design, photography, graphic arts, imaging and textiles. The order chosen by Ando's classical design seems to fit easily with its architectural environment, while their buildings in Japan much more often contrasted with the chaotic urban environment.
Situation
Located 30 km from Venice, in Treviso, this building is situated on an extensive ground, attached to a villa in the seventeenth century Palladian style.
Concept
It was about creating a harmonious relationship between old and new, highlighting the charm of the villa by the addition of new architectural elements. With his usual respect for the natural context, Ando is approaching the issue in a non-invasive way, burying the majority of the new elements in order not to disturb the existing building.
Spaces
Like most of the work of Ando, the new construction was done in reinforced concrete, contrasting with the Palladian villa. The new main entrance, elliptical in shape, does not compete with the older forms of the villa. The auditorium of the existing structure emerges from a curved wall and opens onto the courtyard. This space is announced by a kind of gallery of 7 meters wide with a series of circular columns, which penetrate the villa and extend outward across the pond that lies ahead. The columns are reflected in the water, creating a new landscape.
This walkway leads to a rectangular space that serves as a distribution area, which gives direct access to workshops and studios, as well as the underground space and the upper terraces, where the colonnade continues.
An elliptical plaza with porticos of 8 meters below ground level, intersects with the distribution of the rectangle. In this case, it also creates an overlap of orders. The spaces surrounding the underground plaza, visually connected by large flat glass, lead to a spiral of vaulted ceilings, which serves as exhibition space.
Materials
He used reinforced concrete, in contrast to the Palladian villas.
Drawings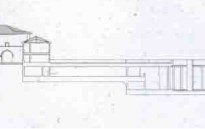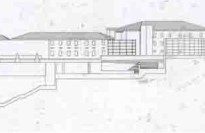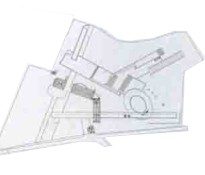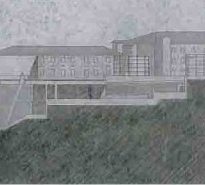 Photos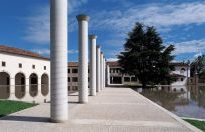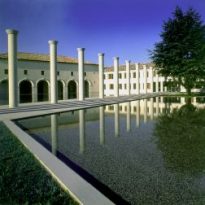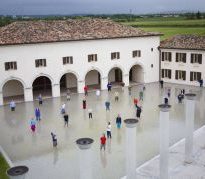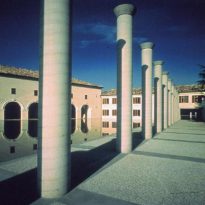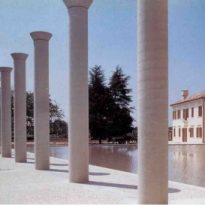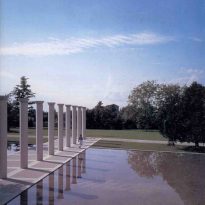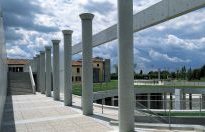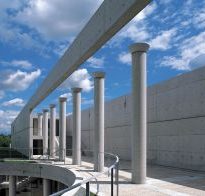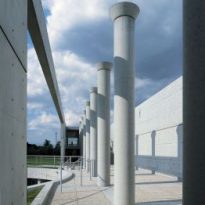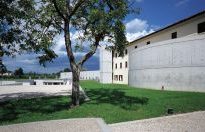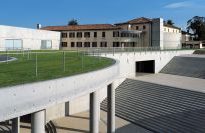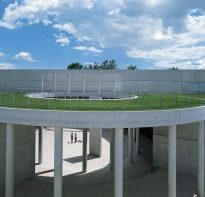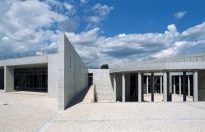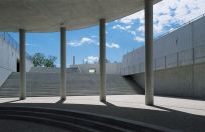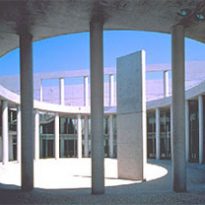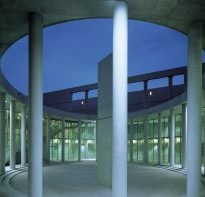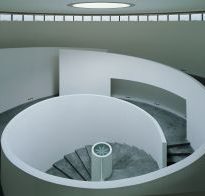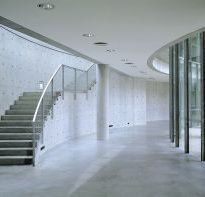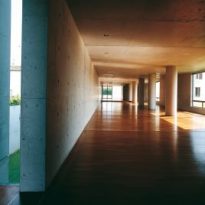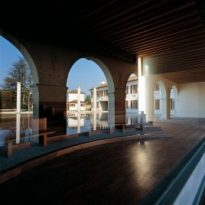 VER MAPA