Landscape Architect
Tonatiuh Martinez
Location
Ciudad Azteca, Ecatepec de Morelos, Mexico
This article was writen with the collaboration of the architectural studio in charge.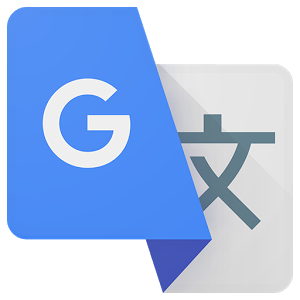 Some parts of this article have been translated using Google's translation engine. We understand the quality of this translation is not excellent and we are working to replace these with high quality human translations.
Introduction
Azteca Multimodal Terminal, also known as Mexipuerto, develops in an area of ​​20,600 square meters and is divided into two areas: East with 14,200 square meters and West with 6,400 square meters, with a total construction of 74,500 square meters, carried out in two phases.
In the existing Terminal Azteca, the daily flow of trips per day is 9,952, made up of 17 public transport lines, implying a movement of approximately 120,000 passengers daily. Such intense movement collides with insufficient infrastructure elements, lack of utilities, roads and pedestrian disorder, insecurity, need for urban services in the area and inadequate distribution of passengers between Metro and platforms. The architectural development proposed by CC Arquitectos was made following international trends in the management of pedestrian and vehicular flows favoring the convenience of users.
Project
The benefits of the project presented by CC Arquitectos are:
Improve road and pedestrian planning easier for the subway, or vice versa.
Connection between the Metro and buses.
Offer a wider range of public services such as taxis, minibuses and buses Mexibus in general.
Increase the safety and welfare of both users and local residents.
Be a complement to the urban development of the area.
The Mexipuerto Ciudad Azteca has been awarded the Real Estate Developers Association, AC (ADI) 2010 Award and the Silver Medal of the XI Mexican Architecture Biennale 2010.
Situation
This multimodal transfer station is located in Ciudad Azteca, Ecatepec de Morelos, Mexico. It has been built on both sides of the existing terminal station and the Metro Line B, on Av. Carlos Hank González.
Spaces
The environment you are provided with new public spaces, restoring roads and sidewalks, in order to allow for the transport road realignment and a pedestrian rethinking the user. The space is generated with landscaping and landscape project that manages to integrate outer space with the interior, thus adding the intentions of using mostly natural lighting and ventilation of the area, for the purpose of saving energy and resource natural.
Driving friendly technologies environment, the terminal subtracts water from a well over 350 meters deep ensuring the provision of water and returning to underground rainwater is collected on rooftops, through large storm tanks located in the streets of access, just as the reuse of greywater is achieved with the treatment plant building returning to treated water to irrigation and sanitary refuse.
The project is solved in 5 levels and takes place in two buildings, east and west, giving the municipality of Ecatepec with services of high social impact that contain: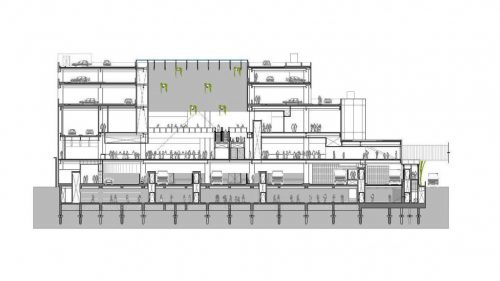 Area public transportation which controls more than 2,000 daily operations
Hospital 5,000 m2 with 42 offices
Language Schools computer
Financial Institutions
Government offices (one stop)
Shopping and convenience store
12 cinemas
500 parking spaces
First phase
The first phase, the building East with 14,200 m2, was completed in 2009 and includes a shopping center, several restaurants, several shops, parking and most importantly, an overpass for users of the metro line B, one taxi and bus stop.
Across the halls of the mall to access the different platforms, bus, minibus Bus Or without leaving the building.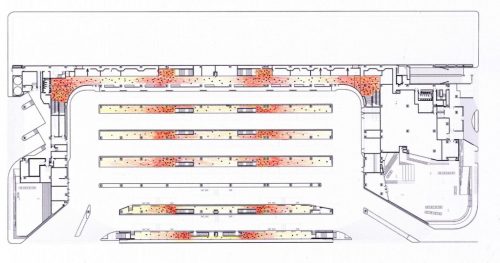 The six platforms available to the station are located on the ground floor of the complex. They are accessed via a pedestrian tunnel.
The terminal has 120 surveillance cameras and a monitoring system that allows avoid crowds on the sidewalks during peak hours, with the consequent risk of theft or altercations.
Second phase
The west building with 6,400 square meters, houses the hospital, theaters, language school, government offices, restaurants and other shops. It also has built a platform for Mexibus and four feeder routes.
Construction details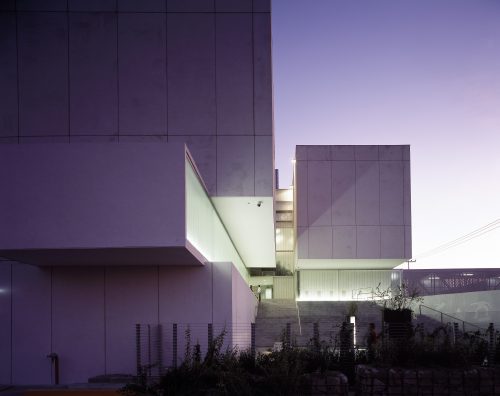 All Multimodal Station has modern control systems and automation.
Automated Operations
Operations control center, vehicle detection and identification, surveillance, electronic signage, communication system between the station, carriers and users, communication with the Police, Fire and Civil Protection.
East Building Distribution
Level 1: Platforms, rise only public transport passengers.
Level 2: Commercial Plaza, shops, a food court and anchor stores.
Level 3: 500 parking drawers and a hospital, terminal station Line B. Platforms: rising and falling passenger STC-METRO and platforms only for the decline in public transport passengers. Shops, cinemas, shops and schools subancla languages.
Video
Drawings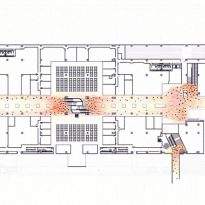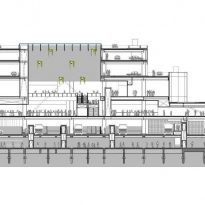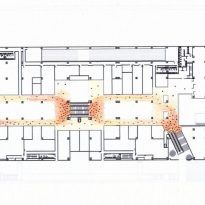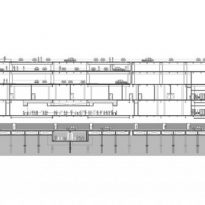 Photos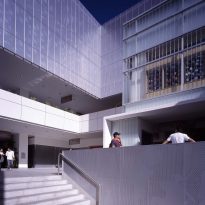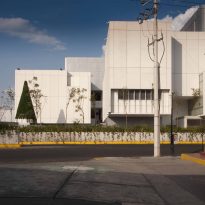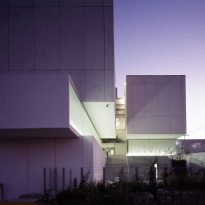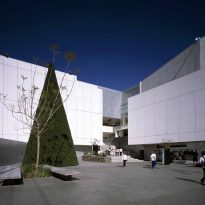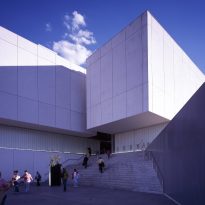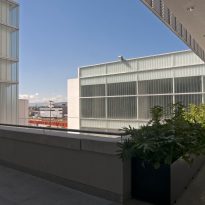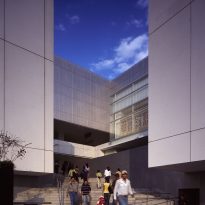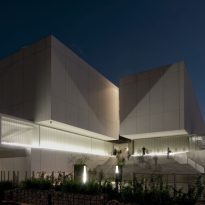 VER MAPA