Structural Engineer
Kajima Corporation
Developer
Veloqx meiji - dori tokutei mokuteki kaisha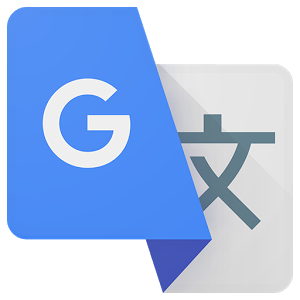 Some parts of this article have been translated using Google's translation engine. We understand the quality of this translation is not excellent and we are working to replace these with high quality human translations.
Introduction
Team of Creative Designers International(CDI), founded in 1993 by British architect Benjamin Warner, has designed this building with contemporary lines to accommodate the Audi Forum Tokyo. Also known as " The Iceberg ", the building was completed and officially opened in 2006.
The Iceberg is a building with a unique crystal structure, representative of modern Japanese architecture, designed to reflect light from all angles.
Location
The building is located in Jingumae 6-12-18 between Meiji and Harajuku streets, Shibuya-ku 150-0001, Tokyo, important commercial district of Japan capital city. At 2 minute walk from the station Meiji Jingu-Mae in Chiyoda line and 5 minutes walk from JR Harajuku Station on the Yamanote Line.
Concept
CDI director, Hiroyuki Yoshikawa, says that the inspiration for the exterior design was based on a combination of " crystal iceberg and a plastic bottle after going through a shredder PET "
Particularities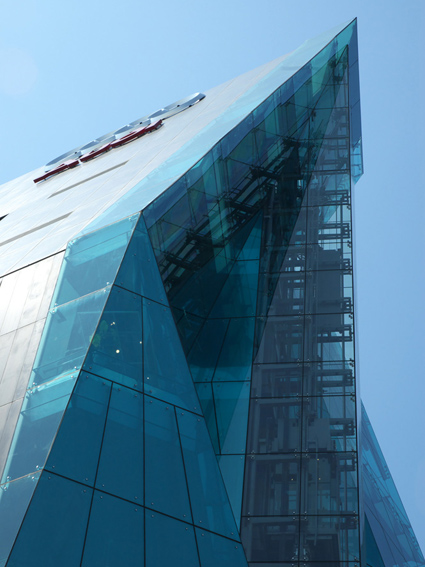 Highlight architecturally in a city like Tokyo is not easy, however the Audi Forum, also called Iceberg, with its unique architecture that combines the latest technology, " Vorsprung " with urban artistic design make this unique building of its kind, being the center of attraction for many visitors to the city, whether or not car enthusiasts.
Vorsprung durch Technik
"Vorsprung durch Technik" is the catch phrase or key theme and spirit of the German company to manufacture the Audi cars. It has been used since the 1970s in Audi advertising campaigns worldwide.
The concept is unique compared to other Audi forums that usually only include the factor of the brand on the front. In this case the Audi logo is the world 's largest dealer of the brand, even more than the headquarters in Ingolstadt, Germany.
Spaces and materials
With seven floors up the Audi Forum is a commercial building with a unique structural system that supports asymmetric glass facade and an elevator shaft completely transparent.
A street level commercial space is used as a showroom for Audi cars, although there are numerous spaces for exhibition and presentation of new models in the building. The building also houses the offices of the automotive company in Japan and areas for art exhibitions.
Glass facade
In this particular construction triangular panels have been used for glass facades. Three different types of laminated glass and colored in blue tones enhance the effect on the edges of the building, making it look like a giant crystal that rises in the middle of town.
The new building for the signature Audi has a complex geometry which reflects light from all angles, favored by the placement of silver layers in sections oblique angles of crystals, giving the flat glass a three-dimensional quality.
Drawings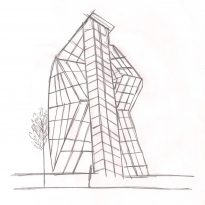 Photos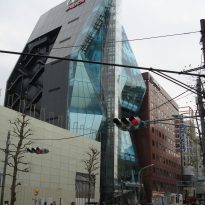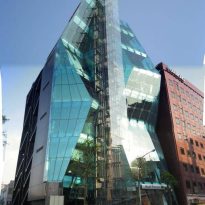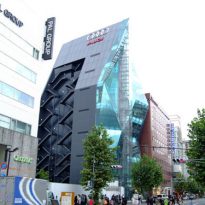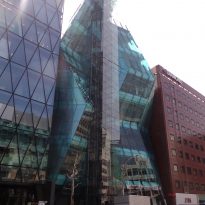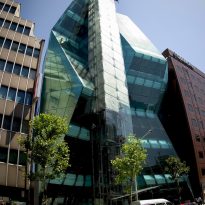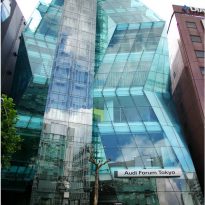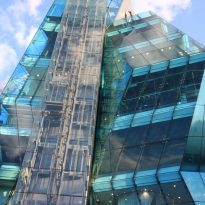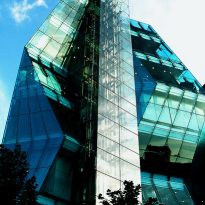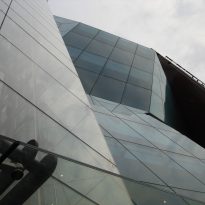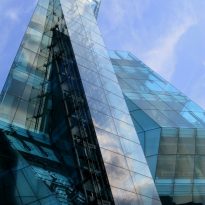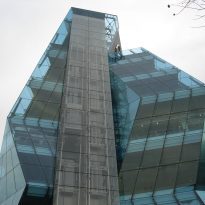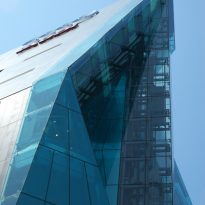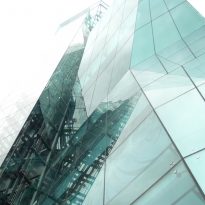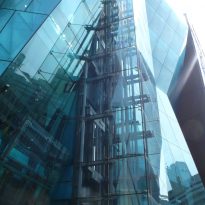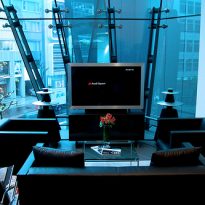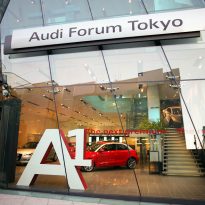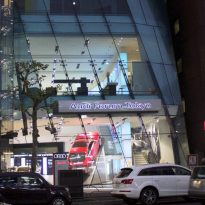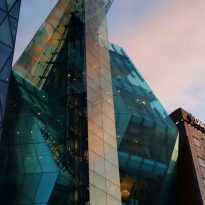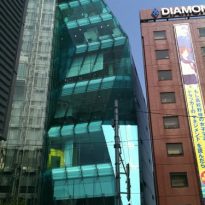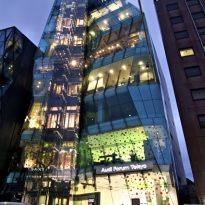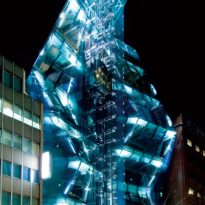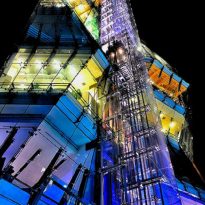 VER MAPA