Technical Architect
Robert Brufau Arquitectos
Location
Barcelona, Spain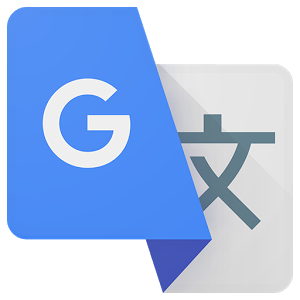 Some parts of this article have been translated using Google's translation engine. We understand the quality of this translation is not excellent and we are working to replace these with high quality human translations.
Introduction
The period 1991 – 1992 gave the city of Barcelona from many of its current landmark buildings and icons of the city. Such is the case of the Hotel Arts, which along with the Mapfre Tower, whose heights are identical, 154 meters and 44 floors, feature entrance to the Port Olympic
It is a tower of green colored glass, surrounded by a perimeter structure completely white iron exterior at the front and visible, without any coating. It was designed by architect Bruce Graham of Skidmore Owings Merrill Architects (SOM Architects), one of the first entirely computer-designed buildings and is home to a luxury five star hotel chain Ritz-Carlton, which opened in 1994.
Location
The hotel is located in Barcelona's Olympic Port, in the Rue de la Marina 19-21, a few meters from the beach.
Although not in the commercial center of the city, its communicating with him through the subway or bus journey involves a few minutes either Ciutat Vella, the historic center of Barcelona or the shopping area of Passeig de Gracia. This distance is also accessible by walking, it does not involve more than 30 minutes across part of the Olympic Village and Ciutat Vella.
Spaces
•Lobby interior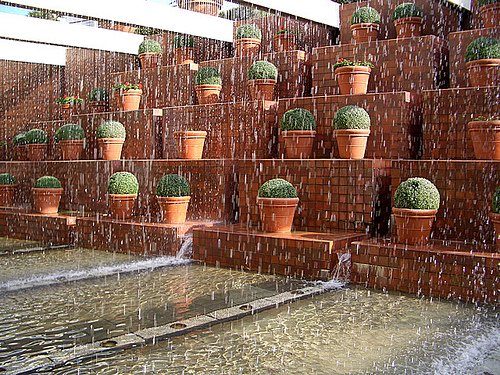 The interior lobby is dominated by a set of platforms on which they rest planters, animated by a vivid set of cascades.
•Room
The hotel comprises a total of 483 rooms with sea views and the city of Barcelona. Of these 397 are double rooms, 56 executive suites, 1 suite and 1 presidential suite Japanese.
Some of the rooms have been specially adapted for guests with physical disabilities.
•Duplex Apartments
Following the pattern of international luxury hotels, is to provided the Hotel Arts, 28 duplex apartments, one two or three bedrooms, bathroom, living room, dining room and kitchen, located in the 10 floors of the hotel.
•Private Lounges
Among the plants are located 30 and 33 rooms at the Club, whose access is restricted, is accessed using a security key and has a restaurant.
•Spa
Between 42 and 43 floors the hotel offers 900 square meters distributed between the two plants, health treatment. It has natural light and areas for ladies and gentlemen, locker rooms, saunas, steam baths, swimming pools and ice whips.
•Terrace Garden
It contains a restaurant, a swimming pool and jacuzzi
Function rooms
Great Hall Gaudi
With 1.300 m² divisible into three equal parts one of which, in turn, into two symmetrical. It has a hall of 400 sqm and has direct access from outside to support materials and vehicles by means of a hydraulic elevator.
Within these 1300 meters a theater with capacity for 1,350 people, a reception hall with capacity for 1,100 persons, a restaurant for 1,000 people and a catering school with capacity for 750 students.
Salo Pau Casals
320 square meters, a lobby with natural light and be divided into two equal parts. In it we find a theater with 280 seats, a reception hall for 250 people, banquet hall for 220 people and a school with capacity for 180 participants.
The hotel has several restaurants, lounges and bars on different floors.
Structure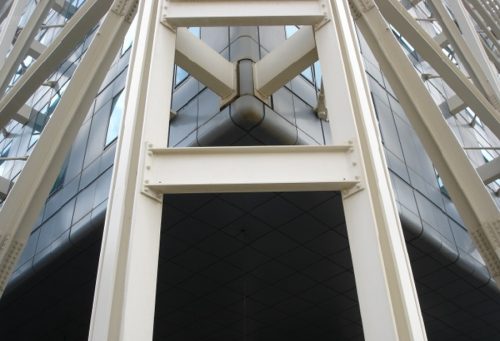 The exoskeleton is structural steel and exposed Arts, composing a three-dimensional mesh exterior that gives the building a strong image and some high-tech aesthetic. The project is of SOM but the local office that made the calculation of the field, is Robert Brufau, also a professor at l'ETSAV.
The angle formed by the beams of the corners act as a beam rods Pratt, Warren Howe or cantilever, or acting against flexocompresión efforts caused by the lateral pressures such as wind.
Materials
The outer perimeter structure is steel and fully visible, the facade coating with a mixture of glass curtain wall, aluminum and steel.
VER MAPA