Associate Architect
Kendall/Heaton Associates Inc.
Location
Boston, Massachusetts, United States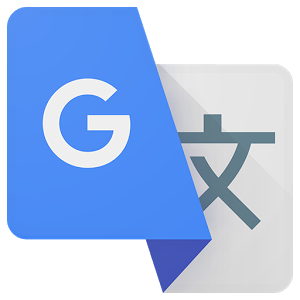 Some parts of this article have been translated using Google's translation engine. We understand the quality of this translation is not excellent and we are working to replace these with high quality human translations.
Introduction
A building of 48.310m2 for various uses, offices, shops, a winter garden and underground parking for 400 shared with the adjacent building vehicles rose. 222 Berkeley Street is the second phase of a controversial office complex in one of the most architecturally elaborate but fragile American urban centers.
The familiar palette of Boston, red brick, the color of granite or limestone, has been adapted to this complex mass of office tower, whose shape is the result of different urban pressures in each one side, finally topped with a pavilion double height and crown, creating this crib so distinctive silhouette standing building in the traditional American skyscrapers.
Situation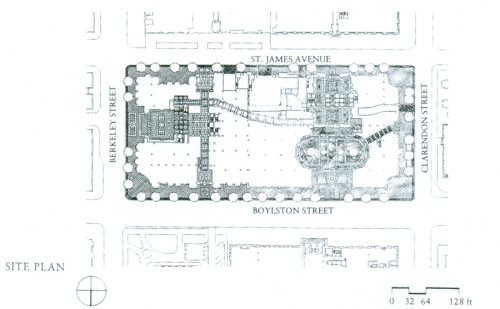 The building is located in the Back Bay neighborhood of Boston, Massachusetts. It is a neighborhood known for both its Victorian terraces in brownstone as numerous architecturally significant and institutionally important as the Boston Public Library buildings. Back Bay is considered one of the best preserved nineteenth century urbanism in the examples United States. It is also a fashionable shopping center and a focus that brings together some of the tallest office buildings in the city. This office block occupies the eastern half of the block bounded by Berkeley, Boylston, Clarendon and St. James Avenue streets.
Concept
The building constructed previously by Philip Johnson and John Burgee, 500 Boylston Street Building, as the first phase of the office complex designed for the place is quirky and intrusive into the urban landscape around you. Contrary to build Stern, despite its 22 floors is discreet, sober and polite. Robert Stern and colleagues through the streets of Back Bay recorded the elements of the oldest buildings in this special section, overall, taking into account the needs of the entire urban neighborhood and a project was designed accordingly, especially only for this place.
The style chosen by the Georgian architect is more than anything else, although not a direct copy of any other existing building. His closest companion is probably the Ritz Carlton Hotel on Arlington Street. The building resembles the historicist architecture of the 1920s in many ways, having a base, a center and a cap and makes use of classical architectural language without following any literary precedent. It is intentionally imperfect shape, designed not only to be admired as a perfect object but to establish itself as a real street in the middle of a real city and responsive to the numerous surrounding objects.
Description
The building designed by Stern is a red brick structure with a stone base and details of this material in whole surface.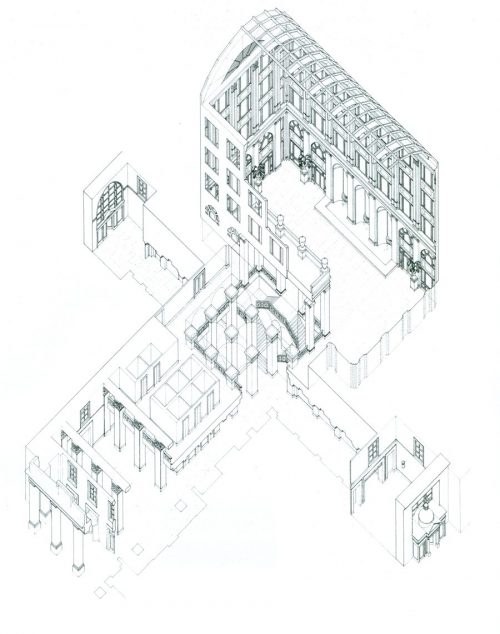 The stone plinths plant street become the storefronts, which in turn are topped with a mixture of windows and pilasters. The tower, on the outside has an active inputs and outputs with details that draw attention to rhythm, but inside is a simple and well detailed tower is retracted from its base to rise 22 floors and culminate in a two-story colonnade clad in granite, glass and topped in turn by a flat or round windows óculos on which a slightly sloping roof brick unfolds.
The main lobby, which is accessed by crossing a classical portico, facing Berkeley Street, leads once the lobby monumental stairs to the winter garden conservatory on the second floor, a space of light with an opening five stories high that functions as tribune and public meeting place.
Along Boylston Street, a continuous row of shops is interrupted at one point by another entrance leading to the gallery pedestrian crossing the street from north to south. To emphasize the public nature of the gallery and the conservatory, from Boylston Street entrance is flanked by pairs of Ionic columns and a revolving door at a shrine.
Height: 79.00 m
Ceiling height: 79 m
Floors above ground: 22
Suberráneas Floors: 3
Spaces
The complex of 48.310m2, 44.112m2 intended for offices and 4.160m2 to exclusive shops, sharing the parking for 1000 vehicles with the Hines Building, adjacent to the Five Hundred Boylston building.
Among its major tenants include Bank of New York, City Sports, HLM Management, Houghton Mifflin, Martingale Asset Management, Regiment Capital, Summit Partners.
Besides the outside ascpecto, 222 Berkeley Street building provides other important urban designs. It offers a public corridor extending from Boylston Street to St James Avenue and a large public atrium at its called "winter garden" of the second floor, crowned by a vaulted ceiling translucent glass and surrounded with balconies
Materials
The building has been coated with red bricks and classic rock. Classical distinctive crown was coated with artificial stone, red bricks and closed with double height. The floors are granite lobbies
The building designed by Robert Stern Architects is an EPA ENERGY STAR building and has received numerous times the BOMA distinction
All units for air treatment at 222 Berkeley Street building are equipped with high-efficiency motors. The on and off of these units is established through a computerized management system, which for efficiency were provided with an installation of variable frequency VFD.
The water pump for home use, providing water pressure in all plants, was also equipped with an inverter, which allows them to operate according to the actual demand.
In all office spaces have been installed occupancy sensors to control lighting.
Video
Drawings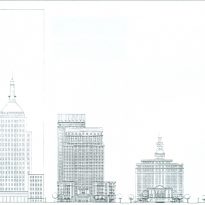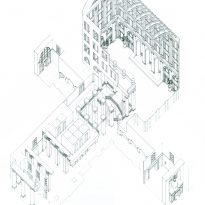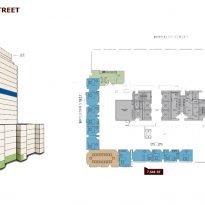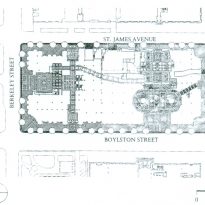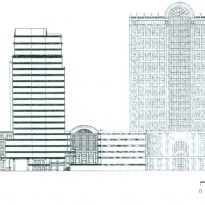 Photos
By Peter Aaron / Esto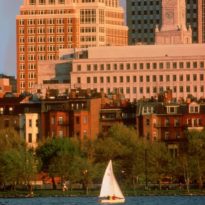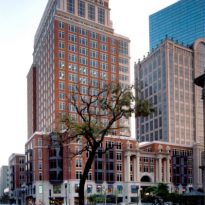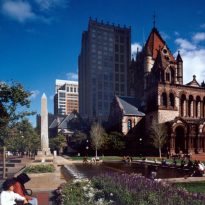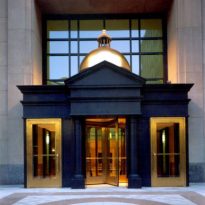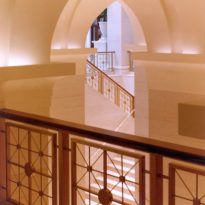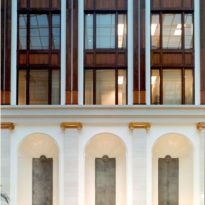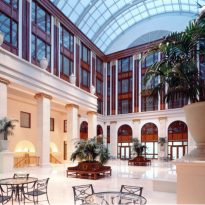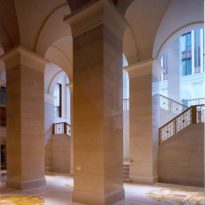 Other photos
VER MAPA