Construction Company
Oficina Informal
Location
D.C Bogota, Colombia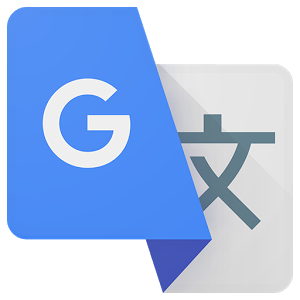 Some parts of this article have been translated using Google's translation engine. We understand the quality of this translation is not excellent and we are working to replace these with high quality human translations.
This article was writen with the collaboration of the architectural studio in charge.
Introduction
The clinics are reforming a 120m2 house medical center specializing in making radiological imaging and advanced equipment x-ray.
The project is designed as an experiment to enable simultaneous experience from a technology lab and comfort of a home theater. At the same time, as a response to two critical situations: the high intensity and use a minimum area and lack of comfort in the everyday experience of space.
Spaces
Extensive use of medical activities in a confined space is manifested in traffic, in the internal mobility in information management, and loss of privacy procedures with patients.
Our first effort was to optimize each of these situations to obtain a reduction of the area occupied.
This reduction is not settled in the imposition of a rule or establishing administrative measures, but in the implementation of technology for the networking.
We work closely with experts in networks to increase the speed of data transfers, lower offsets for each procedure and the idea of ​​working spatialize decentralized.
After raising the technological performance and reorganize the jobs obtained a reduction in overall demand in the office area of ​​30%.
We take the idea of ​​reorganizing the space as if it were a piece of urban design.
A thought urbanism from the conflictual relationship between specific flows: patients and medical equipment. We work on the possibility of building a more seamless experience between the two players so that they could relieve troubled areas of proximity, density promote specialized use areas and increase the square footage of "public space".
In other words, the medical team that involved the construction of a laboratory smaller but better equipped space in which to perform procedures 5 times faster than before.
For users, the idea of ​​a clinic treated as a domestic interior which reduce waiting times and increase privacy in consultations.
Materials
We recognize in the staging of a number of devices the ability to build flexible spatial patterns and the ability to invite the participation of users in use situations surprising in circumventing normal arrangements.
From bibliopercheros zigzagentes ©, filing wheelbarrow © and mosaics to changing rooms flashlight lounge © © with green guts, produce "Transferable pet" that rely on studies of the effect of the use of color in medical spaces to explore reliable transmission conditions, decontextualization, emotion and surprise.
Drawings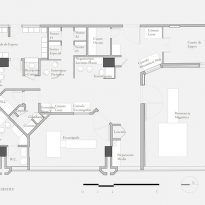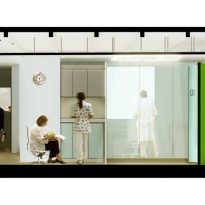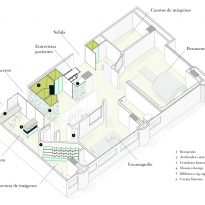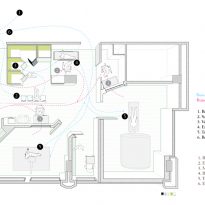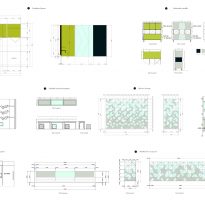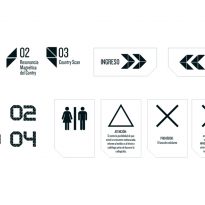 Photos
by Mateo Perez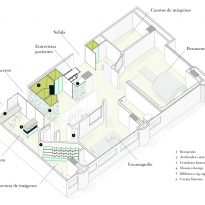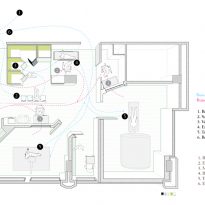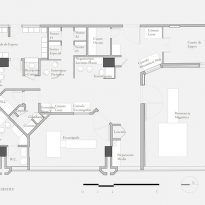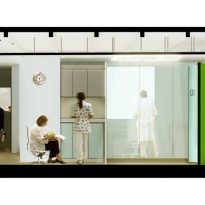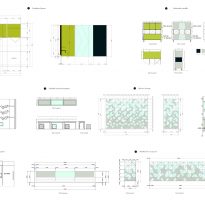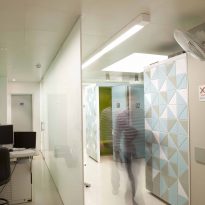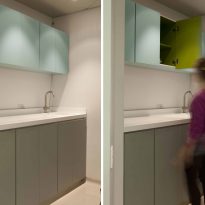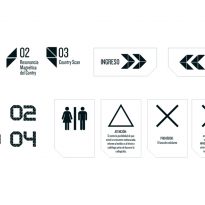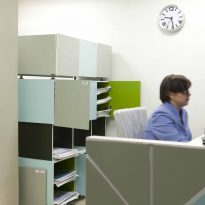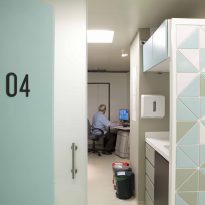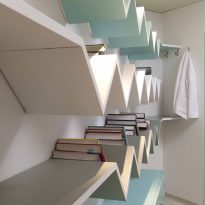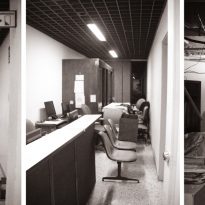 VER MAPA